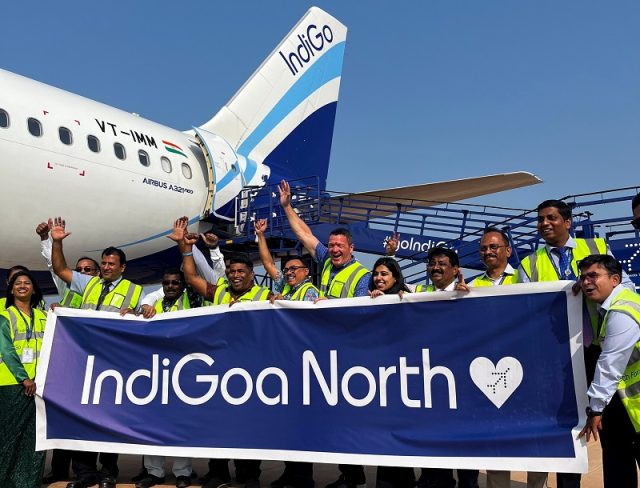 The first commercial flight landed at the new Goa airport on Thursday morning.
The operations were commenced by Indigo with a direct flight between Hyderabad-Goa, and Delhi to new Goa airport making it the 76th domestic and 102nd overall destination in 6E network.
IndiGo will operate 168 weekly flights between Mopa and eight domestic destinations like Hyderabad, Delhi, Mumbai, Bangalore, Chennai, Pune, Jaipur, and Ahmedabad, IndiGo said.
The new network will cater to the increasing demand owing to the popularity of Goa as a preferred leisure travel destination and will provide more options to the customers, making travel more affordable and enhancing direct connectivity to North Goa. The present Goa Dabolim Airport, South Goa will remain active, and IndiGo continues its existing operations there.
"We are excited and proud with this largest ever, new station opening for us at New North Goa International Airport in Mopa. It's momentous for us at IndiGo to have such a massive opening and it speaks to our ambition and endeavor to provide connectivity, ease of accessibility and ever more options for our customers to one of the most visited tourist destinations of the country. We continue to stay true to our promise of affordable fares, on-time performance, courteous and hassle-free service, connecting people with the places they love," said Pieter Elbers, Chief Executive Officer of IndiGo.
GO FIRST also commenced operations on the Manohar International Airport (Mopa, North Goa) flight path today. Operated by an Airbus A320neo, the maiden GO FIRST flight G8 2123 departed Manohar International Airport in Mopa at 10:35 hours and will arrive into Rajiv Gandhi International Airport in Hyderabad at 11:55 hours.
GO FIRST will operate 42 non-stop weekly flights to and fro the Manohar International Airport. These direct flights will connect Goa to Mumbai, Bengaluru, Hyderabad, Jaipur, Nagpur and Chandigarh in line with the current network plan. While GO FIRST will continue its operations from the Dabolim airport in Goa, these new flights from the Manohar International Airport will further enhance its domestic connectivity with tier II cities.
The flight was inaugurated by Shri Shripad Yesso Naik, Hon'ble Union Minister for Tourism and Ports, Shipping and Waterways in presence of R V Sheshan, CEO- GMR; Kanwarbir Singh Kalra, Dy CEO- GMR; Arunachalam SV, COO GMR; Srikanth Bhandarkar, Chief Commercial Officer- GMR; Kamlesh Pooniya, CASO- CISF; Binu Gopal, Head- Airside Operations- GMR; Kiran Kumar, Head- AOCC- GMR; Rakesh Kumar, Head- ARFF- GMR; Ambhagole Mahesh Kumar, Head-Slot-GMR; Mukesh Kumar Gupta, Chief Project & Engineering Officer.
Speaking on the inauguration, Kaushik Khona, Chief Executive Officer, GO FIRST said, "It gives us immense pleasure to commence operations from this latest addition, Mopa to our domestic network. Although Goa is a preferred leisure destination, this network will facilitate convenient and seamless travel for locals along with tourists. While we continue to augment our operations, GO FIRST is resolutely committed to providing customers a promising flying experience."
Last month, Prime Minister Narendra Modi inaugurated Goa's second international airport at Mopa in North Goa. The new international airport is located in the northern part of Goa, about 35 km away from Panaji, the capital city of Goa.
The bustling location of the airport will provide travellers ease of access to nearby tourist attractions.
On Wednesday, the Union Cabinet gave ex-post facto approval for naming Greenfield International Airport Mopa in Goa as 'Manohar International Airport–Mopa, Goa', as a tribute to the late Manohar Parrikar, former Defence Minister and four-time Goa Chief Minister.
Source: ANI