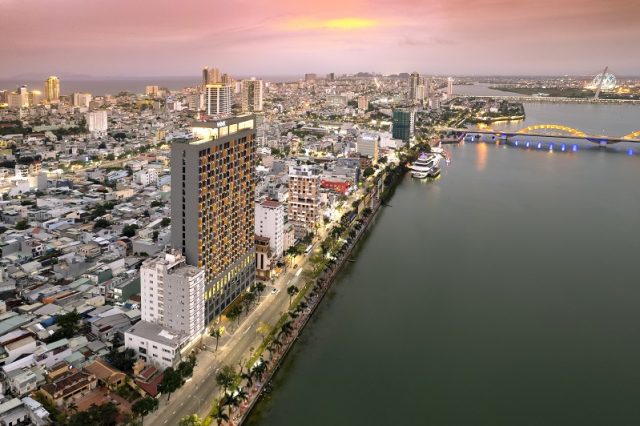 The vibrant hospitality expression of Viet chic, Wink Hotel Danang Riverside, opens to guests on April 1, 2023. Wink Hotel Danang Riverside is the brand's first hotel with Wink Suites, Wink's serviced apartment offering. Wink Hotel Danang Riverside features 357 next-generation keys, split between 287 Wink hotel rooms and 70 Wink Suites. The property is perfectly positioned only five minutes from My Khe Beach, but more importantly, with its location on the Han River, Wink Hotel Danang Riverside is a gateway to Danang's diversifying tourist activities.
Just across the river is Danang centre, with its street food, traditional market, hip cafes, and iconic pink church. Bana Hills and its Golden Bridge are less than an hour's drive away. Adventure sports like paragliding and Danang's famous 50-meter-high Phat Ba statue are a ten-minute drive into the Son Tra Peninsula. Hoi An Ancient Town is less than a 30-minute drive away, and on the way, Wink Hotel Danang Riverside's guests have access to world-class golf at the Montgomerie Links and Greg Norman Danang Golf courses, which places the hotel as the perfect launchpad for tourists to Danang who are looking beyond the city's beaches, including access to the city's exciting program of events.
Events planned in Danang for 2023 are a dazzling reflection of the growth and buzz about the city. There is a hip hop festival, the Danang International Firework Festival, the IRONMAN 70.3, the Danang Asian Film Festival, and the Danang International Yoga Festival all scheduled for the coming months in what will be a busy year for the beach city. And Wink Hotel Danang Riverside will provide the perfect base to explore Danang and its events and festivals.
A visit to Danang is not complete without a meal at a local seafood restaurant, and guests will find a myriad of lively beach bars, food trucks and seafood restaurants along My Khe Beach, a short journey from the hotel's entrance. On the other side of the hotel lies Danang's bustling downtown district, with easy access to local markets, shopping complexes, restaurants, bars and pulsating nightlife.
Keisuke Koshijima, Representative Director and Executive Vice President of Kajima Corporation, explained that Wink Hotels aims to engage Danang's resurgent hospitality market: "Danang's remarkable post-pandemic rebound, with over 742,000 visitors, including 195,300 foreign visitors in the first two months of 2023, is thanks to the expansion of domestic routes and the resumption of international routes. That figure is 5 times higher than that of the same period last year and accounts for 90 per cent of the same period in 2019 before the Covid outbreak. Danang has welcomed an average of 69 flights per day since March 2022, this number growing substantially month to month".
"Our belief in the potential of the Danang market is supported by our investment & development plan, first in Wink Hotel Danang Centre @ 178 Tran Phu, and now in Wink Hotel Danang Riverside @ 315 Tran Hung Dao. While Wink Hotel Danang Centre is an ideal place for business visitors thanks to its prime city centre location, Wink Hotel Danang Riverside will appeal to both business visitors and vacationers due to its perfect positioning between the beach, central business district and other attractions," explained Peter Ryder, Wink Hotel's Chairman and CEO of Indochina Capital.
Wink's CEO, Michael Piro, believes that Danang is a unique destination bound for even more international attention. "Danang has so much to offer in terms of creativity and local heritage to support a strong tourism recovery. We are optimistic that Wink Hotel Danang Riverside and Wink Hotel Danang Centre will change the face of tourism in Vietnam. For savvy travelers in search of refreshing local experiences, Wink Hotels deliver a cheeky interpretation of hospitality excellence with a Vietnamese expression, that perfectly suits this buzzing beach city, especially as we share a tech-driven and sustainable hospitality approach with the city's tourism organisation," said Piro.
Since the opening of its first hotel, Wink Hotel Saigon Centre, in the energetic southern metropolis of Ho Chi Minh City, in March 2021, the brand has been creating neighborhood community hubs where guests are encouraged to go out and explore, and, once they return to Wink, immerse themselves in the perfect place for recharging.
Conceptualised by AW2, a leading architecture and interior firm based in Paris, France, Wink Hotel Danang Riverside embodies a pop culture energy where accommodation, work and leisure cohabit in harmony. Wink provides a modern, vibrant, blended space underpinned by traditional Vietnamese values, and inspired from local street life, accentuated by artwork from local artists, Nguyen The Son and Richie Fawcett.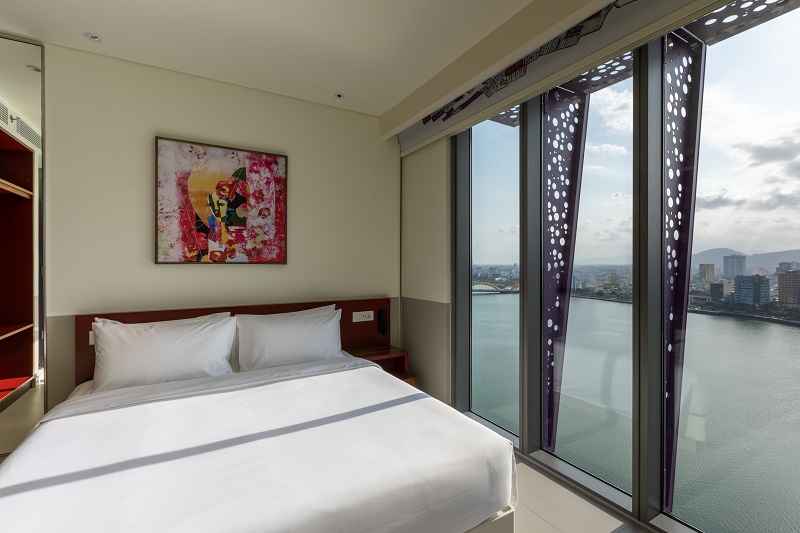 True to Wink Hotels' brand DNA, Wink Hotel Danang Riverside offers a high-tech experience with automated check-in, cashless and contactless vending machines, and free high-speed internet access throughout the hotel. Wink Guides, the hotel brand's characterful front-of-house team, are available 24/7 to assist with insightful recommendations on where to dine and play. The space-smart rooms, ranging between 18 square meter twin and standard rooms, and 1 and 2-bedroom apartments, are equipped with intuitive in-room controls, invigorating power showers, and luxurious mattresses and bed linens for a rejuvenating rest. Families needing a bit more space will find sweet solace with the 52 square meters two-bed suites with full-equipped kitchens.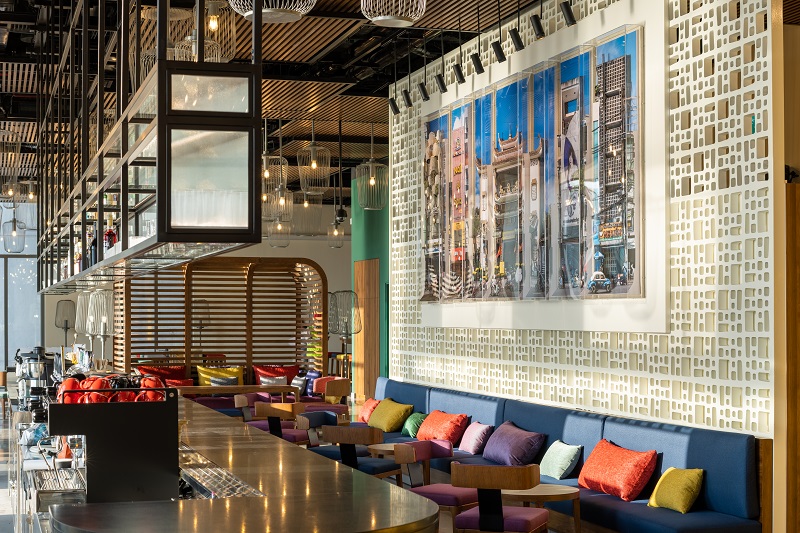 The fifth-level Wink Space is not only a lobby for check-in, but an alternative venue for guests to mingle over a locally brewed craft beer or customized cocktail while engaging in a game of pool or table football with expansive views of the Han River. Guests will also enjoy the panoramic views at the design-conscious rooftop retreat, Hai Pool + Bar.
Wink Hotels currently operates three hotels in Vietnam. The opening of Wink Hotel Danang Riverside is the group's second property in Danang following the successful launch of Wink Hotel Danang Centre in November 2022.
"Wink Hotels' hassle-free concept has resonated strongly with the dynamic new generation of travelers and our growth rate has been phenomenal. Following on from the success so far, we are expecting seven more properties to launch throughout Vietnam by the end of 2027," added Piro.