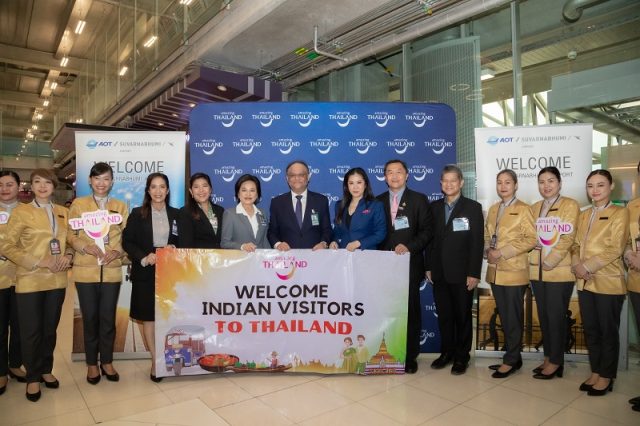 The Tourism Authority of Thailand (TAT) arranged a special welcome at Suvarnabhumi Airport for IndiGo Flight 6E 1639 from New Delhi, India, on which holders of Indian passports or travel documents travelling to Thailand for the purpose of tourism will be granted a temporary visa exemption for a 30-day stay.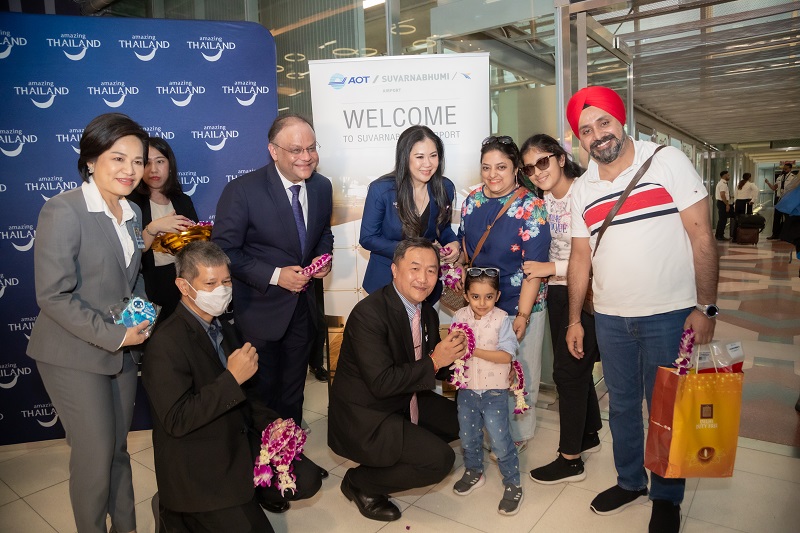 Hosting the airport welcome ceremony, Thapanee Kiatphaibool, TAT Governor, said, "This special airport event symbolises Thailand's invitation to Indian tourists to take advantage of the tourist visa exemption during the Six-month period. The event reflects the Thai government's commitment to ease visa and immigration procedures for foreign tourists, especially during this high season."
Also joining Ms. Thapanee at the event included H.E. Nagesh Singh, Ambassador of India to Thailand, and Chattan Kunjara Na Ayudhya, TAT Deputy Governor for International Marketing – Asia and the South Pacific.
From November 10, 2023, until May 10, 2024, Thailand is extending a temporary visa exemption for a 30-day stay for the purpose of tourism in Thailand for Indian tourists. This followed the similar short-term stimulus visa schemes for Chinese and Russian tourists.
Indian is one of Thailand's top 10 source markets. In the first 10 months of this year, statistics showed a total of 1,302,483 Indian tourists, an increase of 86% when compared to the same period in 2022.
With the visa exemption scheme, TAT expects Thailand to see 1.6 million Indian tourists in 2023, generating about 65.6 billion Baht in revenue.
Indian tourists to Thailand stay on average 7-8 days with daily spending of around 5,500 Baht per person. As well as the millennials and families, Thailand also see affluent Indian travellers in the wedding, golf, and incentive segments.
Chattan said, "TAT will leverage the short-term visa exemption and strengthen partnerships with local tourism operators to arrange joint sale promotions for different market groups, including leisure, women, seniors, and golf."
Thai tourism businesses will be invited to join the TAT's participation at two major trade shows in India in 2024, including the Outbound Travel Market (OTM) in Mumbai on 8-10 February and the South Asia's Travel and Tourism Exchange (SATTE) in New Delhi on 22-24 February.
In addition, TAT is increasing the promotion of Thailand's direction towards high value and sustainability in the Indian market by raising awareness on a multitude of meaningful travel experiences that reflect the Thai soft powers and sustainable goals. Special promotion schemes will be arranged specially for the corporate, incentive, and wedding segments.