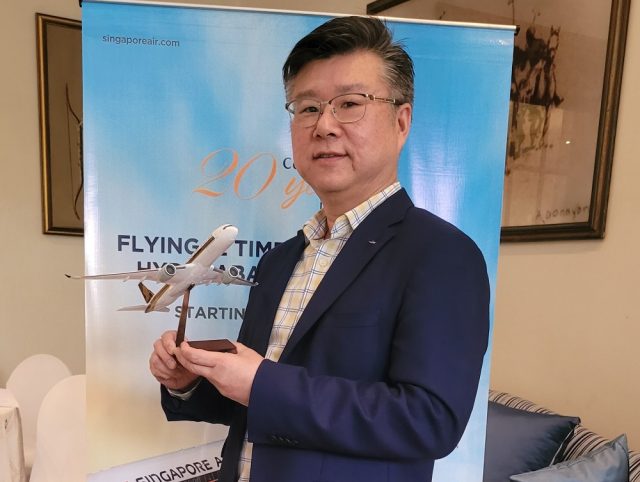 The Singapore Airlines (SIA) Group, which commenced operations to Hyderabad on October 29, 2003, will celebrate the 20th anniversary of its services to the city this year.
To mark this momentous occasion, SIA has announced that starting October 29, 2023, and subject to regulatory approvals, it will increase its Hyderabad-Singapore services from seven times weekly to 12 times weekly, as it takes over Scoot's daily services between the cities.
The new five-times weekly morning services will offer more connectivity options for passengers travelling from Hyderabad to and beyond Singapore. This service will be operated by SIA's Boeing 737-8s, which are fitted with 154 seats – 10 in Business Class and 144 in Economy Class. The daily night services will be operated by SIA's Airbus A350s, which are fitted with 303 seats – 40 in Business Class and 263 in Economy. As a result, Hyderabad will be entirely served by SIA's full-service product.
Sy Yen Chen, General Manager India for Singapore Airlines, said, "As we celebrate 20 years of serving the Hyderabad market, we are delighted to announce an increase in our weekly operations to the city. The strategic restructuring of our Hyderabad network is a testament to our commitment to continuously evolve and meet the changing needs of our valued customers. This milestone reaffirms our dedication to the local market, and we are excited to provide even greater connectivity and exceptional full-service travel experiences as we forge ahead into the future."
The increase in A350 operations on the Hyderabad-Singapore route also opens up a wider range of opportunities for SIA Cargo. The aircraft's wider body will allow for uplift of large cargo consignments that need to be loaded on skids. Additionally, the aircraft's temperature-control capabilities are essential for certain kinds of temperature-sensitive cargo.
This restructuring exemplifies the SIA Group's ability to adapt to changing market conditions and provide enhanced travel options to its customers, aligning with its mission to connect people to global destinations.
With effect from October 29, 2023, SIA will operate 96 weekly flights to and from eight Indian cities, namely Ahmedabad, Bengaluru, Chennai, Delhi, Hyderabad, Kochi, Kolkata, and Mumbai, while Scoot will operate 44 weekly flights to and from six Indian cities, namely Amritsar, Chennai, Coimbatore, Thiruvananthapuram, Tiruchirappalli, and Visakhapatnam.