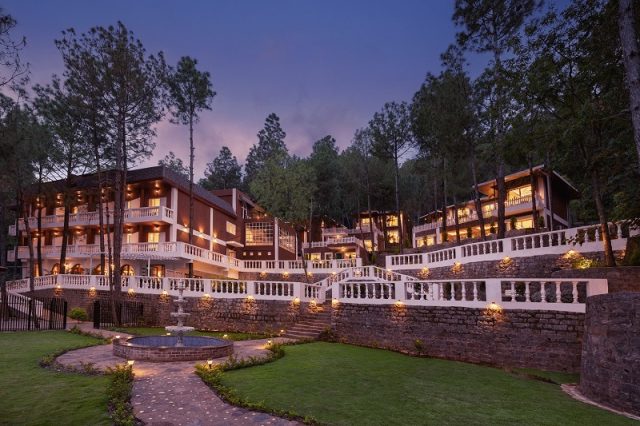 Tucked in the lush green forests in the hills of Kasauli, a mere 65 km from Chandigarh, a new holistic retreat experience, WelcomHeritage Santa Roza has now opened its doors to guests and visitors. Spread over 2 acres of pine forests, plum orchards and calming serenity, the Victorian-styled estate offers an idyllic retreat for weekenders and those looking to detox from the hustle of urban lives.
Featuring 12 well-appointed deluxe rooms as well as 20 suites and cozy cottages that comprise separate living rooms and balconies, WelcomHeritage Santa Roza is an ideal choice for solo travellers, couples, and friends. The exclusive 3-bedroom family suite with a large lounge area is perfect for larger families. All accommodation is equipped with contemporary amenities such as a smart TV, mini-fridge and mini bar, tea/ coffee maker, and ensuite bathrooms with plush accessories.
Celebrating the age-old culinary traditions of the Himachali culture, the property's in-house restaurant, 'Nirvana' delights its guests with the finest local cuisine along with an array of global and Indian dishes. The property also features 'Milo', a café nestled in the estate's verdant gardens and serving freshly baked treats, pizzas and brewed artisanal coffee and 'Aviary', the lounge bar that whips delicious cocktails, bar food and boasts of spectacular panoramic views of the woodland.
In addition to the well-equipped gym, guests can indulge rejuvenating massages and beauty treatments amidst expansive meadows at the property's spa and salon. The retreat offers an indoor all-weather swimming pool, allowing guests to enjoy a leisurely swim, regardless of the weather outside.
WelcomHeritage Santa Roza offers complete immersion in the hills and all its beauty. Guests can go cycling down fun, specially crafted Adventure Trails or walk the Pine Path in the forest. Other entertainment includes Sky Golf, video games, board games such as carrom as well as a well-stocked library of carefully selected books. There is a well-supervised Children's Centre with engaging activities, so young parents can truly unwind. For those who would like to explore Kasauli's Mall Road, Gilbert's trail, Sunset point and Christ church, the town is only a few minutes' drive away.
The property also offers an elegant banquet, The Empress Hall, accompanied by all modern facilities such as high-speed Wi-Fi and audio-visual equipment as well as a splendid outdoor garden, the Eden Lawns. Both venues can accommodate more than 100 guests each, and along with lavish catering offerings, make for perfect celebrations, dinners, cocktail soirees, and corporate events.