Although Phuket is a well-recognised destination amongst outbound travellers in India, Laguna Phuket offers an experience that is unparalleled and has something in store for every guest. The brand is reaching out to the evolving traveller segment in India across key target markets and enticing them by projecting the destination's post-COVID readiness and a plethora of holiday activities. While putting the spotlight on the property, Ravi Chandran, Executive Vice President of Banyan Tree Holdings and Chief Executive Officer of Laguna Resorts and Hotels, is very keen to strengthen its India market outreach through sustained marketing and communications activities.
– Prashant Nayak
Q. As one of Asia's premier integrated destinations, what makes Laguna Phuket unique from the others?
Laguna Phuket, set against the stunning backdrop of the Andaman Sea, is home to eight world-class hotels and premium facilities spanning over 1,000 acres of lush parkland and beachfront. Situated on a 3km stretch of pristine beach, Laguna Phuket is the only destination on the island to feature both sea and lagoon access. Hotel guests staying within Laguna Phuket are welcome to visit and enjoy facilities at all the resorts and use the destination's complimentary shuttle bus and boat services. To streamline the guest experience, Laguna Phuket has a fully integrated cashless payment system, meaning guests can choose to charge expenses back to their room from anywhere in the destination.
With an award-winning 18-hole golf course, luxury spas, exceptional dining options, and unforgettable experiences, Laguna Phuket offers the perfect location for both tourists and residents. The island destination is a world-renowned and award-winning home of multiple international events such as the Laguna Phuket Marathon and Laguna Phuket Triathlon.
Q. Brief us about Laguna Phuket properties and their USPs?
With more than 1,400 rooms, Laguna Phuket's portfolio of properties includes:
Angsana Laguna Phuket is an island within an island. Endless activities, water sports, and dining venues. Also, not to mention the 300-meter-long free-form pool and catering to families, groups, and couples.
Angsana Villas Resort has private and spacious villas surrounded by garden space and a private pool in most villas.
Banyan Tree Phuket is a sanctuary for the senses. Ideal for luxurious tropical getaways with award-winning fine dining options and full SPA services.
Banyan Tree Veya Phuket is a safe space for your well-being journey to nourish your body and mind.
Cassia Phuket offers comfy hotel apartments with a kitchen in every room in an ideal location. Family-friendly.
Dusit Thani Laguna Phuket is the first hotel in Laguna Phuket. A luxurious beachfront resort symbol of the elegant Thai heritage.
Laguna Holiday Club Resort is spacious and has big suites with a unique golf course view.
SAii Laguna Phuket is a beach resort with ocean-view suites and direct access to the beach.
The destination offers accommodations that suit all, from families with young children to intimate, luxurious stays. On top of the eight hotels, Laguna Phuket has Branded Residences; and the 'Extended Stay' Property division, which offers sales and rental of a variety of residences, apartments, and villas for guests who wish to live or invest in a holiday home within our integrated destination.
Q. Phuket is one of the trending destinations for Indians. How many Indian footfalls have you recorded at your properties pre-pandemic?
Laguna Phuket is just a 30-minute drive from Phuket International Airport, which boasts excellent connectivity across the region and internationally and has direct access from the Indian cities of Mumbai, New Delhi, and Bangalore.
Known as a romantic wedding venue, Laguna Phuket welcomes guests from India, particularly from the destination wedding market segment. We had seen more than 10,000 room nights yearly pre-pandemic.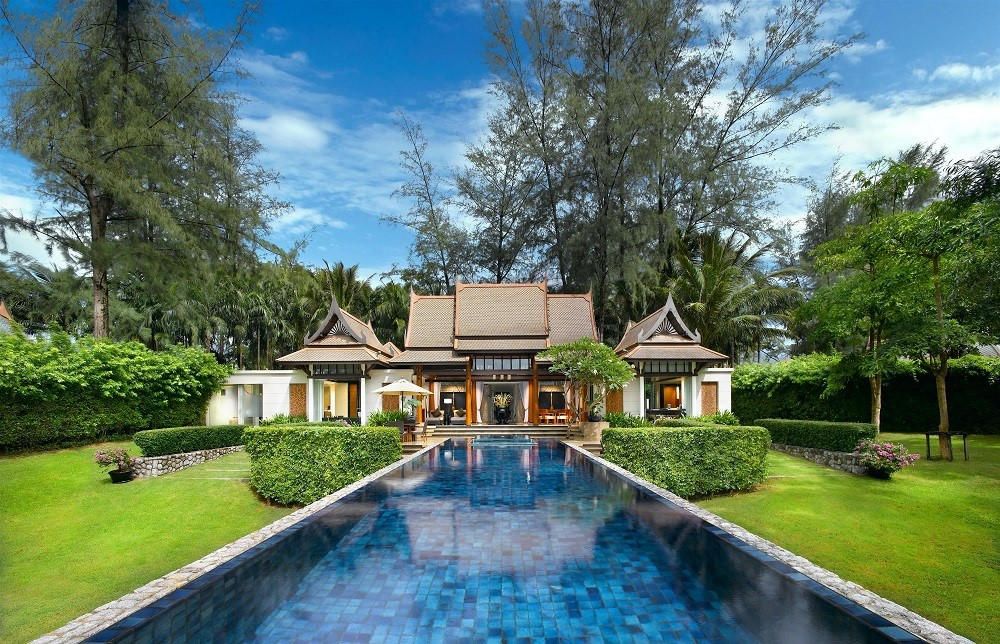 Q. How important is the India market for Laguna Phuket? Which are your target markets in India and the customer profile that you cater to? What are your marketing strategies for the Indian sub-continent?
We cater to different segments throughout different periods of the year. Family travellers are one of the key market segments from May to September, while honeymooners, golfers, and small celebration groups such as anniversaries, birthdays and family gatherings are popular all year round. Laguna Phuket is also a popular venue for large-scale weddings, a major source of business in November and early December.
We have focused our marketing strategies and efforts in different areas, especially digital marketing, to ensure we reach out to the right audience matching our selection of different hotels. The interest in travelling has always been there, but the restrictions and lack of flights didn't work in our favour in 2021. However, with travel restrictions lifted, we've already seen the market return since March 2022.
In addition, for Banyan Tree Phuket, for example, there are already three large weddings confirmed and two are in the pipeline from different Indian cities: Kerala, New Delhi, and Mumbai. We believe the numbers will grow further in the next three to four months and surpass 2019 numbers as travel resumes.
Usually, flights from India tend to arrive early morning and depart early morning, so we do provide the option for guests on those flights to have breakfast on the day of arrival instead of the day of departure and early check-in.
Q. What are Laguna Phuket's offerings for leisure, MICE, and wedding segments?
Laguna Phuket features eight luxury hotels with 1400 rooms and villas as a popular integrated destination. Set in lush, tranquil greenery, it has a private beach, a world-famous golf course, an award-winning spa, dining, retail, recreational activities, and water sports. Besides stringent health & safety measures, contactless service, and SHA+ certifications, we also have set up the Bangkok Phuket Hospital Clinic for the guests' convenience.
With travellers' quest for safe and purposeful travel post-Covid, our magnitude of hotels is geared to welcome leisure, MICE, and wedding segments. Additionally, we are known as the perfect venue for hosting Indian weddings, elevated by authentic cuisine by our expert Indian chefs, our unique location, and personalised services.
Q. Are there any other details about the properties in terms of unique amenities, facilities, F&B, new and immersive experiences, etc., for your customers?
As Asia's first integrated destination, Laguna Phuket uniquely features sea and lagoon-based water sports. Laguna Beach is one of the first venues to fully integrate facilities to keep guests coming back for more. Laguna Beach offers many water sports and fitness activities, including beach volleyball, CrossFit, sailing, kayaking, jet-skiing, and paddle boarding.
Laguna Phuket is home to more than 25 restaurants and bars, including Xana Beach at Angsana Laguna Phuket. With live entertainment and a pool bar serving refreshing cocktails, guests can enjoy a cooling dip overlooking unparalleled views. Atoll is the destination's newly opened floating restaurant and bar overlooking Laguna Beach. Atoll offers a gastronomical experience of tapas-style Asian fare. The menu presents interesting fusions of local seafood favourites, and guests can dance the night away under the stars and creative cocktails curated by an innovative bar team. Banyan Tree Veya offers a conscious and nutritious selection of dishes that delight the senses and elevate well-being. Veya showcases plant-forward cuisine that combines Asian and Mediterranean influences in a creative, flexitarian approach that respects ingredient provenance. Banyan Tree's signature Saffron restaurant, authentic Thai flavour at its finest in an elegant setting. It presents a menu with Thai dishes, both traditional and with a modern twist.
Q. Tell us about Laguna Phuket's initiatives and concerns regarding the environment and sustainable tourism?
Rooted in Banyan Tree Group's ethos of "Embracing the Environment, Empowering People," Laguna Phuket drives sustainability stewardship as the industry leader in Thailand. Besides building in harmony with nature in its development and land use, it has a dedicated Sustainability Team that embraces and actively initiates ongoing environmental and community projects' participation through its guests and employees. To name a few:
Sea Turtle Conservation: this is a long-term environmental conservation programme with Phuket Marine Biological Centre (PMBC) and the Royal Thai Navy since 1994. To date, 2,145 turtles have been released, and 7.5 MB was raised for the PMBC fund.
Mangrove Plantation: 32,500 mangrove saplings have been planted since 2007. Over 1,500 volunteered associates, and 700 community members have joined us since 2007.
Earth Hour: We saved over 502 kWh of electricity in a single hour during the last event. The saving is the equivalent of 4.2 months of household electricity consumption for a small family in Thailand and reduced 264 kg of CO2 emission.