In early October 2022, I had the opportunity to travel to Kenya for the Magical Kenya Tourism Expo (MKTE 2022) and be a part of an exclusive FAM trip hosted by Kenya Tourism Board. As a wildlife enthusiast and a travel writer, this opportunity offered me a wholesome and distinct insight into the wonders of Kenya's amazingly diverse and dramatic landscape, natural wildlife, and cultural heritage. With stunning countryside from Nairobi to Shaba National Reserve in Northern Kenya, then on to Lake Nakuru National Park in South of Nairobi, our group of six including our guide and driver thoroughly enjoyed the spectacular land cruiser rides, real deal wildlife viewing, tranquil stays and other surprising experiential at both the game reserves. This is my account of our visit to the Shaba National Reserve, an ultimate and enriching experience.
– Prashant Nayak
The African continent is one of the world's most captivating destinations on earth with some of the most prolific wildlife viewing opportunities. Wherever you wander in Africa, you will leave with a new insight into the African way of life. The magic of this culturally rich, vibrant, and welcoming continent will have you wanting to return over and over. It was my first visit to Kenya and my third country in Africa. This time, I have promised to return to this magnificent country, especially for the unseen wildlife teeming in Kenya.
After a late-night arrival in Nairobi by a smooth six-hour flight by Kenya Airways from Mumbai, my trip started early the next day after a blissful but brief sleepover at the Sarova Panafric Hotel. Post breakfast, we headed north. The drive from Nairobi to Shaba National Reserve takes approximately 6 to 7 hours, using the Thika Super highway Road. The picturesque drive through the curving roads and some breath-taking scenery dotted with mountains, streams, fields, villages, and markets give you adequate time to absorb the essence of Kenya, en route.
Shaba, Samburu, and Buffalo Springs are a trio of unfenced reserves that share common borders. We stayed at Sarova Shaba Game Lodge in Shaba Reserve, perched along the banks of the Ewaso Nyiro River. The property features indigenous trees and a pond where you can get a natural fish pedicure done. We did most of our game drives in Buffalo Springs National Park. Once on safari, nothing else makes me feel alive than being in the company of birds and animals and knowing about the many wonderful creatures of the African savannah and forests.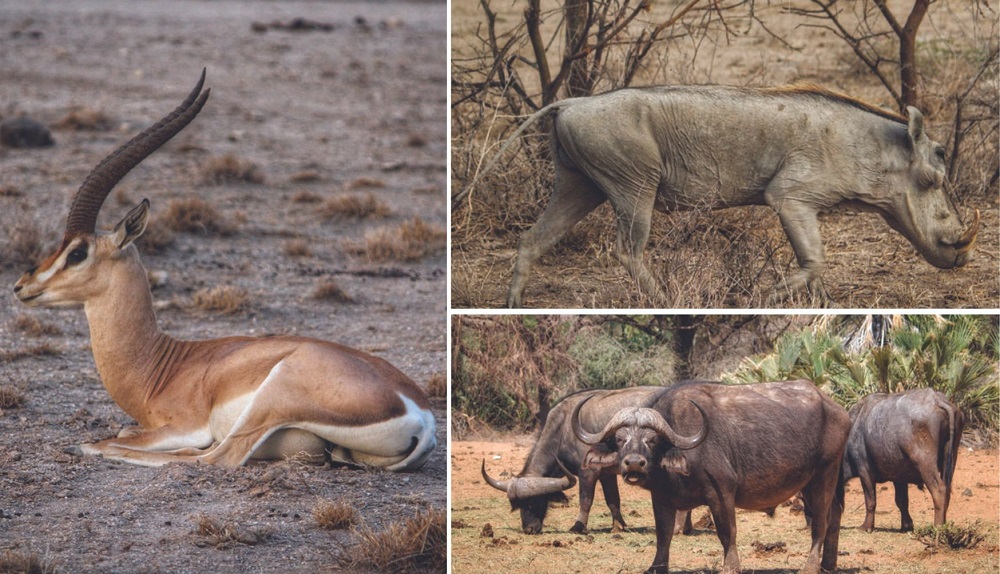 Much of Shaba's charm lies in the splendour of its topography, which includes deep gorges near the Ewaso Nyiro River. I was attracted to this interesting game park because of the terrain, which gives way to rocky hills and dusty plains strewn with black lava boulders. Massive Shaba Hill towers over this appealing landscape. The region was going through a major drought when we were there, so the foliage and grasses were almost non-existent. The going was tough for the wildlife here. While many of them had migrated, it was a wonder to know that many were surviving in the rough and rugged terrain. Their only respite was the low-flowing river nearby. However, it is a great reserve if you are keen on searching and finding wildlife, as opposed to being presented with loads of wildlife with no effort of scouting. For those who came late, Shaba National Reserve was once the home of Joy Adamson of 'Born Free' movie fame and was famous for its large lion prides. If not for the drought, this place virtually guarantees wildlife encounters in large numbers, while elephants roam in large herds and are best seen beside the river.
However, Shaba is still home to some of Kenya's dry country specials. We did spot the Beisa Oryx, Cape Buffaloes, Dik Diks, Olive Baboons, Waterbucks, Lesser Kudu, Grevy's Zebra, and Gerenuk. The Ewaso Nyiro River is a good place to look for big Nile crocodiles. I spotted a small one in front of our lodge, basking under the sun near the river. While the Hadada Ibis and Egrets are found in the lodge premises, among the avian species in reserve, I was lucky to spot the Goliath Heron, Go away birds, Hamerkops, Pale Chanting Goshawk, Yellow Billed Hornbills, Yellow Necked francolins, Red Winged Starlings, Black-faced Sandgrouse, Buffalo Weavers and plenty of other small doves and birds. However, one cannot find some of the animals that are found in this part of Kenya in Masaai Mara or Amboseli National Park.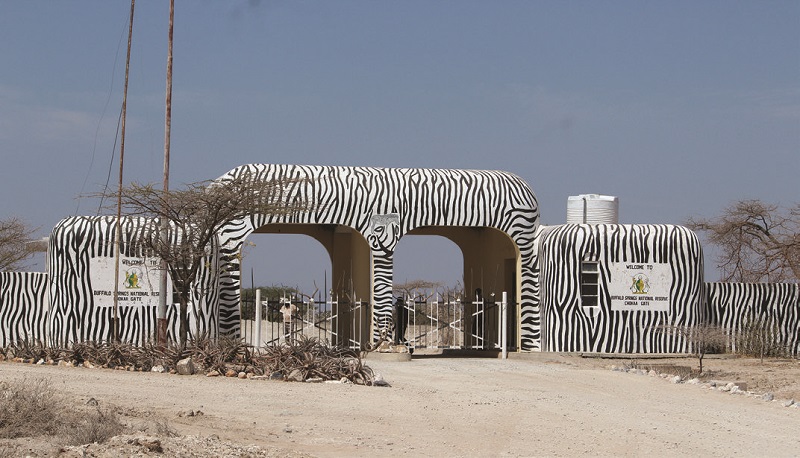 To me, the Buffalo Springs Game Reserve happened to be a perfect Kenya birding safari destination. This reserve is a habitat for a huge number of birds, where I captured a Martial Eagle, Vulturine Guinea Fowls, Dwarf Bittern, Lappet Faced Vulture, White Headed Buffalo Weavers, Superb Starlings, African Hoopoe, and many more. Buffalo Springs is known for its biodiversities of animals such as the Rothschild's Giraffe, Reticulated Giraffe, Burchell's Zebra, African Bush Elephants, Warthogs, Lions, and Leopards. Surprisingly, there are few safari visitors to the park, thus making it a pleasant destination to go on game drives without disturbing the wildlife and be the first to sight the animals and birds. Its picturesque landscape is defined by rolling savannah punctuated by termite mounds, scattered shrubs and acacia, clumps of toothbrush trees, and iconic umbrella trees, making for great photo opportunities along with the wildlife.
We also visited the Samburu National Park on a cultural tour of a Samburu settlement. This one-hour visit to a Samburu village is a chance to interact with Samburu people and get a glimpse into their culture, unique way of life and see first-hand some of their customs and practices. They took us inside their traditional huts, which are built by women using interwoven sticks, mud, and cow dung. They also showcased some ethnic dances and sang songs, demonstrated the age-old method of lighting the fire, and displayed trinkets to take home as souvenirs. Kenya boasts 42 ethnic tribes, and they are always ready to share their culture with local and international tourists. It is great to know about their nomadic lifestyle, clothing, economic activities, and beliefs.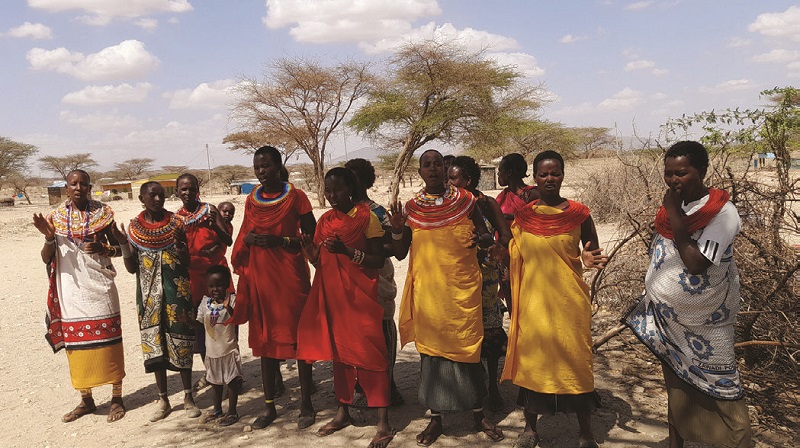 The Sarova Shaba Game lodge is set on a natural oasis, channeling the water into cascades and fishponds on the entire premises. The abundance of trees on the property gives ample cover and offers refreshing breaks after the long game drives. They also have a spectacular swimming pool with a lovely outdoor restaurant for dining and open bar space. The lodge rooms are cozy and comfortable, with excellent river views. The service from all the staff was top-notch, and we were particularly impressed with how they went out of their way to arrange our exclusive and special riverside champagne breakfast and night BBQ with a bonfire. The Vervet Monkeys also enthrall the guests with their antics, and they had to be shooed away constantly by the specially appointed guards. Sarova Shaba is a gated property with electric fences to deter wildlife from entering the premises, but monkeys usually have their way around.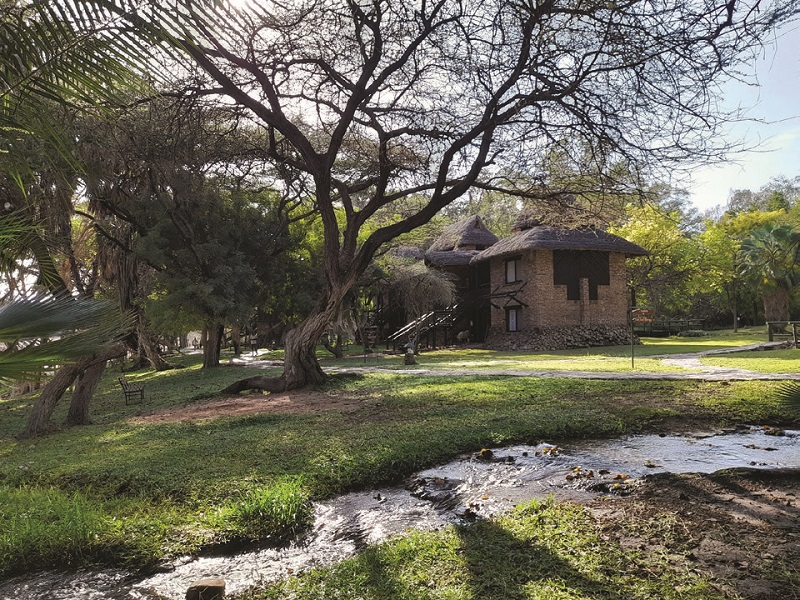 The Danish author Karen Blixen, widely known for her book "Out of Africa," which details her time spent living in Kenya, said, "If there were one more thing I could do, it would be to go on safari once more." I experienced similar emotions as we departed for Nakuru, our next destination. I really needed that one more game drive in Shaba! My experience at Shaba will always remind me of all the good people, the comfortable stay, the rich wildlife, and the exquisite culture. I am sure to visit this beautiful destination again whenever I get the opportunity to be back in Kenya.