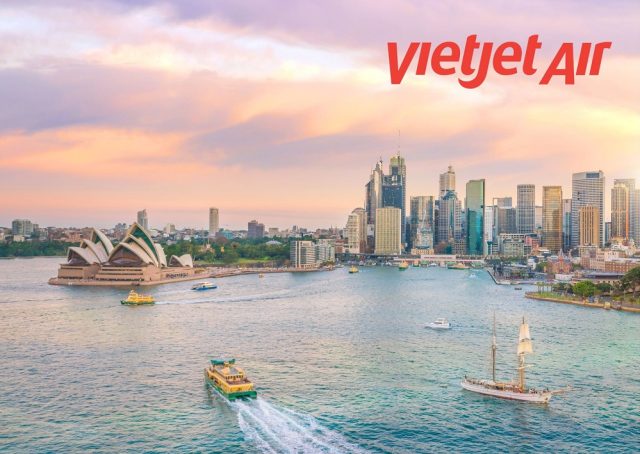 Vietjet, Vietnam's leading low-cost carrier has announced an attractive promotional offer for Indian travellers to Melbourne and Sydney in Australia with tickets priced from only USD0 (excluding taxes and fees), which will go on sale every Monday, Tuesday, and Wednesday through its connecting services. SkyBoss and SkyBoss Business tickets are also currently being offered at a 50 per cent discount during these sales days. The offer is valid from now until October 25, 2023.
Passengers can avail this offer at www.vietjetair.com and Vietjet Air mobile apps, applying to all routes connecting Vietnam and Australia (Sydney, Melbourne). The offer is available for flights from April 8 to October 28, 2023.
The airline is particularly offering 50 per cent off to SkyBoss/SkyBoss Business tickets from now until June 8, 2023, for the routes to Australia. Passengers can enjoy additional priorities for flights between April 8 to June 8 of 2023, including access to a luxury lounge, private cabins, a cocktail bar, flatbed seats, free up to 20 kg of carry-on baggage and 60 kg of checked baggage, a golf club set, and delectable organic cuisine.
The first direct flights connecting Ho Chi Minh City to Melbourne (Australia), Tullamarine airport will operate from April 8, 2023, with 6 flights per week (Every Tuesday, Thursday, and Saturday taking off at 10:55 am and land at 10:35 pm (local time)). The flights from Melbourne to Ho Chi Minh City will operate on every Sunday, Wednesday, and Friday taking off at 12:30 am and landing at 6:30 am (local time). The flights connecting Ho Chi Minh City and Sydney (Australia) will operate from April 12, 2023, with 6 flights per week (Every Wednesday, Friday and Sunday: take off at 7:30 pm and land at 7:20 am (local time)). The flights from Sydney to Ho Chi Minh City on every Monday, Thursday and Saturday take off at 10:15 am and land at 4:30 pm (local time).