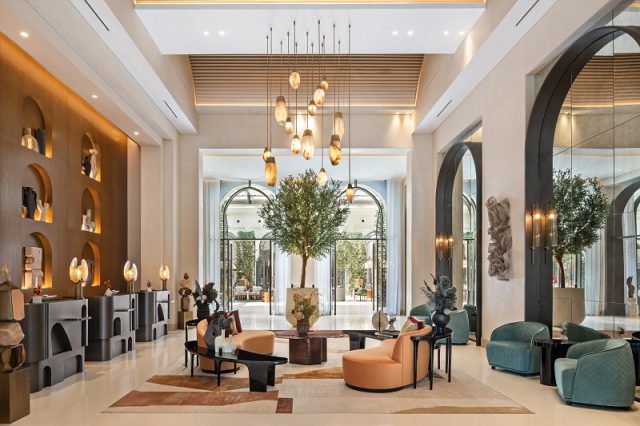 Nestled in the picturesque waterfront of Dubai Creek Harbour, Dubai's newest destination, Vida Creek Beach is redefining luxury living. This upscale lifestyle destination, which boasts a total of 99 rooms and suites, effortlessly combines modern, carefree elegance with artsy glam in the heart of Dubai's buzzing new hub as it revives experimental art movements with stunning lagoon views. Giving guests a new take on modern hospitality, Vida Creek Beach is a timeless holiday destination that invites you to escape the ordinary and enter a realm of pure excellence on every visit.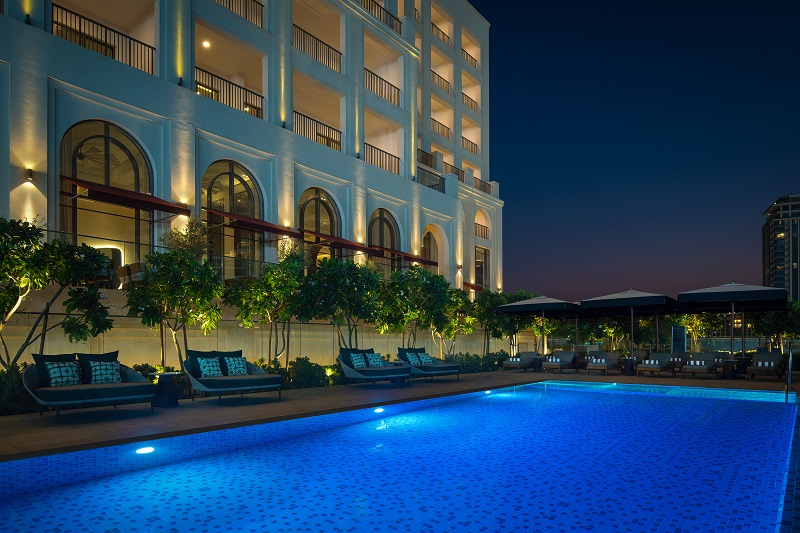 Dubai Creek Harbour, the neighbourhood where Vida Creek Beach is located, offers a serene escape from the city's hustle and bustle while being just minutes away from the city's hotspots. The area boasts a vibrant 6km promenade adorned with lagoon views, providing residents and guests with a delightful backdrop for leisurely strolls. It also offers boat tours that allow visitors to admire Dubai's iconic landmarks from the vantage point of the water.
Vida Creek Beach is located at the heart of a thriving and vibrant community. It is strategically situated to provide quick access to various parts of Dubai, being only a mere 20-minute drive from Downtown Dubai and 15 minutes away from Dubai International Airport. It is also located in close proximity to the Ras Al Khor Wildlife Sanctuary and has quick access to Dubai's business centres and cultural districts.
The hotel itself is a modern architectural masterpiece that overlooks the man-made Lagoon, and the canal at Dubai Creek Harbour, which will be opening soon. The stunning Lagoon offers guests trendy beach vibes as a state-of-the-art wave system will artificially generate waves that are like the open water of a beach, while also being an oasis of calm and relaxation.
Set on an area of 2,535 sqm., the hotel boasts the most jaw-dropping green and peaceful surroundings with majestic views in every direction. Its open and airy aesthetics draw inspiration from the Bronze Age of Arabia and other cultural elements, creating a welcoming environment for both leisure and business travellers alike. Vida Creek Beach also offers a wide range of amenities, including top-notch business facilities, dining options, and relaxation areas.
One of the highlights of Vida Creek Beach is its commitment to art and glam. The hotel's interior design is inspired by the beautiful bronze hues of the sunset reflecting over the Creek, giving it a warm and inviting ambience with nouveau glam vibes. Curated art installations adorn the property, reimagining valuable collector's items and infusing the space with a contemporary, transnational character.
Guests will find themselves surrounded by eclectic art collections that breathe life into various art movements. The hotel's corridors serve as a journey through the historical evolution of fashion, providing a visually stunning experience for every guest. Evoking the atmosphere of a sophisticated private collection, the curatorial approach envisions the art of a well-travelled, affluent woman in the 1920s. Motifs from Dubai and wider Emirati culture are blended with refined elements of Art Deco, forming a unique fusion that connects to an imagined time gone by.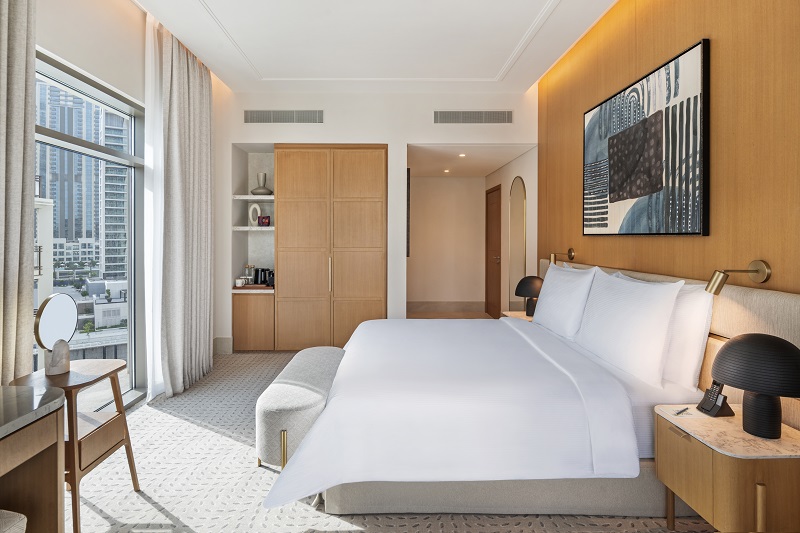 Accommodations at Vida Creek Beach cater to a variety of preferences, including Deluxe Rooms, Premier Rooms, and Lagoon Suites. All rooms come equipped with modern amenities, including interactive flat-screen TVs, stylish bathrooms with separate showers, coffee and tea-making facilities, iron and ironing boards, in-room security safes, and hairdryers. Each room also features a spacious balcony, the perfect spot to soak in the magnificent views and delightful breezes that blow in from the creek.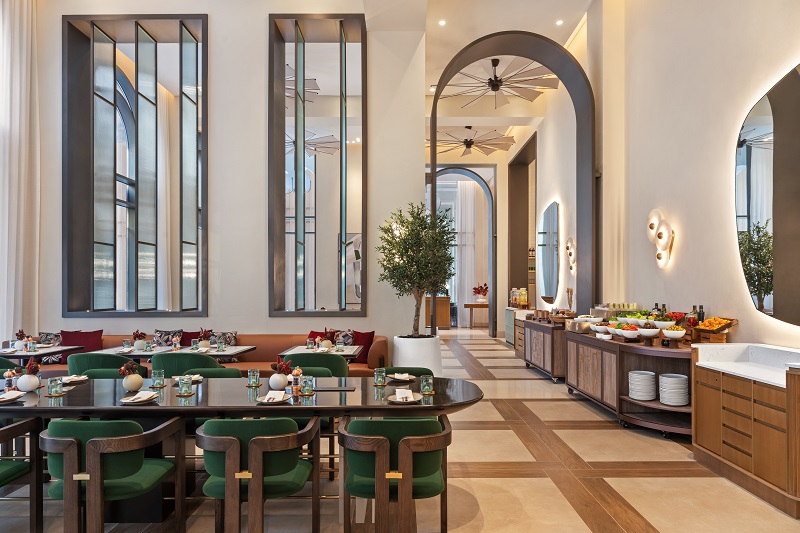 The hotel also boasts a myriad of dining options, ready to cater to every discerning foodie and palate. Guests can choose from the plethora of venues throughout their stay including The Courtyard, a vibrant centrepiece offering gourmet food and a seamless blend of indoor and outdoor dining, Stage2, an unconventional lobby lounge for relaxation and connection, Origins, a destination for wholesome and delicious meals, with an expansive terrace boasting views of the canal and Dubai Creek Harbour, and Float Beach Lounge, an oasis of tranquillity by the Lagoon, offering light bites, wood-fired pizza, and handcrafted cocktails, which will be opening soon.
Mark Kirby, Head of Hospitality at Emaar Hospitality Group, commented on the opening, "We are thrilled with the new addition of Vida Creek Beach to our portfolio of exceptional hotels and resorts throughout Dubai and the UAE. Vida Creek Beach is a modern-day work of art, absolutely bursting with glamour and incredible artistic features. Guests can expect to be transported to another realm of hospitality excellence once they step inside the doors of this property and we are so excited for it to be open, marking our second Vida Hotel in Dubai Creek Harbour."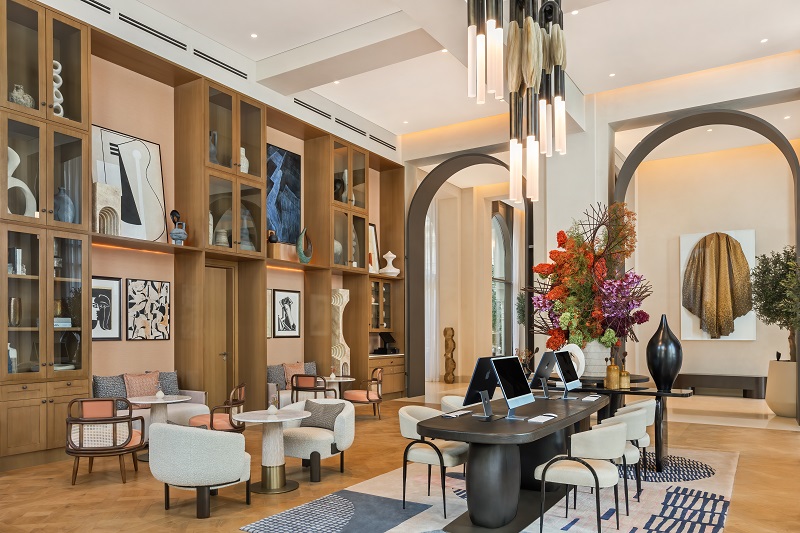 Vida Creek Beach also caters to events, with meeting rooms that boast plenty of natural light, minimalist design, and state-of-the-art audio-visual technology. The hotel's versatile spaces are perfect for business gatherings, weddings, and other celebrations, while the leisure amenities at Vida Creek Beach include the Lagoon, a massive man-made lagoon-like pool, an infinity pool overlooking the Dubai Creek Harbour skyline, and a fully equipped fitness centre.
Vida Creek Beach is the premier destination for those seeking a relaxed getaway in the heart of Dubai. Book your next stay and get ready to experience the perfect blend of modern elegance, artistic inspiration, and vibrant living.