Dubai's home-grown hotel brand, Rove Hotels, is ready with Rove Expo 2020 Hotel, which will open its doors on October 1, 2021. Paul Bridger, from the Rove Hotels' Management, invites 'Rovers' to grab the best seats in the house at Dubai Expo 2020's only on-site hotel. He assures that their guests will be able to enjoy great hospitality within the Expo 2020 site. Read on…
– Prashant Nayak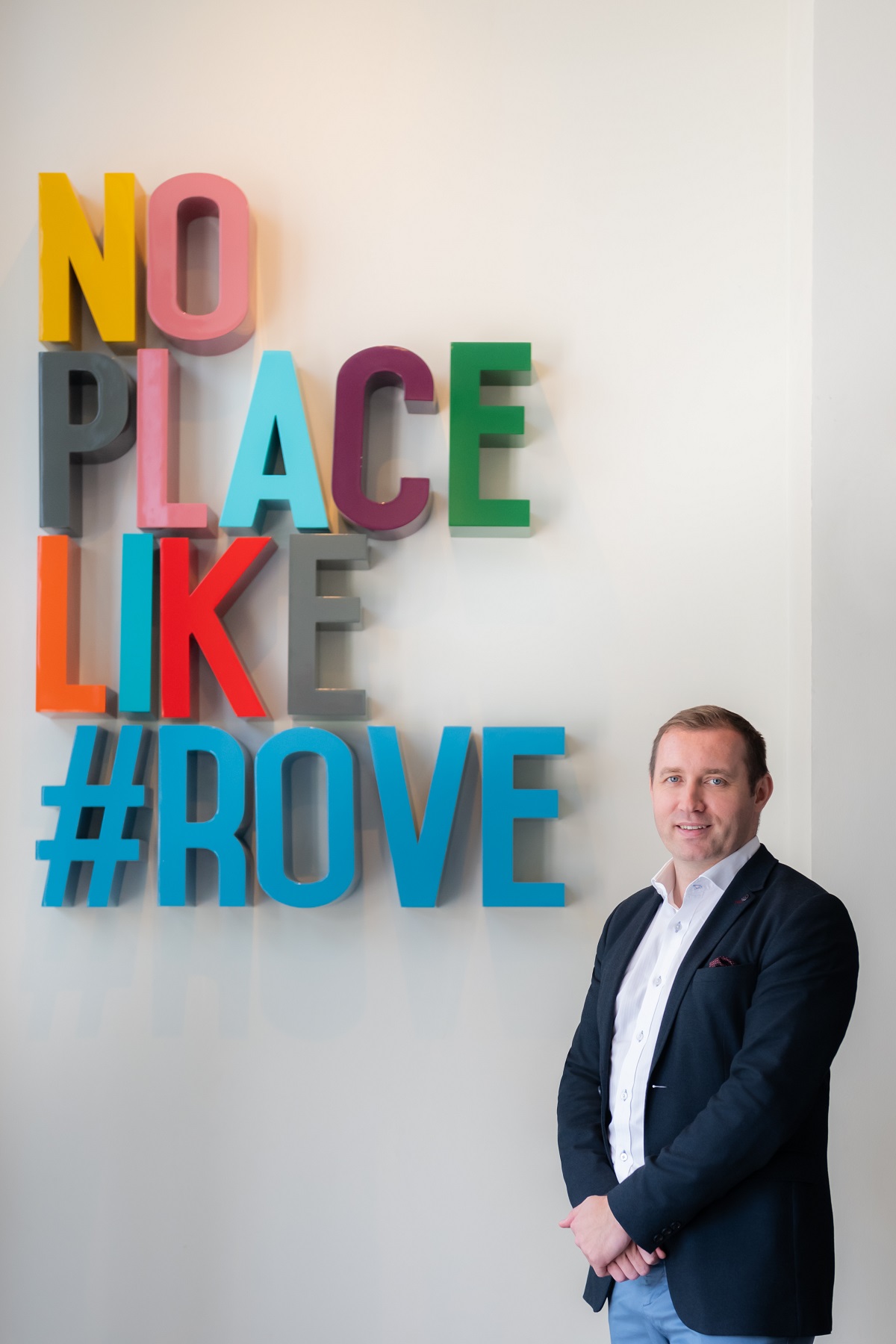 Tell us about the thought given behind coming up with Rove Expo 2020 Hotel?
With Rove Expo 2020, our aim was to provide Rovers (guests) the 'best seats in the house' to the world's greatest show. Rove Expo 2020 is adjacent to Al Wasl Plaza, placing our Rovers (guests) at the epicentre of the event and serving as the perfect launchpad for 192 country pavilions, over 60 daily shows and more! We are positive that the presence of this hotel will boost the already huge appeal of such a historical and major event for the UAE and offer Expo 2020 visitors a new, innovative hospitality option.
Can you brief us more about the unique amenities and facilities at the hotel? What is the USP of this hotel?
Being the only on-site hotel at Expo 2020 Dubai, as well as the amazing location adjacent to Al Wasl plaza make for very compelling reasons to drive many Rovers to stay with us.
From the refined design concept which combines references to past World Expos and hints to the future to amazing facilities such as a stunning swimming pool and sundeck overlooking Al Wasl Plaza, Rove Expo 2020 takes the Rove Hotels concept to a whole new level while maintaining the brand DNA.
Some unique facilities present at Rove Expo 2020 include suites, a first for Rove Hotels, multiple F&B outlets including The Daily restaurant, our signature concept, as well as a bar and a grab and go Rove Café. Additionally, the hotel will feature an outdoor event space and large co-working areas.
Sustainability is another aspect where Rove Expo 2020 shines. The hotel has been built following Expo 2020's strict sustainability guidelines and it has received the Leadership in Energy and Environmental Design (LEED) Gold certification. Besides, we are applying all the environmental learnings acquired across other brand properties to Rove Expo 2020. Initiatives include 100 per cent sustainable amenities, an AI-powered food waste management system, in-property waste segregation, recycling and much more.
Thanks to these initiatives, Rove Hotels have been awarded with the prestigious Green Key certification, as well as certified by DTCM's Sustainable Tourism Initiative.
Having the advantage of being the only onsite hotel at the Expo 2020 venue, have you started receiving bookings for the property? What is your expectation of room occupancy till the end of the Expo?
Yes, definitely! We're getting lots of enquiries for Rove Expo 2020, not only for our rooms but also for our meeting and event venues and F&B outlets.
An example of this is our suites, which are almost sold out already! This is the first Rove property to ever feature suites, so it has been a welcomed surprise. We are certainly very excited about being part of Expo 2020 and the fact that we are a homegrown brand is just a plus. We are looking forward to showing the world what the UAE is capable of.
What are your marketing strategies? How is the hotel reaching out to your global customers?
Our focus has largely been on digital media and social platforms and historically, that has worked out the best for our target audience as well as the brand. For Rove Expo 2020, this continues to be true, but we will be maximising our reach by tapping into new platforms and working closely with the team at Expo 2020 to promote the event.
Given we are a homegrown brand, locally we have built a very strong brand presence and internationally, we have traditionally focused on targeted tactical campaigns on key markets. During the Expo 2020 period, we are expecting a great influx of visitors from across the world. With the only on-site hotel inside the event, we are sure lots of visitors will get to discover and experience the brand for the first time, which is great.
What are your expectations from the Indian audience during the Dubai Expo? Have you worked out special offers/packages for your Indian trade partners?
India is a key market for the UAE and for Rove Hotels it has been among the top 5 markets across the brand. If the global travel situation allows for it, we would expect it to be among the top markets throughout the Expo period.
For the Indian audience, Rove Hotels has always had a wide appeal across segments thanks to the quality of offerings provided at a great value, alongside being centrally located in Dubai. Some of the Rove Hotels are in areas that are particularly popular with Indian travellers, such as Rove Deira City Centre, Rove Healthcare City and Rove At The Park in Dubai Parks and Resorts. With the India Pavilion hosting a variety of festivals and events showcasing its culture and art to keep its audience positively engaged, we expect the Indian audience to show full participation and support during Dubai Expo 2020 and hope to welcome them to the Rove Hotels across the city.
How will Rove Expo 2020 hotel brand strategies and manage after the Expo?
Right now, we are focusing on ensuring a smooth opening to take place on 1st October 2021 to coincide with Expo 2020. Unlike traditional hotel openings, Rove Expo 2020 will not have a ramp-up period and will open at full occupancy on 1st October 2021, so we are working tirelessly with our team to ensure that we deliver the same high standards of service that we are known for from day 1.
After the event, 80 per cent of the total Expo site will be repurposed into a mixed-use area with residential, commercial, and retail spaces to be known as District 2020. Inside Rove Expo 2020 we have a special area that highlights the future of the district after Expo 2020 through including an interactive 3D model, and audio-visual content. The hotel will sit right at the centre of that, strategically placed to host visitors to the new Dubai Exhibition Centre (DEC) which will be hosting many of the city's largest events as well as in close proximity to Al Maktoum Airport and Jebel Ali Freezone.
What are the other Rove Hotels you are banking on to attract the Dubai Expo audience?
We have 9 great locations around the city, all very well connected and with easy access to Dubai Metro and public transport. While we are seeing interest for the Expo period across all our properties, there are several hotels that are especially well positioned to cater to Expo visitors thanks to their proximity to the event, such as Rove At The Park, Rove Dubai Marina and of course, Rove Expo 2020. Our full list of locations includes Rove Downtown, Rove City Centre, Rove Trade Centre, Rove La Mer Beach, Rove Dubai Marina, Rove Healthcare City, Rove At The Park and Rove City Walk.
What are some new trends that you have been witnessing in the Dubai Hospitality sector?
Operational agility is an important new trend that we believe is here to stay. It's about offering optimal experiences to guests while keeping operations lean. At Rove we have always had a flat hierarchy which has helped us move fast and adapt to change when required, without affecting the quality of our service.
The second trend is sustainability and Rove has always been an area of great focus. With Expo 2020 aiming to be one of the most environmentally friendly World Expos in history, the brand is upping its earth-love ethos to match. Rove Hotels' commitment to making a positive impact in everything it does can be found within the big stuff, filtering all the way through to the tiny details. The team has utilised the latest technologies in energy efficiency with increased solar panelling, whilst operating with the leading artificial intelligence in food waste solutions and so much more – all in line with Rove's strong spirit of sustainability.
The third key trend would be repurposing hotel areas to cater to new demands. Over the last 18 months, Rove Hotels has launched a number of very popular initiatives that have helped us make the most of underutilised e-spaces and attract new Rovers to our hotels. Some examples of these are our new Gamer Caves, the Middle East's first gaming rooms, the Rove Podcast Studio located in Rove Downtown, a film and photography studio in partnership with Nikon, private hotel offices for those looking for a quiet and safe space to work and more.
Do you think the Expo 2020 Dubai can be a strong catalyst in the recovery of UAE's hospitality industry?
Expo 2020 is expected to bring 25 million visitors over the next 6 months that will surely help in accelerating the city's tourism recovery. DTCM and the Government of Dubai have done an excellent job maintaining Dubai as a top-of-mind destination, which has translated in Dubai being the second city in the world in terms of hotel occupancy during the first half of 2021. We are excited to see what Expo 2020 will bring, it's a one-of-a-kind opportunity to show to the world what Dubai and the UAE have achieved and bring lots of new visitors to the city.