Qatar Tourism led a high-profile delegation of 40 hospitality partners in a roadshow across Mumbai and New Delhi, anchoring Qatar's commitment towards the Indian travel market. The roadshow took place from 8th to 10th August, 2023 with over 200 Indian travel companies in attendance across the two cities.
The roadshow highlighted Qatar's dynamic tourism offering and aimed to position Qatar as a leading tourism destination with world-class hotels and resorts, premium leisure and entertainment venues, and a rich cultural tapestry that together create an unparalleled holiday experience. India is one of Qatar Tourism's 15 priority markets identified in its long-term strategy which aims to make Qatar the fastest growing tourism destination in the Middle East by 2030.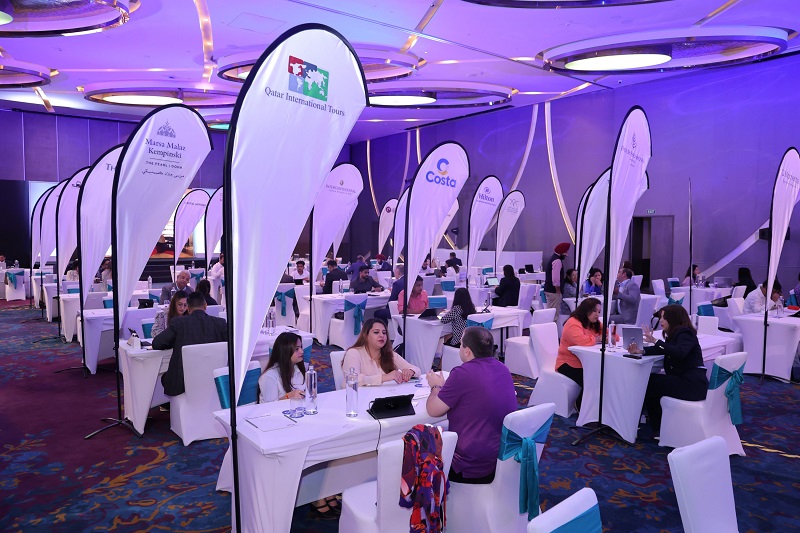 Included in the roadshow led by Qatar Tourism were destination management companies, hotels, airlines, cruise liners, and attraction providers, such as: Zulal Wellness Resort by Chiva-Som, Al Messila – a Luxury Collection Resort & Spa, The Ritz Carlton Doha, Waldorf Astoria Lusail Doha, The Chedi Katara, The St. Regis Doha, Marsa Malaz Kempinski, Raffles Doha, Fairmont Doha, Hilton Doha, Hilton Salwa Beach Resort & Villas, Banyan Tree Doha, Banana Island Resort Doha by Anantara, The Westin Doha Hotel & Spa, Four Seasons Hotel Doha, W Doha Hotel & Residences, The Ned Doha, Rixos Gulf Doha, Grand Hyatt Doha, Centara West Bay Hotel & Residences, Radisson Blu Doha, Marriott Marquis City Centre, Le Royal Méridien Doha, Dusit Doha Hotel, InterContinental Doha, Ibis Doha & Adagio Aparthotel, Millenium Hotels, Discover Qatar, Regency Holidays, Mannai Holidays, QIT, Q Moments, Tawfeeq Holidays, Travel Designer, Embrace Doha, Doha Bus, Qatar Airways, IndiGo and Costa Cruises.
Commenting on the importance of the roadshow, Philip Dickinson from International Markets at Qatar Tourism said, "Qatar Tourism is committed to expanding and deepening its outreach to valuable partners and stakeholders in India. We are thrilled by the opportunity to engage with hundreds of travel companies to showcase Qatar's unmatched tourism offering and we trust that this roadshow will help pave the way toward further exciting collaborations and partnerships in this priority market. With visa-free travel, a few short hours of flight, and a captivating tourism experience that extends from the desert to the sea, we believe Qatar is truly an ideal destination for holiday-seekers from India. We look forward to further engagements in the near future that allow us to continue elevating Qatar's position in international markets and demonstrating the richness of Qatar as a tourism destination."
The roadshow featured insightful presentations, interactive discussions, and networking opportunities over the 02 days. In addition, Qatar Tourism created two specialised sideline events on wedding planning to grow Qatar's global position as a getaway destination for luxury weddings. The specialised events brought together some of India's leading wedding planners and showcased ten of Qatar's finest wedding venues, opulent hotels, world-class amenities and service providers. From desert-inspired ceremonies to beachside vows and lavish indoor festivities, the events highlighted the ability for soon-to-be weds to bring to life their dream celebration.
Qatar is gearing up for an active social calendar in the months ahead. Firmly cementing its position as a sporting destination after the successful delivery of the FIFA World CupTM in 2022, Qatar will soon host the riveting Formula 1® Qatar Airways Qatar Grand Prix 2023™ from October 6 – 8, 2023 and the annual Qatar MotoGP from November 7 – 19, 2023 for the 2023 World Championship. Additionally, Qatar will host the prestigious Geneva International Motor Show (GIMS) for the first time from October 5 – 14, 2023. More than a traditional car show, this will be an exciting festival celebrating car culture and automotive excellence.
Visitors from India can also take inspiration on events, where to go and what to see during any given month through Qatar Tourism's social page, @QatarCalendar. This monthly release offers a curated round-up of all events taking place in Qatar, from art workshops to musical symphonies, sports championships and much more.
Consistently ranked as one of the safest countries in the world, Qatar welcomes nationalities from 100 countries visa-free while others can easily apply for a visa using the online Hayya platform. This short-haul destination within 3.5 hours of travel time from India has an ever-changing landscape, offering year-round sunshine which makes it the perfect vacation destination. The country has something to offer for everyone be it families, solo travellers, groups of friends, or even romantic getaways. Qatar is the land of Arabic hospitality and the perfect blend of tradition and modernity waiting to be explored.