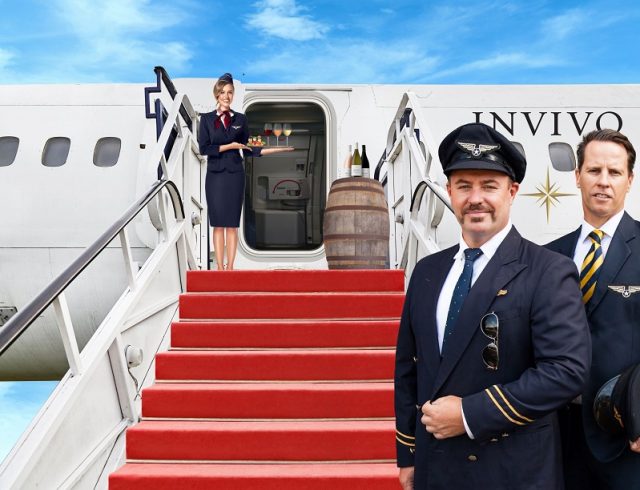 New Zealand wine company Invivo is embarking on its inaugural wine flight with a difference, launching Invivo Air to offer a unique experience for wine lovers. The all-inclusive viticulture vacation will take wine enthusiasts from Auckland to Queenstown for an overnight adventure.
Departing from Auckland airport at 12:00pm NZT on January 31st, the world's first winery airline will see guests board the Invivo Air Saab 340 plane and enjoy a guided eight-step wine-tasting at 18,000ft. Led by Invivo Co-Founders Tim Lightbourne and Rob Cameron, the winery in the sky experience includes an expertly paired selection of local Kiwi snacks with tasting pours from the full award-winning Invivo range including Invivo, Graham Norton wines and Invivo X, SJP wines; a range of low and no-alcohol options will be on offer too. Onboard entertainment will also be provided, with a curated playlist compiled by Invivo Cofounder Rob, who is also lead guitarist of a local Kiwi band (Razorback Road).
Two hours after take-off, Invivo Air will start making its descent into Queenstown which is home to arguably one of the most scenic airports in the world. With views of dramatic alpine ranges of the Remarkables to the crystal-clear Lake Wakatipu, it's the perfect airside introduction to the South Island's jaw dropping landscapes and unique wine growing region.
A limited number of tickets priced at $1,149 NZD per person* (approx. 61K INR) will be available from Invivoair.com on Thursday 15 December (IST) and Friday 16 December (NZT)*. The price per ticket includes a return trip from Auckland to Queenstown on Invivo Air, one night stay at The Hilton Queenstown, a vineyard visit, winemakers' dinner with wine matches, and all meals including lunch and breakfast and transport whilst on the itinerary.
Rob Cameron, Co-Founder, Invivo Air says, "Invivo Air is the world's first winery airline and we're looking forward to guiding our guests through the ultimate wine lovers experience – both at 18,000ft in our winery in the sky and also on terra firma at one of our beautiful Central Otago vineyards. We're thrilled to open Invivo Air to the public and deliver a truly unique experience for those that come on board. We'll be tasting some stunning drops in some truly epic locations. So, wine not come fly with us and experience business class in every glass!"
Invivo are also planning to run future Invivo Air flights and customers who are interested in future Invivo Air flights, can register their interest and sign up for updates at Invivoair.com.
Invivo, which is famous for producing award-winning Sauvignon Blanc, Rosé and Pinot Noir from New Zealand as well as its collaborations with Graham Norton and Sarah Jessica Parker, will offer a selection of Pinot Noir to guests to taste, as they savour the lush winery surroundings.