Through the years, Norwegian Cruise Line (NCL) has pioneered several offerings that have transformed cruising today. Manoj Singh, Country Head India, Norwegian Cruise Line, speaks of the innovative approach in global cruise travel for over five decades, how they remained poised ahead in the race, and the current Indian market, which holds boundless potential for growth.
– Prashant Nayak
The past decade has witnessed considerable evolution of cruise tourism in India, thus leading India to burgeon both as an incredibly important source market as well as a destination for NCL. That cruise holidays have gained popularity amongst Indians is substantiated by the fact that Norwegian Cruise Line's 'Norwegian Dawn' ship, for the very first time, departed from Mumbai port in January this year on a 12-night cruise via Goa and Mangalore to Doha.
"Higher disposable income and globalisation have led travel plans of Indian holiday seekers today to evolve into pursuing adventures and experimenting with wider and facile options. International cruises are on the bucket list of many urban Indian families. These travellers are well-informed, environmentally conscious, and constantly on the lookout for unique experiences with minimum ado," remarks Manoj. It is exciting to observe that a significant number of Indian travellers are desirous to take a cruise vacation. Cruise holidays top the minds of Indians, for here, they find a way to travel together, reconnect, and bond with their families on a vacation.
Norwegian Cruise Line has been breaking the boundaries of traditional cruising for 56 years. Most notably, the cruise line revolutionised the industry by offering guests the freedom and flexibility to design their ideal vacation on their preferred schedule. Mentioning some USPs of their cruises that give them an edge over their competitors, Manoj shares, "The most significant of these is our ground-breaking 'Freestyle Cruising', a unique concept that gives guests the freedom to choose dining options anytime and in any part of the ship. Aboard our ships, guests do not have to adhere to a dress code and are at liberty to dress at will. They are entitled to choose their entertainment and spend time as they desire, which, ideally, a relaxing vacation is all about. Our port-rich itineraries offer guests seeking immersive travel experiences with minimal sea days and more time to explore each destination. We have late-night stays at ports, where guests can soak in local culture, be it food, shopping, or entertainment."
NCL offers a range of unique onboard leisure activities as well. They have the world's only racetrack at sea, open-air laser tag arenas, and drop rides. The Galaxy Pavilion, a dedicated virtual reality and gaming complex, offers an immersive virtual experience for guests. Guests can choose from a host of accommodation options depending on how big their travel groups are. They have family mini-suites, two-bedroom suites with ocean views, and interconnecting staterooms as well.
Adding to the list, Manoj further shares, "For a premium cruise experience, NCL has 'The Haven,' which offers the intimacy of a smaller vessel without foregoing the variety of activities and amenities enjoyed on larger ships. Guests of this ship-within-a-ship can indulge in the unparalleled personal service of a certified 24-hour butler and a concierge, as well as their own restaurant. Across our ships, we have multiple specialty restaurants and bars that serve some of the most diverse world cuisines and drinks. We offer some of the most diverse and unique entertainment options for guests, including award-winning Broadway musicals, comedy clubs, and sail-away parties on deck."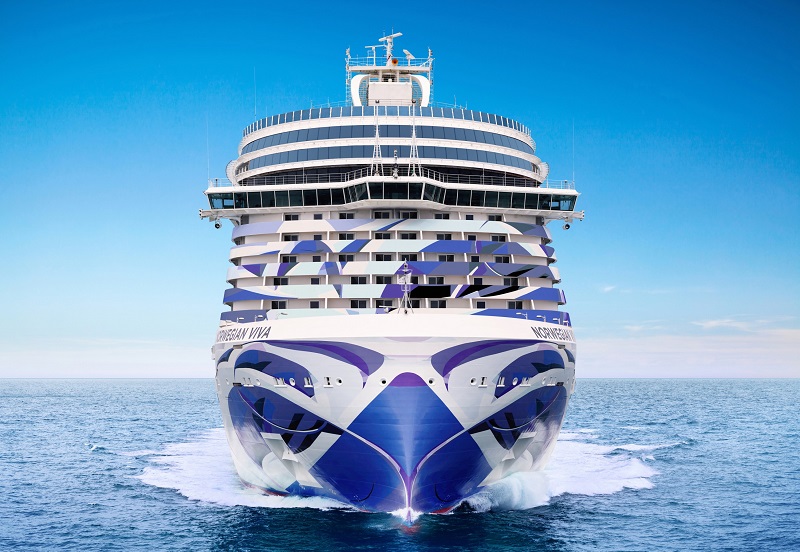 NCL recently unveiled its brand new magnificent vessel, Norwegian Viva, offering guests the opportunity to explore Europe and beyond. The ground-breaking Prima class ship offers upscale and spacious design, elevated experiences, expansive culinary offerings, and signature Norwegian Cruise Line hospitality provided by the most attentive crew in the industry. Norwegian Viva mirrors the design of its award-winning sister ship, Norwegian Prima, offering standout onboard experiences, including the Viva Speedway—the three-level racetrack; Indulge Food Hall, an upscale food market exhibiting 11 unique eateries; and the fastest slides at sea, to name a few. "We look forward to enthralling all our guests with these offerings that will only get better with every new launch—four more Prima class ships to come," informs Manoj.
NCL offers the ultimate way for families to reconnect and recharge, with port-rich itineraries that allow them to immerse themselves in each destination and a fleet of innovative ships that offer an incredibly vast array of choices to suit families large and small, from an onboard racetrack to Broadway entertainment, fine dining, and casual fare, as well as multiple accommodation options and unique event spaces that are ideal for milestone moments amongst larger, multi-generational families.
A cruise getaway is an ideal choice not just for families and friends but also for MICE and corporate trips, agrees Manoj. He elucidates, "The MICE segment has great potential for cruise ships and vice versa, and we are actively concentrating on this segment of the market. Hosting corporate events on a cruise ship can be a very convenient and smooth experience for organisers, as everything is available on board to help them navigate and manage large teams of people from different locations across the world. Be it our diverse range of accommodation options and conference rooms, our multi-cuisine dining offerings, or the myriad of entertainment and gambol on board and offshore, a cruise ship allows corporate guests the perfect balance between work and fun."
As stated before, India is incredibly important for NCL both as a source market and a destination, but there remain certain challenges. "We perceive incredible potential for growth as more people discover the value of cruising with us. The challenge for us is to reach out to as many travellers as we can in India and inform them of our offerings. We continue to invest in our consumer marketing in India to help inspire and enable travellers to get in touch with their travel agents and plan their dream cruise holidays with us," mentions Manoj.
As part of NCL's 'Partners First' philosophy, they are doubling down on their investment in the travel trade, developing tools and resources that will help travel partners maximise their selling potential. They currently have two platforms for trade partners: Book-A-BDM and Norwegian Central Asia, along with a dedicated Partners First Facebook group for their agents in the region. They have been constantly promoting the range of destinations and itineraries offered by their 19 ships, including their game-changing brand-new Prima Class, including the just-launched Norwegian Viva.
Travellers today are increasingly conscious of their carbon footprint, and its impact on the planet, and NCL fully appreciates the growing importance of environmental responsibility and sustainability in the cruise industry. As a result, the corporation has taken major steps to incorporate sustainability and environment-friendly practices into its operations. NCL has made significant expenditures on cutting-edge technology to reduce its environmental impact.
The company has launched an ambitious climate action strategy with clear targets to reduce greenhouse gas (GHG) emissions. This strategy emphasises efficiency, innovation, and collaboration, aiming at net-zero emissions by 2050. NCL is actively working towards a 10 per cent reduction in GHG intensity by 2026 and a 25 per cent reduction by 2030, measured against a 2019 baseline on a per capacity day basis.
NCL's commitment to decarbonisation is underscored by its adoption of green methanol as an alternative fuel source. The company has modified its upcoming Prima Class ships, slated for delivery in 2027 and 2028, to be methanol-ready. While further adjustments are necessary to enable the use of methanol alongside traditional marine fuel, this decision exemplifies NCL's determination to embrace sustainable fuel solutions.
On the domestic front, with the rise of high-seas and river cruising in India, the country is on the verge of creating a deep footprint on the global cruise tourism map by offering a world-class experience through its rivers and coastline. The Indian government has recognised the potential and importance of cruise tourism in driving economic growth, job creation, and cultural preservation in the country, which indeed is a positive sign for the future of the cruise sector. Agreeing once again, Manoj reiterates, "India harnesses colossal viability to grow its domestic cruising market by tapping the potential that is spread over its 7,500-km coastline as well as numerous rivers. With ports like Mumbai, Kochi, and Chennai, India has the potential to attract cruise travellers from across the world and establish itself as a world-class cruise destination. We look forward to seeing how the cruise industry in India unravels to develop and how we can accommodate ourselves in the more happening future."