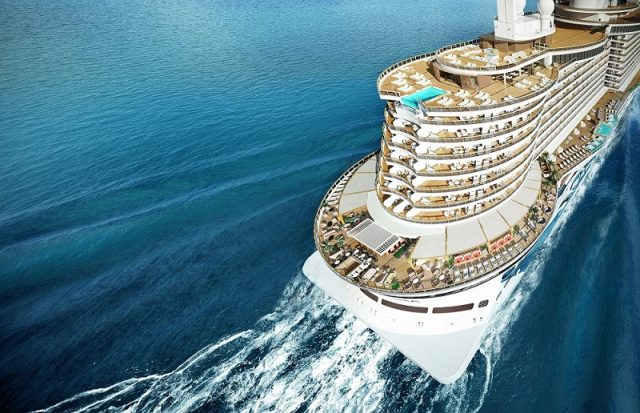 Norwegian Cruise Line (NCL) has now returned to sailing with most ships in their fleet back in the waters. NCL is doubling down on India and is committed to the market for the long term. Eamonn Ferrin, Vice President of International Business, Norwegian Cruise Line, was in Mumbai to meet and encourage the key trade partners from across India. TTJ virtually connects with him to learn more about their latest sailing developments and new offerings for Indian cruise enthusiasts and sellers.
– Prashant Nayak
With the pandemic ebbing, NCL's first sailing on their 'Great Cruise Comeback' as they refer to it – was on July 2021. They've been sailing and adding new ships to their itinerary since then for the past year.  And since then, they have just seen their sailings growing and strengthening as every month has moved on.
"To sail again, for our people and our crew, it was a very emotional time because they really missed working on the ships. They missed serving the customers. We love what we do and it was great to be back in the water and sailing once again. I often phrase it like, "You don't jump to the top of the stairs; you walk up one stair at a time," and every month is better than the last month. Of course, it does vary by geography and by the marketplace. So, some governments had opened much sooner than others, for example, in the UK, all restrictions are currently off. This means that we've seen a bigger bounce back in some markets than others, but generally it's going on very well," says Eamonn.
In the context of cruising, Eamonn explains that in 2009, 18 million people took a cruise worldwide, and by 2019, that number had risen to 30 million people. So, every year the industry has seen a compound growth of six to eight per cent, for those ten years. When the pandemic hit, that led to almost two years of not operating, so by that math, it means 50-60 million people have not had a cruise.
According to Eamonn, the bounce-back has been really strong, and he has witnessed this in many markets. He says, "I'm absolutely sure that the same will happen with India as restrictions come off and as people start feeling more and more confident. I have had meetings with a number of our valued travel partners here in Mumbai and every one of them was very confident about the future and about the bounce back."
Safety is a priority at NCL as per their Sail Safe initiative. They consult on safety issues with experts and public health departments on a monthly basis. They still have stringent standards in place when it comes to safety and protocols. However, different destinations have different rules and regulations. Thus, they have to work with local restrictions that the different governments have implemented. It depends on which destination they working in and which ports they are calling in.
NCL can't wait for Indian travellers to have the chance to be the first to sail on their new Prima Class ships – kicking off with Norwegian Prima in August this year when she makes her maiden voyage in Iceland. The word Prima, which means 'first' in Italian, is designed to be the most innovative, contemporary, and prestigious ship out on the seas.
Mentioning the USP of the ship, Eamonn says, "The first key point is, it's almost the same size as our Breakaway class of ships. So, it's a hundred and forty-two and a half thousand gross tons of a ship. It's got the biggest space ratio of any contemporary ship out there. It's 36 per cent more than our competitors set on average. The bathrooms are bigger. The staterooms are bigger. We have a guest ratio of roughly two guests to one staff member, which is the highest service level we have ever had- because there are only about 3100 or so 3200 guests onboard which obviously makes this a huge ship with a lot more opportunities."
The ship has two infinity pools on each side of the ship. The Haven complex in the ship has a three-story racetrack, the longest in the sea ever or the biggest ever. Elaborating more on the ship, Eamonn adds, "The whole ship is innovative from stem to stern. And it's all about a new class of innovative processes that we were super excited by. And of course, what we're very excited by is that there's not just one coming, but there's six over the next six years."
NCL witnessed some good numbers from India between 2017 and 2019. Eamonn believes that cruising has a bright future in India because he sees a lot of potential in the India market, considering the rise in people's affluence and the number of individuals who haven't tried cruising yet. "In that sense, India is more of an immature market compared to the US or compared to the UK or Europe, but we think that it will grow over time. And as more Indians experience the product, the more they are going to love it and the more they are going to book with us. We are keen on the future and we see an awful lot of opportunity in the India market for growth in the years ahead," opines Eamonn.
According to Eamonn, Europe is by far the most important destination for the India market on NCL. However, he mentions, "They love going to the Mediterranean. They love going to the Baltics. The second biggest market for Indian travellers would be Alaska and a little bit of Hawaii. We have seen a strong demand for Alaska. Bahamas and Bermuda are being explored from New York as well. So, ultimately, I can only say that Indians love cruising."
NCL has been a consistent brand and a company for over fifty-five years, and they have learned a lot when it comes to the cruising business. They have two key principles, the first of which is 'Guest First'. Whether it's the accommodation, food and beverage, the entertainment, or the quality of their services and experiences onboard, it has always been an important factor to ensure that guests are comfortable and happy. Once customers have a great experience, they are bound to come again.
The second principle is their marketing. NCL has an internal concept that they call Partners First, and that's all about building long-term relationships. "We're not here to do short-term things. We're here to build long-term business philosophy. So, we also work very hard with our Indian travel partners. We are happy to invest in marketing and co-operate with our partners in various growth aspects because ultimately, we believe that in each market, there are people promoting our product, which works to our advantage. We have Norwegian Central, which is a hub for all of our marketing material that many of our travel partners utilise for their own marketing purposes. Of course, we also have an agent booking engine, which they can use to book with. NCL also has its own university, 'NCLU' as we call it, where one can learn extensively about our products, how to sell them better, and get real experience in what it means to be an NCL loyalist," shares Eamonn.
NCL's capacity will expand by 40 per cent in the next six years as a result of the six new ships, which is fairly significant. And obviously, they will need customers to fill that capacity on a global level. And they hope they will get many, many more Indian clients joining them on their ships and enjoying the product for the foreseeable future.
"In terms of growth at NCL, we have a very bright future ahead. Our six prima class ships are so innovative and distinctive that they will add a different dimension to our brand and will elevate our brand. That's a 20000 extra capacity over the six-year period with these six ships. We see a very bright future for NCL and a very bright future for the India market if they fill as many of those ships as possible. And we're here to help," assures Eamonn.
Eamonn wants to get the message of serious cruising out here in India. To be successful in the mission, they must continue to engage with their travel partners in India and expand their network as much as possible. "We're very keen to get the message out there because the India market is a little more immature than others. There is an opportunity to grow the market, and to grow the business. And we want to grow our business in a way that helps our partner too. So obviously, we pay good commission. We ensure good support as well so that they can grow with us. If they grow with us, then it's a win-win situation for both of us. We're not here for a quick win, but here for the long run. We want to be here ten years from now, and we want to see the business from this market double, triple and move forward as we race ahead," speaks Eamonn.
Finally, expressing his optimism, Eamonn says, "It's been a tough two years for all of us, but it's coming back. It's looking very exciting. I'd like to express my gratitude to all our Indian partners for their continued support in the last few years. And we look forward to working with them very strongly in the future ahead."