An easy two-hour drive from Mumbai and Pune leads to the newly opened Monteria Village spread across 35 acres in Khalapur, Raigad district.
The brand-new day-outing destination gives guests of all age groups a holistic experience of being in a quintessential village: a dip in a lake, a laze on the hammock, folk performances, hearty desi meals, immersive art experiences like bamboo and khaat weaving, or even a shot at a game of lagori.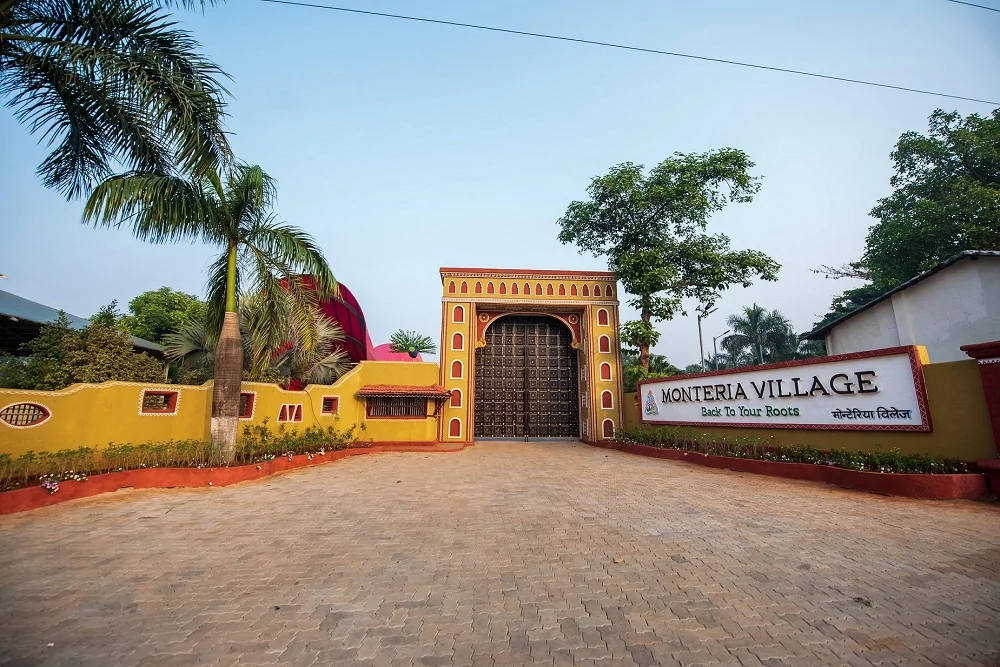 This short-weekend getaway on the outskirt of the city is a call back to your roots and embraces guests into village life through art, culture and traditional activities on a farmland surrounded by nature.
Managing Director, Monteria Resort, Rahi Vaghani, said, "From the moment a guest enters Monteria Village, they will find themselves transported into village life. They can be a farmer for a day, savour the goodness of home-cooked meals, play a game of lagori, laze on hammocks, swim in a lake and find simple joys of being in a stress-free setup that thrives on a well-nurtured ecosystem. The people who run the experiences are skilled artisans and workers, which adds spontaneity to the activities. This is an apt option for anyone looking to slow down and spend quality time together with their loved ones." 
Immersive art experiences
On the property, carpenters, furniture weavers, tailors, potters, metal and stone artists, bamboo and khaat weavers, blacksmiths, cobblers, and goldsmiths go about their workday. Guests can take some time to try their hand at a skill or take home an artifact. Activities include getting a haircut from a barber or a champi from a masseuse and tasting the delightful makes of papad, pickle and shrikhand from women cooperative sellers.
Spend time on the farm
Monteria Village believes in the future of agriculture and has adopted age-old techniques of open farming to modern adaptations of hydroponic practices. Traditional village techniques are executed using BioGas, Vermicompost, Gobar Brickets, Godan Ark and Floriculture greenhouse. Guests can sign up for a holistic one-of-a-kind farming course in the Dhanvantri Garden, or take a walk through fresh produce grown on the farm.
Food and drinks
When hunger pangs strike, local stalls sell flavoursome pani puri, spicy chana jor garam or a spicy chaat to indulge into. There are ice golas and matka curd to choose from too. To quench a thirst, there are options of coconut water, saunf water, kokum drink, marble soda (goti soda), buttermilk, or a cutting chai or coffee.
Nutritious home-cooked vegetarian and non-vegetarian meals will be served at the restaurant Sabras. The menu made using ingredients sourced from the farm includes choice of sabzi or meat, wheat, bajra, jowar and rice chapatis, dal rice, kadhi chawal and a traditional sweet.
Attractions on the property
The rich land has a high-vibing Nakshatra garden, built on the concept of 12 Nakshatras or Zodiac signs. Each guest will soak in the positive vibrations of nature to the fullest.
A model green train rekindles the joy of a long-distance journey, a swing circle, and a giant harness swing give the joyful butterflies in the stomach, and a ride on a modified bullet chakdo some collective cheer. A walk around the property will lead guests through a cave tunnel, to a bamboo groove for some shanti and even onto a Lakshman Jhula replica.
Monteria Village is a reminder of the village of your childhood. Traditional games like lagori, marbles even running around rolling a tyre will be heartening participation.
As the day fades, elevate your time on the venue at the Anand Mela. This is a celebration for the good folks of a community to gather for recreational activities. The Amphi-theatre hosts Lok Kala which showcases an array of folk music, dance and theatre performances. This is an occasion for social interactions and bonhomie.
Target Audience
With something for everyone, Monteria Village is age-group friendly. Open space and activities for children, hammocks, walking tracks and engaging activities for adults and comfortable offerings for senior citizens. The venue is perfect for corporates to host parties, conferences and off-site excursions and team-building events with its unique theme setting and ease of personaliaed schedule. Couples can take their vows close to nature in an offbeat destination setting with a traditional meal plan at an open ground that can accommodate up to 1500 guests. 
Sanitization
Keeping in mind the current situation of the pandemic, the property takes full measures of following sanitization protocols and ensuring the safety of its guests is taken care of. All staff on the property is double vaccinated, and guests are required to submit their vaccination certifications at the time of booking. Hand sanitization equipment is set up at all stops.
You become part of the village from the moment you enter the premise.
Monteria Village offers all-inclusive packages that include breakfast, lunch, hi-tea and Monteria Village experience. Prices range from Rs 999 (child), Rs 1499 (senior citizen) to Rs 1699 (adult) per person per day.