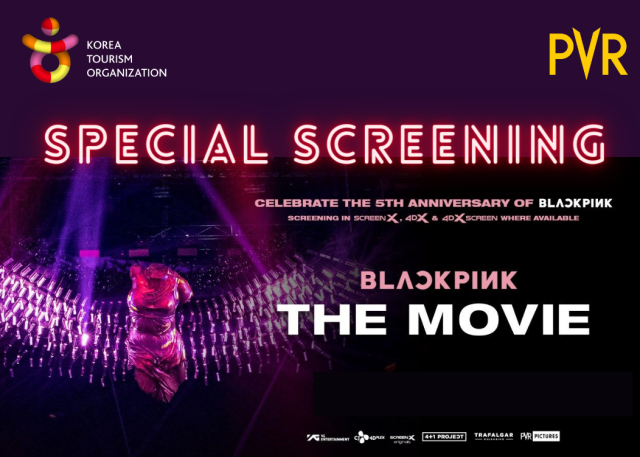 Korea Tourism Organization (KTO) and PVR joined hands for a specially curated Korea Experience Day at PVR Director's Cut, Vasant Kunj with a special screening of – 'BLACKPINK: The Movie' on December 4, 2021. This latest release by PVR Pictures comes as the members of the famous K-pop group BLACKPINK – Jisoo, Jennie, Rose, and Lisa – are celebrating the fifth anniversary of their band's debut.
The event was organized by KTO for the Hallyu Fans in the Delhi NCR region with a special screening of a K- Movie followed by K-Food experience and a special K-pop Photo opportunity. A social media contest was launched for the Hallyu lovers of the Delhi NCR region from 17th Nov to 22nd Nov and was co-promoted on KTO and PVR Vasant Kunj Director's cut social media platforms. 30 Lucky winners were selected and rewarded with the invite to the special screening and Korea experience day.
The event was attended by the contest winners, travel and entertainment media partners and social media influencers.
With the rising Hallyu wave and growing demand for Korean entertainment in India, KTO has left no stone unturned in bringing the spirit of South Korea to the increasing Hallyu fan base in India. With the current prevailing travel restrictions, due to the ongoing pandemic, KTO has been exploring different ways to get Korean experiences to its Indian audiences. Collaborating with PVR for the special screening of the Korean movie was a step forward in this endeavor.
Recently, KTO had collaborated with multiple brands for an online event called the KXperience. The event was a perfect Korean escapade of K-Pop, K-Food, K-Beauty, K-Drama virtual series followed by a PAN India
social media contest the K-Challenge and special discount offers on Korean products on India e-commerce shops. It targeted Indian travellers and Hallyu fans in India. The main idea behind this event was to bring Korea to Indian homes. The event received widespread love from people across India with more than 20 million impressions across all online platforms and more than 3000 content entries.
Commenting on the current event, Y.G. Choi, Director Korea Tourism Organization, New Delhi said, "Thanks to the rising popularity of Kpop and K-Dramas, there has been a huge increase in the overall awareness about South Korea as a destination, its food and its culture. We hope to capitalize on this newfound love for Korea amongst Indians and convert that into actual travel. Once travel resumes, we would be actively promoting the filming sites of famous Korean films and dramas tourist spots for Korea fans to visit in the future. We are delighted to collaborate with PVR Cinemas for this special event. I hope this partnership opens more avenues of PVR and KTO working together for promoting South Korea and reaching out to a PAN India audience interested in Korean entertainment."
Talking about the association with KTO, Renaud Palliere, CEO, The Luxury Collections, PVR Cinemas said, "PVR is a sought-after destination for Tourism Boards and Organizations of various countries for promoting their tourism among its premium Indian audiences who have a strong affinity for travel as tourists. We are delighted to partner with KTO for showcasing the Korean experiences to our patrons. This association could open avenues of PVR and KTO of partnering together for future Korean entertainment-related events at PVR properties."