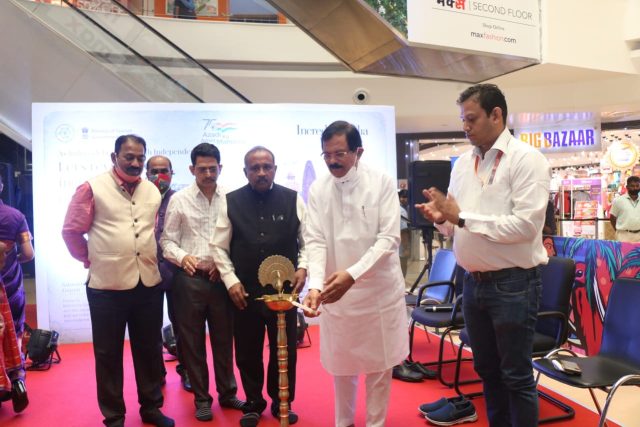 The Ministry of Tourism's field Office, Indiatourism Goa launched a week-long campaign through mall branding activity to promote the national festival of Azadi Ka Amrit Mahotsav from August 18 to August 24, 2021, at Goa's biggest mall ' Mall the Goa'.
Minister of State for Tourism, Shipping, Ports, and Waterways Shri Yesso Naik inaugurated the Azadi Ka Amrit Mahotsav promotions of Indiatourism Goa at Mall De Goa, Porvorim, Goa today.
Speaking on the occasion Shri Sripad Yesso Naik said "With India achieving unprecedented success in vaccination drive, the Government has decided calibrated opening of Inbound tourism. We are now preparing for opening inbound tourism. India has already announced five lakh free e-tourist visas for foreign tourists. The Government of India has decided to begin granting fresh Tourist Visas for foreigners coming to India through chartered flights with effect from October 15, 2021. Foreign tourists entering into India by flights other than chartered aircraft would be able to do so only with effect from November 15, 2021, on fresh Tourist Visas. "
As India celebrates the 75th year of Independence, the seven-day event is designed to encourage the residents of Goa and tourists visiting Goa to set out and explore those historic sites that stood witness to our freedom struggle and remember the countless sacrifices done by those who dedicated their lives and resources for the country.
The Indiatourism Goa will also conduct an on-the-spot drawing and painting competition for the children visiting the mall. The mall visitors of all ages will be provided travel information for visiting various destinations in the country and space will be offered to the Tourism Service Providers in Goa offering new and niche tourism products and experiences to tourists.
The Incredible India Installation will also showcase the tourism potential of Jharkhand, which is paired with Goa under the Ek Bharat Shreshtha Bharat initiative of the Government of India. The other initiatives of the Ministry of Tourism, Govt. of India like 'Dekho Apna Desh', Incredible India Tourist Facilitation Certification programme, etc. will be highlighted during the weeklong event.