It has been almost three months since Resorts World Cruises' flagship, Genting Dream, debuted in Singapore on June 15. Since the company launched its dual home porting in Singapore and Port Klang in Malaysia for its Genting Dream last July, the cruise liner has received a very positive response from the Malaysian market with the 3-Night cruises representing over 50 per cent of Port Klang departures. In this interaction with TTJ, Naresh Rawal, Vice President, Sales and Marketing (India), Resorts World Cruises, we get to know from him about the response and developments in the India market, the popularity of the Fly-Cruise concept, and the exciting itineraries that are in store for Indian cruise aficionados.
– Prashant Nayak
Q. After the launch in June 2022, how is Resorts World Cruises shaping up?
Since our debut, we are encouraged by the overwhelming response from the trade and consumers in the region, which led to Resorts World Cruises launching its dual homeport in Singapore with the addition of Kuala Lumpur (via Port Klang in Malaysia) in mid-July. Things are moving at a fast pace and in a positive direction as we ride the wave of building our brand across various international markets and segments. We have also successfully normalised operations to the optimum level in terms of operations, services, and offerings and as a result, we observed a steady increase in passenger demand.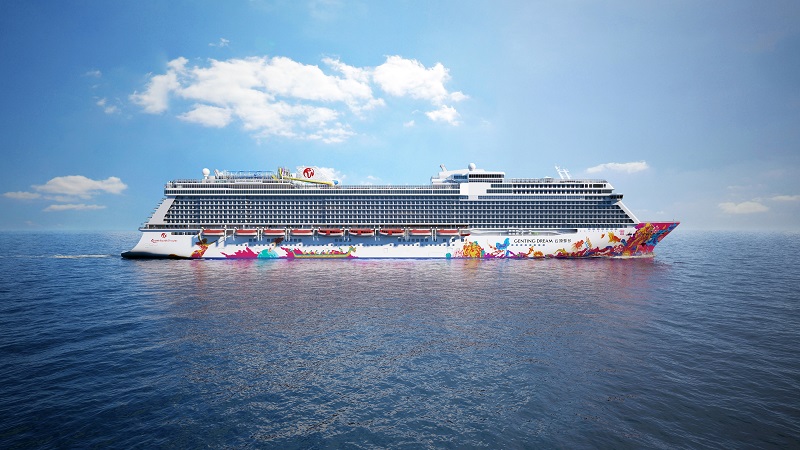 Q. Do you think Indian consumers are looking forward to sailing again on luxury cruise ships? How has the India market responded after the start of the sailing of Genting Dream in Singaporean waters?
Demand and trends indicate that consumers in India are very much ready to sail again with a luxury and dynamic lifestyle cruise brand like Resorts World Cruises, especially through the Fly-Cruise segment. Within the first 2 months of launching from Singapore, we had received over 20,000 cabin bookings from the India market, signalling a healthy and thriving Fly-Cruise segment. We also observed that the MICE segment is gaining strong traction and we are optimistic that the MICE segment will further contribute to the growth of the overall Fly-Cruise market in the coming months.
Q. Do you think the escalating and high airfares will deter holidaymakers from booking a Fly-Cruise in the upcoming holiday season?
Airfares have yet to normalise but we are optimistic that this will change soon. Having said that, many travellers still see the value of a Fly-Cruise package as the cruise voyage itself is value for money with the many inclusive offerings. As such, demand for Resorts World Cruises Fly-Cruise packages continues to be strong and we foresee the momentum picking up as we enter 2023.
Q. COVID-19 has brought about a change in the cruiser demographics. What is the current demographic of your guests?
At Resorts World Cruises, we are observing younger travellers joining us for a cruise, which includes millennials, couples, young families, groups of friends, as well as families and multi-generation families. We are also gaining traction towards other segments, including the Muslim and Indian markets and across the region as the Genting Dream is the World's First OIC/SMIIC Standard Halal-Friendly Cruise Ship with certified vegetarian and Jain cuisine. As mentioned, another segment on the rise is also the MICE group.
Q. The Palace is indeed a unique product of the Genting Dream. How are you promoting this product in the India market?
There is a continuous strong demand for luxury cruises in India and at Resorts World Cruises; we pride ourselves on over 50 years of affiliated experience in the hospitality and cruising industry with a deep Asian heritage, enabling us to cater to this growing luxury segment. We are working with key partners in the trade and media to target and promote The Palace – a luxury accommodation, that features a luxury ship-within-a-ship private enclave with exclusive amenities. Our Palace guests will enjoy a seamless experience from check-in at the cruise terminal and throughout the entire voyage with a variety of all-suite accommodations, including the Palace Villa, an all-butler 24-hour service, exclusive on-board dining experiences, and restaurants, private sundeck, gym, spa, pool, and other facilities and amenities. These are attractive USPs that appeal to high-end markets. In addition to our Asian roots and vast affiliated experiences, what will set us apart is our ability to offer a personalised lifestyle cruising experience, enhanced with our renowned Asian hospitality and service, which is best-in-class.
Q. What are the current sailing itineraries of the Genting Dream? Do you have some specially formulated itineraries for the Indian cruise enthusiast for the festival and the upcoming holiday season?
With the dual homeports from Singapore and Kuala Lumpur (via Port Klang), we are concurrently offering several itineraries from each homeport. From Singapore we are offering the 3 Night Kuala Lumpur-Penang cruise (Sundays), the 2 Night Weekend Getaway Cruise (Fridays), and the 2 Night Kuala Lumpur cruise (Fridays). From Kuala Lumpur, we are also offering the 3 Night Penang-Singapore cruise (Mondays) and the 2 Night Cruise to Singapore (Thursdays and Saturdays). In addition, we are also offering one-way cruises between Singapore and Kuala Lumpur.
Besides that, we have also introduced a series of monthly thematic cruises that will offer unique experiences, such as Light Meets Night thematic cruises starting in September filled with colourful glow-in-the-dark and interactive displays, special cruises for Diwali in October, a special Christmas celebration with Jelilo, Singapore's homegrown toy and art creator and so much more.
Q. How are you engaging with your travel trade partners in India?
Engaging our travel partners and consumers at different levels will be vital in promoting Resorts World Cruises. We will continue to provide more familiarisation cruises for our partners for them to experience our offerings personally and in return promote the brand effectively. Regular updates and training with the necessary 'marketing tools' are also essential to strengthen our presence in India and grow the Fly-Cruise market.
Q. How important is India market for Resorts World Cruises? What aspirations does the company have from the India region in the 2023 cruise season?
India is one of the key markets and a major contributor to the growth of Resorts World Cruises. As such, we hope to continue to work closely with our partners to tap and grow the Fly-Cruise market, which has still tremendous potential as we have barely scratched the surface. We are highly optimistic that the Fly-Cruise market will continue to appeal to a large segment of the Indian market and with much room to grow in different segments, including the MICE segment.
Q. Tell us about your expansion plans.
We will continue to capitalise on our valuable experience to innovate new offerings and unique experiences that would cater to the Indian market; from our on-board thematic cruising offerings to certified and authentic vegetarian cuisine, including Jain menus. In addition, we will further reinforce our brand presence in India by expanding our B2B and B2C network. We will also strive to strengthen our presence in India and across Asia, gradually exploring new opportunities to expand our fleet of 'Resorts Cruising at Sea' in the region with new and exciting itineraries in the future.