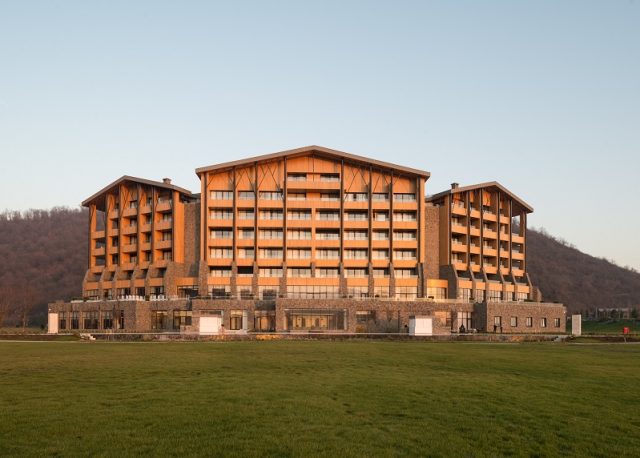 Travel and Hospitality Representation Services (THRS) has been engaged as the Sales and Public Relations representative for Chenot Palace Gabala to create strategic visibility in the Indian market for the iconic health wellness retreat.
The Chenot Group specialises in the health and wellness sector. It has numerous, well-established spa hotels and treatment centres, which offer dedicated services – Chenot Palace (Azerbaijan and Switzerland), Chenot Espace (Italy and Montenegro) and Chenot Spa (Greece, Malaysia, Morocco and Russia). These three brand concepts across stunning destinations are unique within themselves and offer the most sought-after luxury wellness escapes.
Chenot Palace Gabala is a global award-winning wellness retreat in an idyllic setting of Azerbaijan's great Caucasian Forest overlooking the peaceful Nohur Lake. This picturesque getaway is perfectly designed for discerning wellness seekers, offering incredible natural beauty, and a unique combination of serenity and energy. A wide range of 72 well-appointed rooms and suites, plus 3 spacious villas with private spas, provide a perfect sanctuary in harmony with nature at Chenot Palace Gabala. Furthermore, spread across 6000 sq.m., its medical centre has state-of-the-art equipment with the most advanced diagnostic techniques, medical and spa procedures. Expert medical professionals provide each guest with personalised programmes that enhance individual wellness.
Rishad Sharifov, General Manager, Chenot Palace Gabala, comments, "Located within Azerbaijan's primary destination for the refined traveller – the Gabala region is renowned for its pristine setting, pure air quality, stunning natural abundance and serene landscape. Chenot Palace Gabala is an ultra-unique luxury retreat that aims to attract more Indian travellers with its highly personalised health and wellness offerings. Every guest benefits immensely from the Chenot medical and spa treatments, holistic programmes, check-ups and dietary guidance, provided within the facility.
"This strategic partnership with THRS for Public Relations and Sales support services will further help create – distinctive awareness for Chenot Palace Gabala and higher interest for the destination with wellness vacation seekers."
Yeishan Goel, Group CEO, THRS, adds, "In the recent years, India has been increasingly recognised as a significant outbound market by several destinations, travel and hospitality brands around the world. Today's conscious Indian luxury travellers seek personalised service and uniquely crafted experiential journeys that suit their individual lifestyle preferences. Wellness focused holidays are at the forefront of the travel demand from this consumer segment. Based on the eminent holistic detox and revitalization Chenot methods, Chenot Palace Gabala offers an exclusive retreat to fulfil this desire for ultimate wellbeing. THRS is delighted to introduce the retreat and strengthen its visibility in the India market by implementing a result-driven integrated sales and public relations outreach."