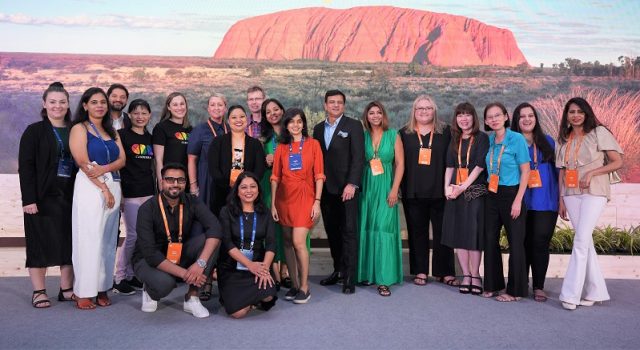 Australia Marketplace India has been a pivotal nexus, forging connections between India's premier travel agents and Australia's thriving tourism industry. This event strategically highlights Australia's diverse offerings, captivating Indian tourists with enticing vacation possibilities. As the sun set on this historic event, a resplendent future awaited Australia's tourism industry, shining brighter than ever in the hearts of eager Indian travellers.
– Vartik Sethi
In the bustling city of Bengaluru, a convergence of fervent energy filled the air as travel enthusiasts and industry veterans gathered for an extraordinary event – the Australia Marketplace. The three-day extravaganza saw a staggering participation of 86 Australian tourism businesses, showcasing their array of products and services to an unprecedented number of 94 Indian travel agents. Undeniably, this impressive attendance was a testament to Australia's allure as a sought-after holiday destination for Indian tourists.
AMI had long been the cornerstone in forging connections between India's premier travel agents and Australia's tourism industry stakeholders. The event proved instrumental in promoting Australia's diverse offerings and latest experiences, enticing Indian travellers with a plethora of vacation options.
Representatives and distributors from various sectors, including lodging, tour operators, attractions, cultural institutions, and local tourism organisations, came together to foster the growth of tourism from India. The 20 per cent surge in seller delegates compared to AMI 2019 exemplified Tourism Australia's dedication to cultivating a robust, competitive, and sustainable tourism sector by introducing fresh experiences and innovative products.
The participation of 94 companies hailing from eight Indian cities underscored the wide-reaching impact of AMI in kindling India's fascination with Australian getaways. As the sun set on this record-breaking event, the future of Australia's tourism industry seemed brighter than ever for the eager Indian traveller.
At the heart of this gathering was the launch of new products, unique experiences, and uncharted destinations, capturing the imagination of the new-age travellers.
Nishant Kashikar, Country Manager, India and Gulf, Tourism Australia, exuded immense pride as he shared the significance of this event. "Australia Marketplace was not just another event for us; it was a passion project close to our hearts. It offered a chance to achieve our long-term goals, capitalising on the tremendous opportunities in India," he declared.
Susan Coghill, Chief Marketing Officer, Tourism Australia, stood alongside Kashikar, resonating with his sentiments. She emphasised the immense importance of the Indian market, acknowledging its exponential rise in the world economy. "India's incredible growth drew all eyes to this remarkable country, making it an imperative mission for us to connect and interact with our friends here, who played a pivotal role in elevating Australia's profile in India," Coghill acknowledged graciously.
The camaraderie between Kashikar and Coghill was evident, reflecting their collective efforts in shaping Australia's travel landscape for Indian tourists. They recounted their journey of successful campaigns, captivating the hearts of Indian travellers and creating immense interest in Australia's offerings. Coghill proudly presented the campaign "Come and Say G'day," which personified Australia as a warm and inviting destination, connecting with the essence of the country. The campaign's staggering success was evident through the impressive 430 million views across various social and digital platforms.
The efforts resulted in outstanding achievements in the Indian market. India had emerged as the fastest market to recover to pre-COVID levels, and the value of Indian tourist spend in Australia surged by 116 per cent, reaching nearly $2 billion. The unexpected resurgence of the MICE (Meetings, Incentives, Conferences, and Exhibitions) segment had also been a highlight of their efforts.
With direct aviation capacity increasing threefold, various international carriers were back at 100 per cent capacity, bolstering the growth potential. Kashikar shared exciting news about potential new flight routes between India and Australia, revealing the possibilities that lie ahead in aviation.
Their relentless efforts had also been rewarded by the Department of Home Affairs, ensuring smooth and quick visa processing, making travel to Australia an easy and appealing prospect for Indian travellers.
The journey unfolded as they reflected on the warm welcome extended to the Indian cricket team during their Australian tour. The collaboration of influencers and celebrities resulted in over 1.5 billion impressions on social media, further amplifying Australia's allure.
Tourism Australia launched an inspiring campaign on February 1, 2023, unlike any other. Kashikar passionately described the campaign that stirred the hearts of travel enthusiasts. The campaign was an embodiment of possibilities, not merely virtual but grounded in reality. Seven esteemed airline partners, including Qantas, Air India, Singapore Airlines, Malaysia Airlines, Thai, Scoot, and Sri Lankan, participated, offering enticing fares that travellers could book to explore the wonders of Australia.
The results were astounding, with over 32,000 bookings for Australia recorded in just 28 days, a remarkable 121 per cent increase compared to February 2019. Forward bookings for the following months, April, May, and June, witnessed a substantial boost, sparking significant growth in the Indian market during the campaign period.
Collaboration was the driving force behind this triumph, with ten key distribution partners in India, such as Thomas Cook, SOTC, MakeMyTrip, PickYourTrail, Kesari, Veena World, Flamingo, and Carnation, contributing to the impressive results. Kashikar expressed immense pride in the unified efforts of the Indian team, which included state integrity tourism organisations from Destination New South Wales, Tourism Queensland, Visit Victoria, Tourism Western Australia, and ACT.
With strong support from the Australian government and leaders, the India-Australia relationship had flourished. A comprehensive economic cooperation agreement between the two nations had further strengthened trade, investment, tourism, education, and people-to-people ties. Kashikar spoke of the powerful friendship displayed by the frequent interactions between the leaders of the two countries, offering a promising foundation for future collaboration.
India's soaring economy, expected to grow between six to eight percent consistently in the next decade, and its youthful population, with nearly one billion Indians under 35 years old, presented an extraordinary opportunity for Australia's travel industry. Kashikar shared his conviction that India's potential as a destination for Australia remained unparalleled. The focus lay on captivating Indian travellers through brand and PR partnerships, industry events, business events, and specialised travel programs.
The extensive efforts undertaken by Tourism Australia included hosting influencers and celebrities in Australia, leveraging social media to showcase Australia's captivating offerings. Sporting events, food and wine festivals, and other cultural experiences were carefully curated to resonate with Indian audiences. Partnerships with airlines like Qantas and Singapore Airlines would further elevate Australia's appeal.
The thriving India Host program educated Australian suppliers about Indian travel preferences, cultural nuances, and requirements. This was met with great enthusiasm, contributing to the growth of qualified Aussie specialists by a remarkable 26 per cent.
In the midst of all these achievements, Kashikar acknowledged that the journey had just begun. The Australia Marketplace event in Bengaluru and Dream Time, a MICE-focused event in Adelaide, were among the exciting ventures lined up to foster deeper connections and drive inbound travel from India.
In conclusion, the future holds endless possibilities for the India-Australia relationship. The unwavering commitment, collaboration, and focus on Indian travellers' aspirations, along with a keen awareness of India's potential, propelled Australia's pursuit of becoming the preferred destination for Indian tourists. With a shared vision, Tourism Australia remained resolute in unlocking the vast potential that the India market held, painting a vibrant canvas of possibilities in the years to come.