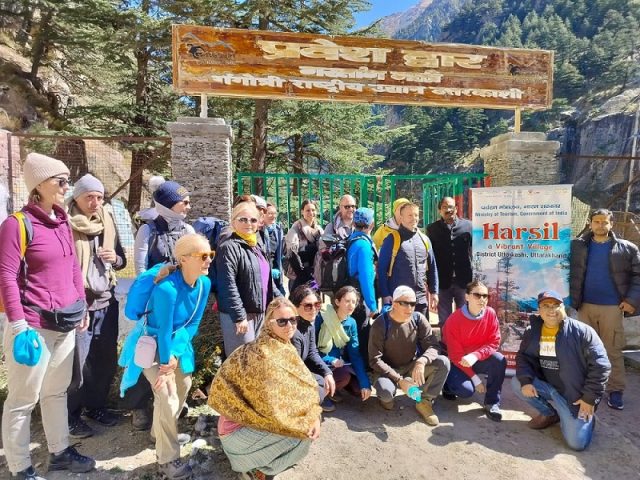 The Ministry of Tourism, Govt. of India, in association with the Department of Horticulture, Tourism, Govt. of Uttarakhand, ITBP, organised a two-day Vibrant Village Festival from October 19-20, 2023, in Harsil village, District Uttarkashi, Uttarakhand.
Harsil Village in District Uttarkashi, Uttarakhand, is a hidden treasure for tourists. Its scenic beauty, cultural richness, adventure opportunities, pilgrimage significance, apple orchards, and homestay experiences make it a must-visit destination for those seeking an authentic and enriching travel experience in the lap of the Himalayas.
Ganesh Joshi, Hon'ble Cabinet Minister for Agriculture and Farmers Welfare, Govt. of Uttarakhand, was the chief guest for the festival. Abhishek Ruhela, District Magistrate (Uttarkashi), the MLA, Joint Directors, District Tourism Development Officer, Ministry of Tourism, Govt. of India officials, stakeholders, homestay owners, guides, Yuva Tourism Clubs, and villagers of 8 Vibrant Villages near Harsil were also present. The Hon'ble Minister for Agriculture and Farmers Welfare and DM Uttarkashi were welcomed by India Tourism officials. More than 600 people participated in the festival. Ganesh Joshi delivered speeches on various aspects of development, culture, tourism promotion, local handicrafts, cuisine, and more. These addresses highlighted the potential for sustainable development in the area.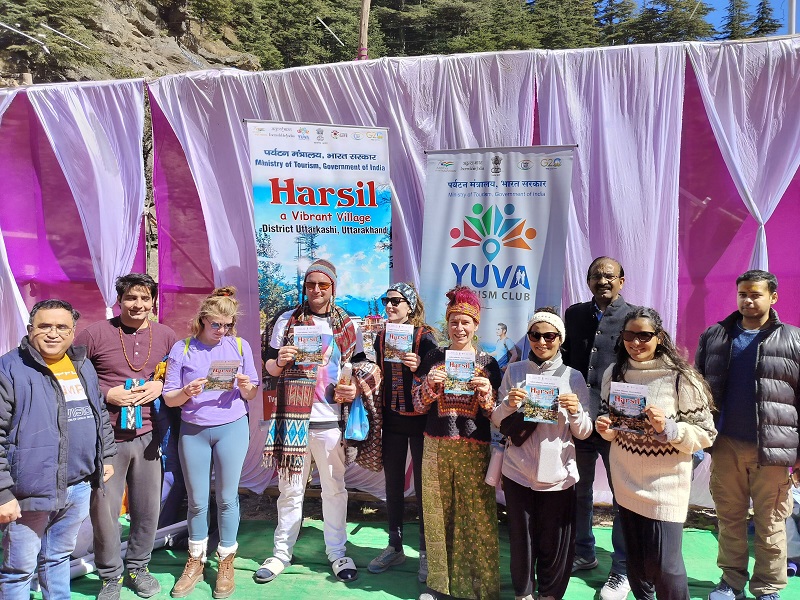 Local farmers displayed an array of apple varieties at stalls, offering a unique taste of the region. An apple festival, in collaboration with the Horticulture Department of Uttarakhand, was a major highlight. Mahila Mangal Dal Bagori organised a captivating cultural programme, showcasing the local culture and traditions.
The Ministry of Tourism, Govt. of India, has also invited tour operators, influencers, bloggers, and YouTubers to promote Harsil and its vicinity. The tour operators assured to promote the region through their association, IATO/ATOAI.
A workshop on the Yuva Tourism Club (YTC) was conducted at the festival. Yuva Tourism Club was formed by the government schools of Harsil, Dharali, Jhala, and Mukhwa. This educational programme aimed to engage the youth in promoting tourism and preserving the local heritage. Approximately 60 YTC members also participated in the event. Painting, poster-making competitions, and slogan-making competitions were also organised for YTC members to nurture creativity among the local youth. The themes revolved around tourism, culture, and environmental conservation. The prizes were distributed by DTDO Uttarkashi, Block Education Officer, and TIO India Tourism Delhi. A cleanliness awareness drive was also organised in association with locals and the Yuva Tourism Club to raise awareness about the importance of cleanliness and swachhta in the village.
A group of 20 foreign tourists from Hungary and 12 tourists from Australia have also participated in the event. The brochures of Harsil prepared by IT Delhi were also distributed, along with brief information about the Harsil region, to foreign tourists as well as other participants.
Local villagers also actively participated in the festival by showcasing local products (Apple), including handloom and handicraft items. This provided a platform for local artisans to display their craftsmanship and sell their products, contributing to the economic development of the region.
Sanjay Kumar, Tourist Information Officer, IndiaTourism Delhi, sensitised the locals regarding registration under the Homestay and B&B Establishment Scheme. Local youths were also sensitised about the Incredible India Tourist Facilitator Programme.
Tour operators, YouTubers, influencers (invited by IT Delhi), and India Tourism officials explored key villages like Harsil, Mukhwa, Dharali, Bagori, and Gangotri Dham. Opportunities for soft adventure activities, nature trails, and trekking routes were explored. Homestays, cafeterias, and local handicrafts and souvenirs were also searched for promotion on social media. Participants explored apple orchards, experiencing different apple varieties and apple-based products.
The Vibrant Village Festival in Harsil, Uttarkashi, was a resounding success, promoting sustainable tourism, preserving local culture, and fostering community engagement. It showcased the region's tourism potential, uniting residents and visitors in a spirit of celebration and cultural exchange.