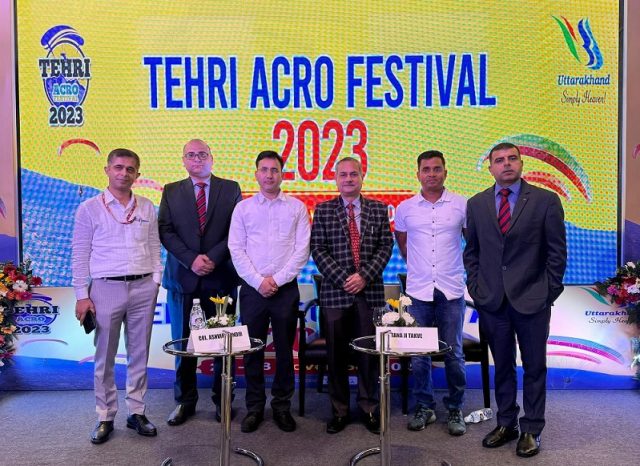 The Uttarakhand Tourism Development Board (UTDB) today announced the inaugural Tehri Acro Festival, scheduled to be held from November 24 to 28, 2023. Recognised as India's first international aerial acrobatic show, this five-day extravaganza will feature the participation of over 150 paragliders, including approximately 45 international athletes, transforming the skies of Tehri into a canvas of thrilling acrobatics.
Tehri's unparalleled topography, with the majestic Tehri Lake as its backdrop, sets the stage for a series of adventure sports, making it an ideal hub for paragliding and water sports. The festival will showcase various aerial acrobatics events and three exciting competitions, marking the commencement of paragliding activities in Tehri. The take-off points from Pratap Nagar, at an impressive height of around 1400 meters, stand as the second-highest in the world, rivalled only by OluDeniz in Turkey, currently a focal point for paragliding training and aerial acrobatics shows.
Participants hailing from 27 countries, including India, Saudi Arabia, Greece, Czech Republic, Germany, Austria, Lebanon, Turkey, Spain, Bulgaria, Switzerland, Iran, Russia, South Korea, Malaysia, Japan, Thailand, Vietnam, Mongolia, Taiwan, United States, Colombia, France, Italy, United Kingdom, Sri Lanka, and Nepal, will grace the Tehri Acro Festival with their presence.
The UTDB, committed to promoting Uttarakhand as a premier tourist destination, blending natural beauty, adventure, and cultural heritage, expresses its enthusiasm for this initiative.
Tourism Secretary Sachin Kurve states, "We are thrilled to offer these training programs to our local youth free of cost. Paragliding not only promotes adventure sports but also opens doors to new opportunities for employment. Our aim is to train over 100 skilled paragliders by the end of 2023." 
In anticipation of this historic event, the UTDB has inked an agreement with Paragliding Mantra, experts in paragliding, to provide comprehensive training to local youth. This initiative encompasses various courses, including P1, P2, P3, and SIV, offered free of cost, with the goal of training more than 100 pilots by the end of 2023. This not only promotes the sport but also creates employment opportunities for local youth, empowering them with valuable skills.
The Tehri Acro Festival not only promises an exhilarating experience for participants but also serves as a platform to showcase paragliding to the international community, firmly placing Tehri on the global paragliding map.
"As we nurture these talents, we are not just creating paragliders; we are creating ambassadors for Uttarakhand's natural beauty. This initiative aligns with our vision to make Uttarakhand a hub for adventure enthusiasts, attracting tourists from around the globe," added Secretary Kurve.
The Uttarakhand Tourism Development Board encourages local youth to seize this opportunity, fostering a spirit of adventure and exploration. With these initiatives, Uttarakhand continues to soar to new heights, offering unparalleled experiences to both residents and tourists alike.