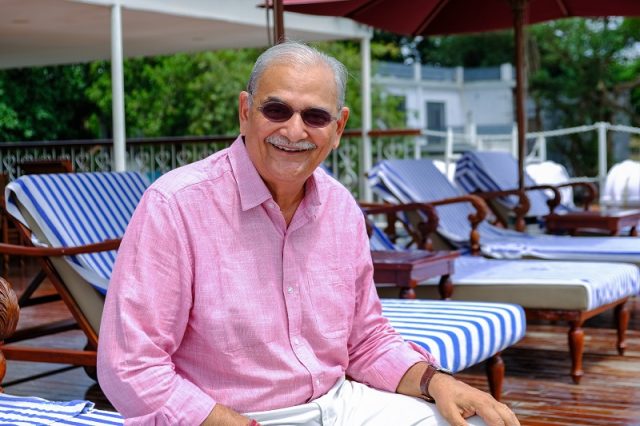 Rivers constitute a major tourism resource, providing spectacular settings, recreation facilities, means of transport, a sense of heritage and adventure, and links with the environment and natural world. In our country, they provide tourists with a wonderful insight into the historical, cultural, and traditional aspects of the country. River tourism in India is picking up and it is time for many of the States to develop tourism on their major rivers.
– Raj Singh
An ageless trip down India's lifeline – a window into the country's culture, religion, industry, birth, love, and even death! Not only do the rivers of India transport the prayers of believers visiting its waters, but it also provides sustenance for hundreds of millions of people, vast industry, agriculture, and endangered wildlife.
The rivers of the subcontinent have been the cradle of civilisations and society. Since time immemorial our inland waterways have been instrumental in trade and economy, despite the many challenges the life of a constantly shifting riverscape poses.
If I have to date back, the earliest known river expeditions in the subcontinent were taken by the Greek Ambassador, Megasthenes, who sailed the Indus and the Ganga as early as the 3rd Century BC. Travellers have often thereafter, set out seeking knowledge and wisdom by the rivers, returning home to tell tales of vast intangible and tangible riches.
It is safe to say that our land's many admirers and colonisers too, found their way to the cities by ships and large brimming rivers. Water transport in India reached its zenith in the 14th century with the introduction of navigation facilities for both trade and passenger transport. By the 19th century steam engines revolutionised river sailings across long distances.
Having been closely curating special interest travel for the larger part of my career, I realise how India's rich heritage of travel and trade, was deeply entrenched in its riverine network forming creative channels that fuelled epic zeitgeist of artisans, and mavericks in architecture, politics, philosophy, literature, and science; that changed the world forever.
Gradually, with the development and investments in railways and road networks, the necessity of river transport became defunct. After independence, faster travel became the norm, and the backbone on which our civilisation had been developed over millennia, was forgotten in a mere century. Today, most rivers are extracted for commercial purposes or ritualistic identities, depleting and polluting our natural resources.
We started the parent company for Antara River Cruises to reintroduce the magic of that slowness of river transport that put on offer kaleidoscopic views that are just so unique. Stealing through murmuring waters, the rivers meander through life. The life they give sustenance, thus creating an unbroken chain of connection to and through India. I am excited even more now as in 2023, our ships will reconnect the Ganga and the Brahmaputra River systems for the first time in 80 years through one seamless journey – all the way from Varanasi to Dibrugarh.
River Cruising has great opportunities, especially in lands of South Asia and Europe where culture and community, and history, developed and thrived around its river systems. The appeal of low volume and low impact, slow tourism upon a river cruise, is unparalleled. One can joyfully explore the hidden aspects of the history, culture, traditions, and wildlife that are otherwise inaccessible by land. Regions untouched by mass tourism or pollution create unforgettable memories of a lifetime.
At Antara River Cruises, our name comes from the Hindi word "antar" – difference; and we ensure we respect this opportunity our natural river bounty presents to us, and run very responsible, boutique experiences.
For one to use the rivers selfishly would be a loss for our civilisation. Mostly, because this mode of travel gives an immense opportunity to give privileged access to domestic and international travellers that seek the land's strength of spirituality, gastronomy and art. These factors allow people to develop destinations.
However, like every good thing, running river cruises comes with its own set of challenges. Erosion, floods, drought, large often unmapped distances, movement restrictions, and lack of access and facilities are just a few of the more common to understand. These are also coupled with irresponsibility, mass and over-tourism, and a lack of mindfulness of the traveller.
River cruising internationally is defined as sailing for one night or more, aboard world-class hospitality ships with full marine and pollution prevention technologies. They are popular for a small intimate setting, luxury living, and immersive itineraries, atop a vessel of high standards. However, I proudly say that our luxury cruises put India on the map for world-class river cruising and we have seen a growth in passenger numbers up until the pandemic. Some of our guests merely postponed their travel indefinitely instead of cancelling and are now coming in October 2022!
We also deployed strict protocols to make "covid safe" sailings continue in small numbers even in the last two, very difficult years for our industry. We got an opportunity to cater to our domestic market which was looking for an authentic secluded experience. We also managed to thereby help a lot of our partner villages during this period and that was truly special. We realised with domestic travelers, that there is a need to empower and if I may say educate our country's people about the riches and unique experiences, like luxury high-end river cruising that is relatively new to our spending pattern. The India our river cruises offerings could be rediscovered with a pause. Admiring the beauty and grace of heritage and ecosystems of our rich land, the silent motion of a field ripe with harvest, sound of tugboats, squawking of birds, people watching us as we watch them and traversing horizons full of secrets – familiar and unfamiliar around every turn.
Internationally too, high-end river cruising is seen as the epitome of luxury slow travel where there is enough and more to do every day without the need for generating onboard entertainment as in a sea cruise for there one is in the middle of nowhere quite often! You unpack once, pay once, get an opportunity to meet like-minded travelers, and immerse in a set of unparalleled unique experiences.
Is it easy? No, it is not. High-quality shipbuilding is expensive, time-consuming, and a highly skilled job. Designing luxury ships to cater to Indian River systems is also an expert's job. Finding the right talent to cater to that experiential hospitality is another important aspect. Creating the balance to develop destinations but not oversaturate them or be extractive is much nuanced. However, do we enjoy it? Hands down the most interesting chapter of my career have been the last 10 years of pioneering Luxury River cruising in India.
Thus, when low-quality built, over saturating tourism opportunities dot the landscape, I worry. People across the world are seeking newer experiences, but also need to be taught the value of a slower form of travel and tourism, whilst being conscious of the ecosystem. Only when we as an industry realise the value of that can we attract the right set of guests to our brands and products. The task is to feature India as a global river cruising destination and hub, whilst ensuring that even with traveller numbers increasing; the quality of experiences is maintained. Also, tourism positively contributes to habitat restoration and economic development.
Rivers are also still key access routes for commerce, and thus any new commercial vessel must also be properly regulated to global standards, built to last long, prevent pollution and ensure that the benefits of that travel are widely felt. Rivers are ultimately the magic, moving, living parts of the earth!
Going ahead, I feel, we as patrons of trade and travel in the country must realise the importance of sustainable tourism and invest wisely in that. All Antara River Cruises are "Swadeshi Ships". Built, designed, and run by Indians in India with Indian products. Each ship has been designed for its unique river network, ensuring pollution prevention technology and water treatment plants are established onboard. Plastic-free, our ships use local produce and work with the artisans and wild lifers along the way to directly enhance social and conservation efforts.
We are still in the ever-dynamic process of cultivating cruising circuits on the Ganga, Brahmaputra, Indo-Bangladesh protocol route, and the Mahanadi is amongst the 52 waterways that I have personally surveyed along with the government to build a strong nexus.
The government policy has played a pivotal role over the last 20 years to develop and establish river cruise infrastructure that can make the subcontinent one of the world leaders in trade. Facilitating development in the form of jetties, shore electrical connections, waste management systems, recycling protocols, and navigational channel management, are some to name a few.
I was proud to be a keynote speaker, representing our company at the Incredible India International Cruise Conference, held earlier this year in Mumbai. There, the central government recognised cruise tourism as one of the fastest-growing leisure segments worldwide and thereby announcing a range of initiatives to facilitate further integration with roads, rails, and eventual destination promotion.
With a maritime vision for 2030, river cruising is seen as a key link between sea-faring journeys across all ports. The future looks bright, and India has a mine of resources we still are not apprised of. The country continues to surprise and bedazzle me. And the rivers continue to be ever-changing, ever-flowing, ever the same.
About the Author: Raj Singh is the Founder and Chairman – Group, Antara Luxury River Cruises.