On World Tourism Day, we spoke with Tracy Lanza, Group Head, Global Brand Development at Red Sea Global (RSG). In this interview, we delve into RSG's commitment to sustainable and regenerative tourism, highlighting their B2B-friendly initiatives. Join us as we explore RSG's visionary approach to responsible travel, education, sustainability, and its role in shaping a prosperous and eco-conscious tourism industry.
– Vartik Sethi
Q. The International Observance Day for Tourism aims to highlight the vital need to deliver investment for projects that work for People, Planet and Prosperity. How is RSG contributing in this regard?
From its inception, Red Sea Global (RSG) has designed its masterplan of The Red Sea and other destination projects with a responsible approach that prioritizes the environment. In partnership with Wimberly Allison Tong & Goo and Buro Happold, our masterplan has been developed to not only protect the environment but enrich it for future generations to enjoy. None of our goals would be achievable without putting responsible governance at the heart of everything we do.
When we considered how to invest in our local communities in a long-term capacity, we decided to implement a number of educational and employment initiatives ranging from free online English language courses to scholarships with international Universities and the introduction of a Vocational Training program which specialises in the skills required within the tourism sector. We also launched our Elite Graduate Program – now in its fourth edition – which works with the University of Tabuk College of Hospitality & Tourism to launch The Red Sea Hospitality Pioneers program which focuses on training and employing local talent. Our goal is to support 10,000 graduates through our educational programs, with at least 50 per cent coming from the surrounding areas of our developments.
By investing in tourism-related infrastructure and supporting local businesses, we aim to stimulate economic growth and anticipate that our developments will create 120,000 jobs.
In addition to these education initiatives, we have also worked in collaboration with local businesses which will be directly impacted by the development of our destinations. Our work with the communities is the establishment of the first farmers' cooperative, uniting 200 farmers working in family-run or independent businesses. Through this cooperative, we are able to assist them with entering new markets, share best practices, and ensure that they receive fair and equitable prices for their agricultural produce.
On a technical level, some of the measures that we have undertaken to minimise our environmental footprint include adopting sustainable building practices, energy-efficient technologies, and implementing conservation programs to protect the fragile ecosystems often found in coastal areas. Our masterplan was informed by a series of wide-ranging environmental studies, and the largest marine spatial planning simulation ever undertaken, in partnership with King Abdullah University of Science and Technology, to assess the environmental impact of the development and operation of the destination. As a result of these findings, less than one per cent of the total site area is being developed, with 75 per cent of the destination's islands being preserved for conservation. We also aim to achieve a 30 per cent net positive conservation benefit by 2040, achieved by enhancing key habitats that help biodiversity to flourish.
Complementing this, we have pledged that each of Red Sea Global's destinations and experiences be fully inclusive for guests with disabilities, specific needs, and access requirements, by implementing an accessibility initiative named Project Aurelia. The objective is to ensure guests enjoy RSG destinations with equity and dignity through the delivery of spaces, products and services irrespective of physical or cognitive ability – and each of RSG's employees, consultants and partners will be required to follow suit, in line with the UN-backed standard, ISO 21902 – Accessible Tourism for All.
All these initiatives demonstrate our commitment to foster long-term prosperity for our people and planet.
Q. UNWTO highlights the need for more and better-targeted traditional and non-traditional investments. Please share details of some non-traditional projects that RSG has undertaken at both these destinations.
We firmly believe that sustainability alone is no longer enough and to achieve our vision of moving beyond the mere preservation of the status quo, we continue to embrace innovation and experimentation with cutting-edge ideas for the betterment of our planet.
We have partnered with ZeroAvia to spearhead the development of seaplanes propelled by hydrogen fuel cells. We have also initiated a pilot program at our landscape nursery, where we utilise Partanna's carbon-negative concrete pavers. This remarkable technology not only mitigates carbon emissions but also serves as a natural carbon removal solution from the atmosphere.
In addition to these endeavours, we have made a steadfast commitment that both The Red Sea and Amaala will harness the power of sunlight to meet their energy needs 24/7 and are currently building the world's largest battery storage facility. From vehicles to boats to aircraft, our mobility network will be 100 per cent electric or powered by hydrogen too. This undertaking marks a pioneering effort, as no destination of our scale has ventured into this territory before. Presently, we have successfully installed nearly 760,000 solar panels across our five farms, achieving an impressive completion rate of 97 per cent.
Q. Considering the focus of World Tourism Day on environmental conservation, please elaborate on how Red Sea Global's initiative to plant 50 million mangrove trees aligns with the Saudi Green Initiative and contributes to the conservation of the Red Sea coast's ecosystem.
RSG's ambitious initiative to plant 50 million mangrove trees is a proud endeavour that reflects our commitment to protect and enhance the natural environment of our destination. These trees represent one of the most effective means at our disposal for carbon capture, with the ability to absorb carbon at a rate 5-10 times greater than that of other plant species. When combined with their beneficial effects on biodiversity, the successful growth of these saplings constitutes a key foundation of our goal to realise a net conservation benefit of 30 per cent across all our destinations.
The initiative is in strong accordance with the Saudi Green Initiative's national goals and mirrors RSG's dedication to preserving and rejuvenating the Red Sea coast in Saudi Arabia. This commitment is driven by the overarching aspiration to achieve a 30 per cent net conservation benefit by the year 2040.
Q. World Tourism Day calls for innovation in tourism. Could you provide insights into the unique wellness experiences and amenities that Amaala plans to offer visitors, and how this positions Amaala as a distinctive wellness destination?
Amaala has been strategically designed to stand out as a truly distinctive wellness destination by offering a range of unique and immersive experiences aimed at enhancing the well-being of our visitors. Positioned on the north-western coast of Saudi Arabia, approximately 200 kilometers north of The Red Sea, Amaala aspires to establish itself as the global leader in integrated wellness destinations. Drawing inspiration from the realms of arts, wellness, and the pristine beauty of the Red Sea, Amaala is dedicated to crafting profound and transformative personal journeys for its discerning guests.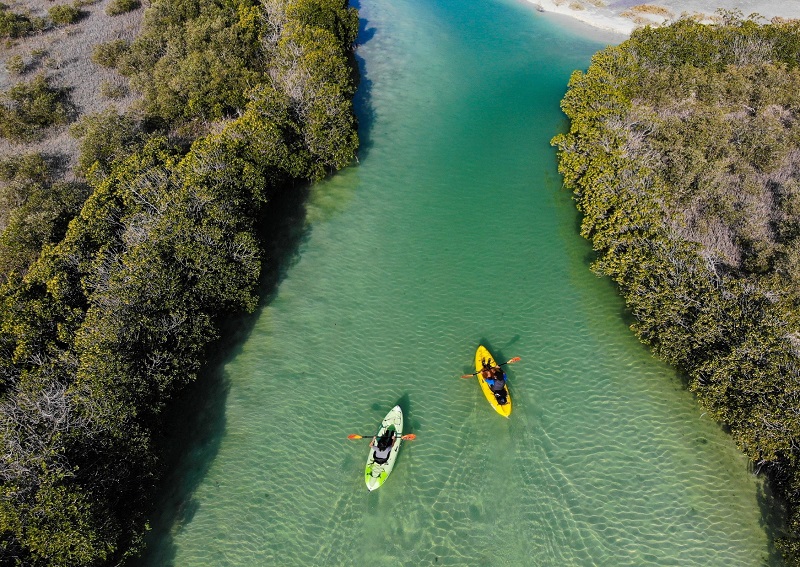 Encompassing an expansive area of 4,155 square kilometers, this extraordinary sanctuary boasts a rich tapestry of natural ecosystems and a truly unique landscape. Its coastal location and the natural formation of secluded bays contribute to the creation of breathtaking scenery and private, pristine beaches. In our pursuit of excellence, we have forged partnerships with top-tier hospitality and wellness operators for Amaala. Among them, we have proudly announced collaborations with renowned names such as Clinique La Prairie, a globally-leading longevity clinic, the world-class wellness resort operator Jayasom, the fitness and lifestyle brand Equinox Hotels, and, as our esteemed partners for both The Red Sea and Amaala, Six Senses and Rosewood Hotels & Resorts.
Q. Can you explain the significance of Red Sea Global partnering with the World Travel and Tourism Council (WTTC) for the development of The Red Sea and Amaala destinations, particularly in the context of sustainable and regenerative tourism?
Our partnership with the World Travel and Tourism Council (WTTC) acknowledges RSG's prominent role in spearheading a transformative shift within the tourism industry, transitioning from sustainable to regenerative tourism development. RSG will work with the member organisation and other destination partners to highlight the potential of responsible and regenerative travel as well as share our experiences and best practices for a more sustainable future in tourism.
Q. What impact do you anticipate this partnership will have on the local economies and job opportunities in the regions where The Red Sea and Amaala destinations are being developed?
As a cornerstone of Saudi Vision 2030, Red Sea Global is playing its part to transform the Kingdom's economy and create significant opportunities for its people. Combined, our two destinations will create around 120,000 jobs and contribute 33 billion riyals (8.8 billion USD) annually to the Saudi economy. As we excitedly gear up to welcome the first guests at The Red Sea destination later this year, this partnership with WTTC will help us to shine light on the diverse cultural and unique offerings of the Saudi Arabian Red Sea coast amongst the global travel community.
Q. The Red Sea aims to have 50 hotels and up to 1,000 residential properties by 2030. What types of accommodations and experiences can visitors expect, and how do these align with the concept of luxury regenerative tourism?
We've forged collaborations with renowned names in the hospitality sector, guaranteeing our guests an extraordinary blend of luxury and sustainability. We are excited to unveil our first three new hotels in The Red Sea from this November: The St. Regis Red Sea Resort, Six Senses Southern Dunes, The Red Sea and Nujuma, A Ritz-Carlton Reserve. Other hotel partners that we have announced include Four Seasons Resort at The Red Sea, Grand Hyatt, Jumeirah Hotel Group, Miraval, Intercontinental Resort Red Sea, Fairmont The Red Sea, and Raffles Red Sea.
Our first hotel opening will be Six Senses Southern Dunes at The Red Sea. Located inland, this resort offers visitors a deep connection with nature. During the day, guests can revel in the rolling sand dunes, while at night, they can gaze upon the awe-inspiring night sky, which we actively preserve from light pollution to safeguard the local wildlife.
Q. What unique and once-in-a-lifetime experiences can guests anticipate when visiting The Red Sea, and how does your destination set itself apart from other luxury travel destinations in the region or globally?
We're introducing an exceptional approach to travel, inviting you to explore a region that remains unspoiled by the masses. Our unwavering dedication is to provide our guests with unparalleled, world-class experiences and opportunities that are truly one-of-a-kind.
To help achieve quality control and minimise human impact we have introduced our distinct experience brands: WAMA, Galaxea, and Akun. These brands are set to provide a diverse range of activities, including water sports, diving, terrestrial adventures, and aerial escapades. Whether your interests lie in mountain climbing, dune hiking, surface water activities, or underwater exploration, The Red Sea offers something tailored to every individual's preferences.
We take immense pride in our efforts to enhance the accessibility of our destinations, striving to create fully inclusive experiences for individuals with disabilities or those in need of additional support. Our goal is to ensure that everyone can enjoy uncompromised luxury hospitality and revel in once-in-a-lifetime moments. This encompasses activities like sailing, kayaking, and diving among shipwrecks and coral reefs, as well as exploring the inland landscapes and indulging in desert stargazing.
Q. Can you provide more details on your marine life institute and the iconic Yacht Club? Please elaborate on their features and their role in enhancing the guest experience at Amaala?
Designed by the renowned architectural firm Foster + Partners, the marine life institute will serve a dual purpose as both a cutting-edge scientific research hub and an engaging tourist attraction. Situated within the Triple Bay marina at Amaala, the institute serves as the central hub for our broader mission to safeguard and enhance the vibrant Red Sea coastline of Saudi Arabia. With the capacity to host up to 650 individuals concurrently, visitors will have the unique opportunity to partake in a range of activities, including underwater walks, snorkelling alongside rare species, guided laboratory tours, and deep-sea exploration via a submarine.
Another keystone development is the signature 7,900 sqm Triple Bay Yacht Club which is designed by leading architecture firm HKS. Amaala will eventually become a globally iconic meeting place for luxury yachting enthusiasts from all over the world.