In the latest step of its ongoing major transformation, Disneyland Paris is thrilled to announce the highly anticipated reopening of its renowned, five-star Disneyland Hotel on January 25, 2024. Every centimeter of the interior of this legendary establishment is undergoing a complete "reimagination", from the spectacular grand lobby to the luxuriant rooms and suites, to offer its future guests a new luxury concept interwoven with beloved royal Disney Characters both classic and new.
"This marks a new chapter for Disneyland Paris, as we continue to be one of the leaders of the European tourism industry with our unique blend of immersive storytelling and world-class hospitality," said Natacha Rafalski, Présidente of Disneyland Paris.
"We are thrilled to unveil the newly reimagined Disneyland Hotel, a one-of-a-kind five-star property celebrating Disney's beloved royalty and storytelling. Our commitment to innovation and unparalleled guest experiences remains unwavering, and we look forward to welcoming guests to one of the most immersive hotels in Europe."
Disneyland Hotel is the first Disney Hotel to propose a five-star journey celebrating Disney royalty in all its expressions. From Cinderella to Frozen, The Sword in the Stone, and The Princess and the Frog to Moana, guests will be given the lead to become part of the story and create their own magical moments.
Combining their creativity with the expertise of European suppliers and craftspeople, the Walt Disney Imagineering Paris team has developed a singular, immersive experience that pays vibrant homage to both Disney royal stories and celebrated European landmarks such as Le Château de Versailles or Neuschwanstein Castle.
The hotel's new refined design includes regal-themed lobby, restaurants, bar and lounges and will also offer its guests a unique entertainment program that touches heart and creates memories alongside beloved royal Disney Characters, or Mickey, Minnie and their friends in new exclusive regal attire and even an exclusive La Troupe Royale Disney.
All 487 rooms and suites – 346 Superior Rooms, 82 Deluxe Rooms, 41 Castle Club Rooms, 16 Signature Suites, 1 Princely Suite and 1 Royal Suite – are entirely redesigned with an elegant atmosphere as well as modern comfort and luxury amenities. The tradition of Disney storytelling can be found inside all rooms and suites, from artwork and subtle touches that celebrate iconic elements of Walt Disney Animation Studios' royal stories down to the last décor details.
Guests staying in The Castle Club – an exclusive hotel within the hotel – will enjoy a range of VIP benefits and services, including extra privacy with a dedicated private elevator and check-in area as well as a breakfast with Disney Princess Characters in the Castle Club Lounge. Suites will offer unprecedented levels of immersion into royal Disney stories.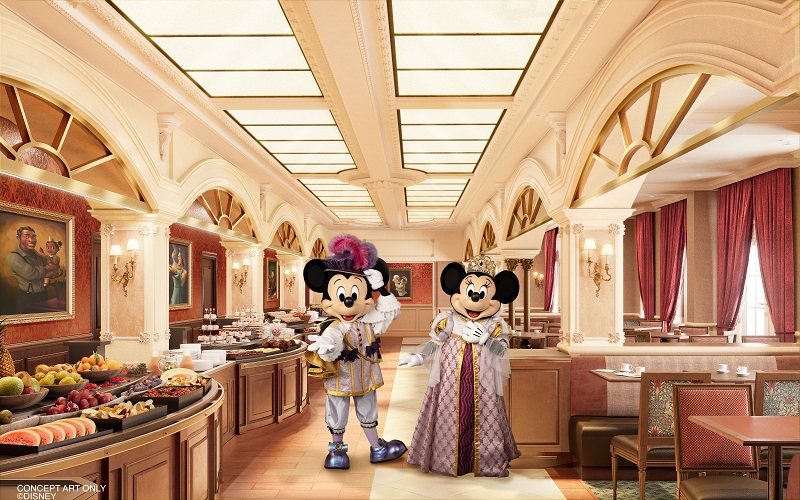 Steeped in the same powerful storytelling enjoyed in other parts of the hotel, both The Royal Banquet and La Table de Lumière restaurants will offer a unique gourmet dining experience infused with a French savoir-faire and the spirit of creativity inherent to all things Disney.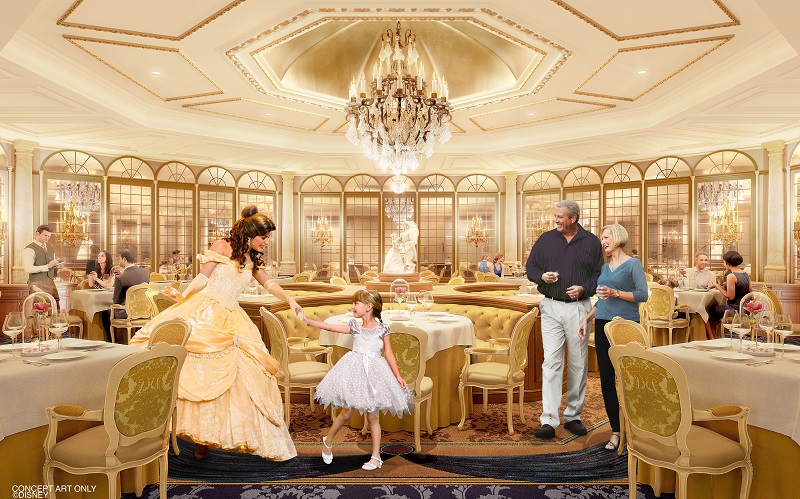 Children will be welcomed like princesses and princes during their stay. There will even be spaces tailored just to them such as the Royal Kids Club, where they will be immersed in augmented reality magic and unforgettable encounters. Or My Royal Dream experience, where young guests will be able to transform into their favorite Disney royalty with the help of regal hairstyles, special outfits, accessories and a little pixie dust. And after a full day creating magical memories at the parks, families will have the opportunity to enjoy together a spa experience at Disneyland Hotel Spa by Clarins or a relaxation session in a dedicated space. Additionally, all the hotel's restaurants, bars and lounges will offer kid-friendly treats and exquisite themed pastries.
The heartbeat of this enchanting experience, a team of impeccably trained Cast Members have been carefully selected from across the resort and beyond, will provide personalized service ensuring every guest receives royal treatment – from a Royal Greeter who will greet them from the moment they step inside the hotel to a Concierge devoted to anticipating their every need. For those seeking more insights about the hotel, Story Keepers will be on hand to walk guests through all the incredible details and hidden gems of the hotel.
Disneyland Hotel will set new standards in five-star hotel immersion with special attention to children. With this transformation, Disneyland Paris continues to redefine the hospitality industry, solidifying its position as Europe's number one tourist destination, with seven hotels and more than 5,700 rooms.