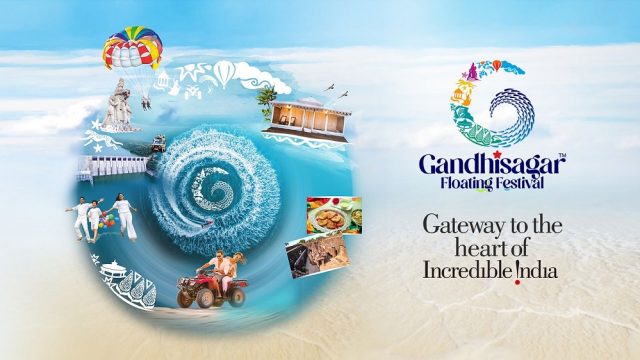 Madhya Pradesh Tourism Board is organising two new mega festivals Gandhi Sagar Floating Festival and Kuno Forest Festival in the coming two months for the tourists of the country and the state.
Principal Secretary Tourism and Culture and Managing Director Tourism Board Sheo Shekhar Shukla has said that Kuno Forest Festival is being organised for the first time in the state from December 1 to celebrate the rich culture and diverse wildlife of the state.
Before this, the second edition of the Gandhi Sagar Floating Festival will be organised from October 27. There will be cultural programs and an unmatched experience of exciting activities in the festivals being organised by the Tourism Department and Forest Department in collaboration with Lalluji & Sons. The tent city has been developed to provide a luxury glamping experience, along with various activities to promote local art and culture, he added.
On the other hand, Chief Wildlife Warden Aseem Shrivastava said that the message of wildlife conservation would be spread through these festivals. The message of wildlife conservation would make more and more people aware through a chain reaction. Through these festivals, people would get to know the wildlife closely and understand their important role in the ecosystem of nature.
According to an official release, the second edition of the Gandhi Sagar Floating Festival will be held from October 27 on the serene backwaters of Gandhi Sagar near Mandsaur. This festival located near Gandhi Sagar Wildlife Sanctuary will be a perfect amalgamation of adventure, entertainment and culture. One can enjoy exciting activities like kayaking, jet skiing, hot air ballooning, horse riding, air gun shooting, speed boating, parasailing and other recreational activities.
During the jungle safari, one will also get a chance to see the rich wildlife of the area. The cultural heritage of Madhya Pradesh will be promoted with traditional art, cultural programs and delicious dishes. At Gandhi Sagar Forest Retreat (Tent City), tourists will be able to experience luxury glamping in well-equipped and all-weather tents, it added.
The release further read that the Kuno Forest Festival, starting from 1st December, would be an exciting journey. After the arrival of cheetahs again in India after about 72 years, this festival would give the best experience of the beauty of the forests through Kuno National Park. Sheopur Fort, Dob Kund and ancient caves dating back to the Mughal period would bring one back to life.
One can learn about the wildlife through guided safaris, and see leopards, deer, bluebucks and migratory birds present in the area. Kuno Festival will not just be an adventure but a memorable experience to last a lifetime, it added.
It also states that both Kuno Forest Festival and Gandhi Sagar Floating Festival will provide a new experience. In luxury tent cities built amidst nature, one will be able to experience a modern and comfortable lifestyle amidst the beautiful natural scenes of Madhya Pradesh.
Source: ANI