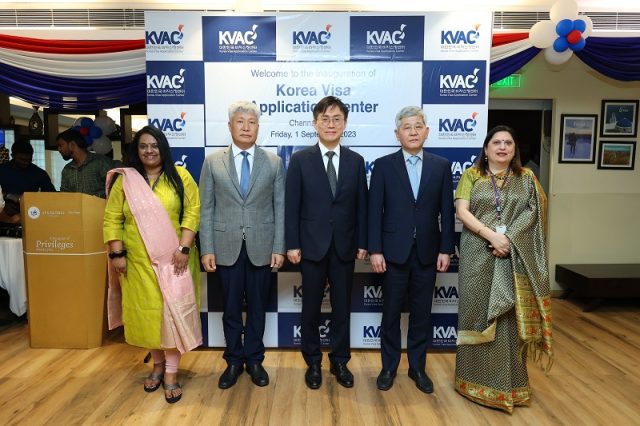 The Consulate General of the Republic of Korea in Chennai, India, launched its new and spacious visa application centres in Chennai and Bengaluru starting September 1, 2023, for the convenience of travellers in that region.
Travellers to South Korea from Andhra Pradesh, Karnataka, Kerala, Pondicherry, and Tamil Nadu will now be able to submit their applications with ease for all visa categories, including express visa applications, at these state-of-the-art South Korea visa application centres (KVACs) from Monday to Friday, 9:00 am to 1:00 pm for individuals, 9:00 am to 12:00 pm for travel agents, 10:00 am to 3:00 pm for passport collection.
Operated with assistance from VFS Global, the world's largest outsourcing and technology services specialist for governments and diplomatic missions, these KVACs also offer optional services for a discerning set of applicants.
The Embassy is already operating KVACs in New Delhi and Kolkata since 2011.
South Korea is promoting tourism from India to the East Asian country in a big way as the two countries commemorate the 50th anniversary of diplomatic relations between them. The Korea Tourism Organization India Office hosted a Travel Mart on August 25, 2023, in New Delhi, featuring participants like JeollaNamdo Tourism Organization, Gwangju City, nine destination management companies, Korean Air, Asiana Airlines, Bioface, and Amorepacific.
Following the Travel Mart, the KTO India office organised 'Korea Culture and Tourism Festival' on August 26th and 27th at Ambience Mall, Gurugram, to showcase the country's offerings through different facets of Korean culture, including K-Performance, K-Beauty, Korean food, and traditional games.
Tourism from India to South Korea had been increasing by leaps and bounds until 2019 but has declined due to COVID-19 and various other factors. As part of the ongoing marketing plans for 2023 to boost tourism, the Korea Tourism Organization (KTO) India office recently launched a special K-incentive Scheme to boost sales of Korea travel packages for travel agents in India. In addition to Seoul, regional tourist destinations like Busan, Gangwon and Jellanam-do provinces are also being promoted amongst Indian travellers.
In Particular, Chennai has over 300 Korean companies that have entered the market, focusing on automobiles and electronics. Bengaluru continues to witness the steady expansion of Korean IT-based companies. As business activities between South Korea and India thrive, operations of KVACs in these regions will contribute to enhancing collaborative visits.