A luxurious experience placed in the calm and naturesque city of Chandigarh, Hyatt Centric Sector 17 Chandigarh provides its guests with an experience that they would surely cherish. An eclectic mix of modern, pop, natural, and quirky elements – the property looks to serve guests from all age groups. In a heartfelt conversation with Travel Trade Journal, Maulina Gupta shared the joys of leading the newly launched Hyatt Centric Sector 17 Chandigarh (as its General Manager); and took us through a spectacular journey of what the Hyatt Centric is all about. Read on to know more. 
– Sonika Bohra
Maulina Gupta brings over two decades of experience in the hospitality and service industry having worked with renowned brands in diverse leadership roles. Recognised as a dynamic catalyst when it comes to driving sales, leading marketing functions and running efficient operations with a focus on profitability, she always maintains a strong and optimistic outlook with a penchant for learning and leading by example. "When we started the Hyatt Centric Chandigarh project, we began by identifying what it is that our travellers and diners want and working towards creating offerings and experiences tailored to that. It's important to know what people truly like and enjoy and aligning ourselves to cater to that," says Maulina Gupta, General Manager of the newly launched Hyatt Centric Sector 17 Chandigarh. With a vibrant spirit and a lively persona, Gupta initiated the conversation by sharing what she truly values – creating a warm, friendly and welcoming environment for guests and associates. Building a strong career in hospitality was an imminent choice after her Post Graduate Diploma in Hotel Administration & Development with the Taj Group of Hotels which she did after completing her graduation in Science. Owing to her father's successful career in the Indian Navy, she grew up learning about diverse cultures and traditions as she moved around the country and abroad with her family. This opportunity instilled a sense of adventure and adaptability in her, which drives her passion for people and places even now.
The brand Hyatt Centric stands apart from the rest of its own hotel brands. This particular segment of hotels aims to serve the younger generation (millennials), Hyatt Centric lures their attention through a combination of vibrant design aesthetics with the usage of mirrors, concrete, terrazzo, social spaces, wood – all fused together to create a unique experience for its guests and personalised experiences.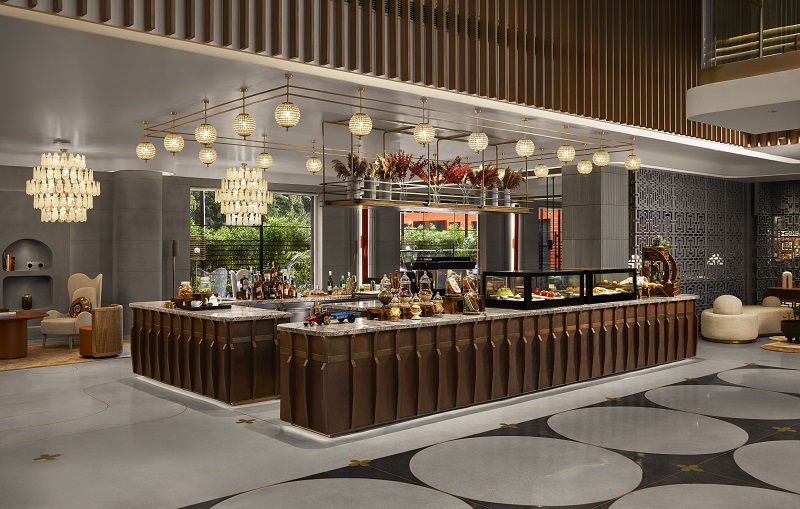 Hyatt Centric alone is an experience of its own, moreover, the Chandigarh property goes a step ahead by drawing inspiration from the city itself in its design language to communicate the story of Chandigarh's own history. Sharing an extremely creative aspect of how the property was designed, Gupta says, "The wall mural that you see is representative of the Shivalik, the red petals are representative of the rose garden, the maze is representative of the mustard fields, the trees in the lobby are all about the experience of sitting in the shade of a farm land." This creative conjunction of natural elements meeting a luxurious property not only highlights the attention to detail that went into building the hospitality experience but it also makes Hyatt Centric Chandigarh an experience you just cannot get elsewhere.
Speaking of additional experiences that guests can look forward to at Hyatt Centric Chandigarh, Gupta shared, "Chandigarh is a destination in itself. It has its own tourist attractions like the Rose Garden, the Rock Garden, Sukhana Lake, to name a few. We have curated 17 experiences (a tribute to Sector 17) that will cover the aspects of the Chandigarh life." These experiences can be pre-booked, and range from a visit to tourist destinations, a picnic at Rose Garden, a visit to an organic food farm, all the way to pottery workshops, folk bhangra experiences, horse riding, archery, cycling, running, and so on. The mantra "Feel, fuel, function" holds a significant value in the vibe of the Centric.
The hotel is a hub to both business and leisure travellers. Maulina is extremely optimistic that the hotel will pick up a stronger pace in no time based on the positive response from the city in the first 3 months of opening. With 144 rooms, 3 indoor and 3 outdoor spaces, and separate entry and exits, the hotel is also comfortably placed to host intimate weddings, mid-size celebrations, and conferences.
According to Maulina, marketing is fundamentally driven by curating a community experience and living up to the vibe of a lifestyle hotel. Hyatt Centric, she says, should be synonymous with warmth, laughter, and positivity. She believes it to be a place for dining events, intimate weddings and get-togethers, healthy and collaborating partnerships, or just for folks to come and have a vibrant experience. Drawing her experience from the pandemic, Maulina shared with TTJ that "There is no standard way of doing things anymore and the pandemic gave us the courage (though forcefully), to look at things differently."
Talking about some of the new hospitality trends noticed in 2022, she reiterates that personalisation and customisation, shorter trips, bespoke itineraries, leisure, staycations and vacations, have increasingly become the new normal. The traveller is now more aware, and rightly so. Sharing her positive outlook on the future of the Indian hospitality sector, she underscored the industry's exponential growth in the coming years!