For tourism to live and be lively, it is imperative that we offer new avenues to tourists; these could be new programmes, new products or even lesser-known destinations. Offering a new destination is the most difficult task, as it requires, a huge investment by way of creating infrastructure, facilities, amenities, and marketing, and this only becomes possible, when the government is willing to pitch in and earmark a proper budget to develop a destination with an aim to make it welcoming for tourists.
– Prateek Hira
Prime Minister Narendra Modi is known to be a creator of tourism destinations. It all started with the Sabarmati river-front development, the creation of Rann Utsav and Ahmedabad Heritage City Redevelopment in his own state of Gujarat, during his tenure as its Chief Minister. Later, his incumbent continued the trend and created the Statue of Unity in Kevadia, making a small unknown town of Gujarat, a new tourist destination.
Taking inspiration from the Prime Minister and taking the momentum forward, the visionary Chief Minister of Uttar Pradesh, Yogi Adityanath, took the pledge to make Ayodhya, India's newest tourist destination. Till the city was embroiled in the legal battle of deciding between the existence of a mosque or a temple, nothing was actually done in Ayodhya. In fact, Ayodhya a town only one and a half hours away from the capital of Uttar Pradesh, Lucknow was left untouched all this while, with no development projects, not even proper basic amenities for the residents.
In the year 2019, the Supreme Court of India restored the rights to Hindus, declaring that the city had an ancient Ram Temple, and immediately thereafter, Ayodhya redevelopment took wings. The vision of the government of Uttar Pradesh is clearly to surpass the annual footfall of Mecca and Vatican in Ayodhya and to cater to this influx, Ayodhya is being re-planned, restructured, and readied. Much of this has already been done, and much is being done in a time-bound manner, very strategically. The projections of footfall in Ayodhya may be a bit worrisome for the advocates of responsible tourism, but the government is looking at this aspect too, and thus, the infrastructure is being readied in tune with the expected inflow (or overflow) of pilgrims and tourists. The new master plan of Ayodhya is in place for restructuring this ancient holy city, without disturbing its innate character and has taken the aspect of huge footfall expected in the coming days.
The main Janam-Bhoomi (birth-site) temple complex with huge columns and corridors is under construction after reclaiming a lot of occupied and private land. The partial temple complex will be opened on January 22, 2024, when idols of Lord Rama, Mata Sita, and Laxmana will be shifted from a temporary makeshift temple where they now are, to their original place in the sanctum sanctorum of the under-construction temple complex.  The artery roads of Ayodhya and other important roads leading to the main temple complex and numerous other temples in the city, have been widened and are aesthetically done up. The facades on both sides of the main road are redone to give aesthetic similarity. Public spaces, such as memorials, parks, and amphitheatres, all have a new lease of life and are once again alive with activities. Ghats of Ayodhya, including the three main Ghats, Naya Ghat, Ram Ki Pairi, and Guptar Ghat, have been renovated to welcome pilgrims and tourists. River Saryu has been a lifeline of this spiritual city, and great attention is being paid to the riverfront development, making the river lively, with regular boat cruises and entertainment. A new grand museum is already in place to provide insights into Ayodhya and its epic connection with Lord Rama.
Ayodhya now has a new international airport in place, awaiting flight operations and the existing railway station has been upgraded to provide seamless connectivity to all corners of India and rest of the world. Many new hotels have come up in and around the town, and many international hotel chains are underway, including the Taj Group, ITC and Sarovar. Many others are scouting for land and contracts with investors, to begin their operations soonest and be ready in time to cater to the huge influx of tourists expected in Ayodhya.
Entertainment is yet another area that the government is very keenly developing through public-private partnerships. Ramayana Spiritual Forest and Ramayana Spiritual Theme Park would be a highlight for the travellers and will help in increasing the night stay of tourists in Ayodhya.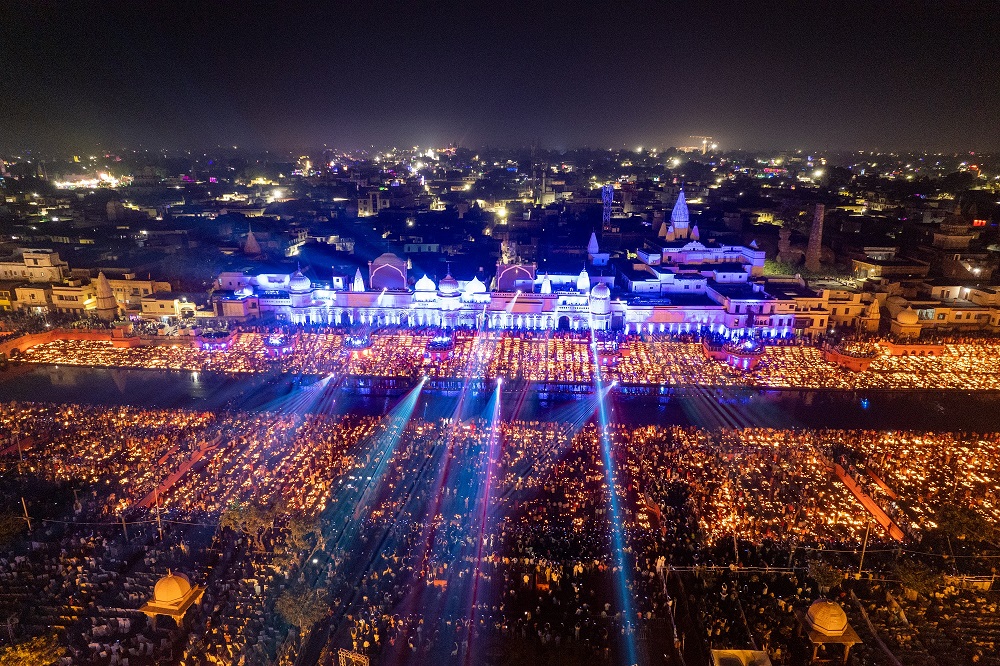 The flagship event of Ayodhya, 'Deepotsav', which celebrates the return of Lord Rama to Ayodhya after 14 years of exile, is already an internationally acclaimed event, with an impressive attendance of tourists from India and abroad. This event has not only maintained its position in the Guinness Book of World Records for the largest display of earthen oil lamps each year, consecutively, but it has also broken its own previous records too. Last year, the number stood at 1.57 million earthen lamps being lit at Ram ki Paidi on the last day of the Deepotsav celebration, and this year, the target is to break the previous year's record and clock a figure of 2.1 million earthen lamps at the same spot.
Huge investments are flowing in, and the entire tourism industry is keeping a close watch on this destination in the making, which would change many itineraries and attract tourists' attention. By all means, Ayodhya, in times to come, will be a perfect model of a new tourism destination and of course, make it "India's newest."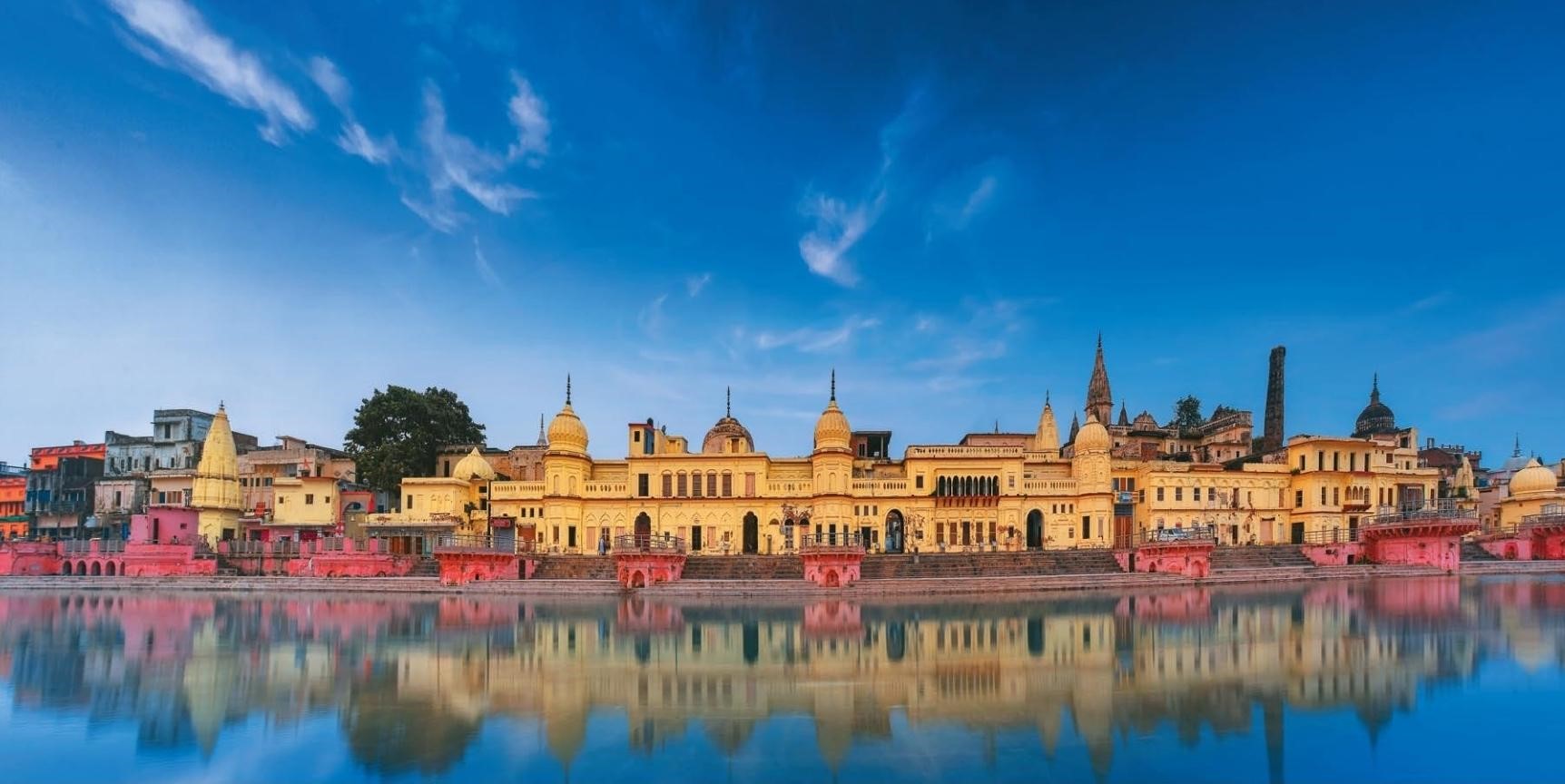 This is just the right time when tour operators must relook at their existing programmes and start including Ayodhya for its unpretentious spiritual experience, showcasing and narrating the eternal religion, Hinduism, and even to attract the 'not so religiously inclined' tourists to showcase innately spiritual India. Ayodhya can also be a big uptick for attracting repeat tourists on spiritual trails. The need is to understand the uniqueness of the city as a destination, differentiate it from other popular spiritual places in India, and appreciate its convenient route and connectivity with other tourist destinations in the state of Uttar Pradesh, particularly Lucknow, Varanasi, and Prayagraj (Allahabad) and each of its contrasting product profile.
Undoubtedly, Ayodhya – the birthplace of Lord Rama, who is considered an 'ideal man,' is fast becoming a quintessential spiritual tourist destination. The government in all seriousness, is working overtime in a mission mode to make Ayodhya, a preferred tourist destination very soon – 'India's newest'.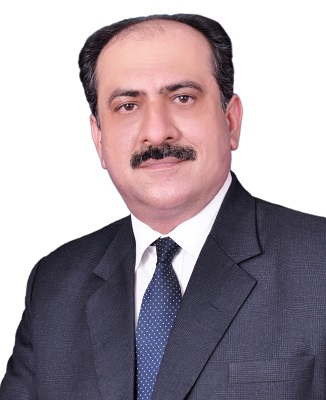 About the Author: Prateek Hira is the President and CEO of Tornos, a 30-year-old tour company based out of Lucknow that had set up Ayodhya's oldest and the first tour company. Prateek's company ventured into Ayodhya in 2015, much before there was any whiff of temple construction, Prateek is credited with extensive research on the tourism profile of Ayodhya, conceptualising and curating many events there and to marketing Ayodhya in foreign markets.