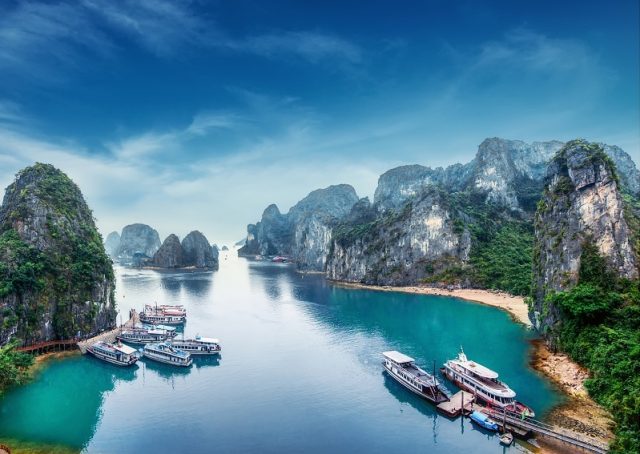 Vietnam, a Southeast Asian gem known for its rich culture, stunning landscapes, and vibrant history, welcomed 8.9 million foreign tourists in the first nine months of 2023. This astonishing influx of international arrivals exceeded the annual projection, set at 8 million, by a significant margin. It is a testament to the country's growing appeal as a preferred and trending tourist destination.
Compared to the same period last year, the number of foreign tourists from January to September experienced a remarkable 4.7-fold increase this year, according to the General Statistics Office (GSO). This surge in international arrivals has left the tourism sector buzzed with enthusiasm and optimism.
This remarkable surge in Vietnam's tourism is undeniably fuelled by its accessible e-visa policy and the affordability of holiday packages, making it a prime choice for travellers. A substantial contributor to this influx of visitors is travel agencies, including Akbar Travels, a leading name in the travel industry. Akbartravels.com offers enticing deals, including cheap flights to Vietnam from India and streamlined e-visa services for Indian travellers. The agency makes obtaining a Vietnam Visa for Indians a breeze with a 100 per cent online process and minimal documentation.
Of the 8.9 million tourists, a whopping 87.5 per cent opted for air travel, emphasizing the significance of accessibility and connectivity in attracting visitors. This was followed by 11.8 per cent of tourists who arrived by road and the remainder by sea. Such diversity in transportation options speaks to Vietnam's commitment to accommodating tourists from various corners of the globe.
The primary source of these arrivals was the continent of Asia, contributing 6.85 million tourists. Europe followed closely behind with 1.015 million tourists, and the Americas and Oceania added 682,800 and 311,100 visitors, respectively. Africa, while representing a smaller portion, still played a role with 20,400 tourists.
Vietnam has set its sights high for the coming year, with plans to attract around 10-12 million foreign tourists in 2023. This ambitious goal, as reported by Vietnam News, was voiced by Vu the Binh, chairman of the Vietnam Tourism Association.
What has spurred this impressive rebound and growth in foreign arrivals to Vietnam in such a short span? The answer lies in a combination of factors. Foremost among them is the government's new Vietnam visa policy, which was put into effect on August 15. The new policy allows tourists to obtain e-visas with an extended validity period of 90 days, compared to the previous 30 days. This change offers travellers more flexibility and time to explore the country, contributing significantly to the surge in arrivals.
The contribution of travel agencies to the surge in arrivals has been no less. They play a pivotal role in promoting Vietnam as a budget-friendly destination by offering cheap flights to Vietnam from India and streamlined e-visa services. This potent combination of convenient Vietnam visa online process and affordable travel options has made Vietnam more accessible and appealing than ever.
Additionally, Vietnam's popularity as a solo travel destination is on the rise. The country's friendly locals, vibrant street food culture, and the allure of exploring its enchanting cities and serene countryside alone have made it a trending destination for solo adventurers. The sense of safety and the ease of navigation in Vietnam have further cemented its reputation as a favoured choice for solo travellers.
Vietnam's remarkable success in surpassing its annual projections for international arrivals in just nine months of 2023 is a testament to the country's appeal as a top-tier travel destination. The combination of favourable visa policies, affordable Vietnam tour packages, and the rise of solo travel has established Vietnam as a budget-friendly and trendy choice for tourists from around the world.