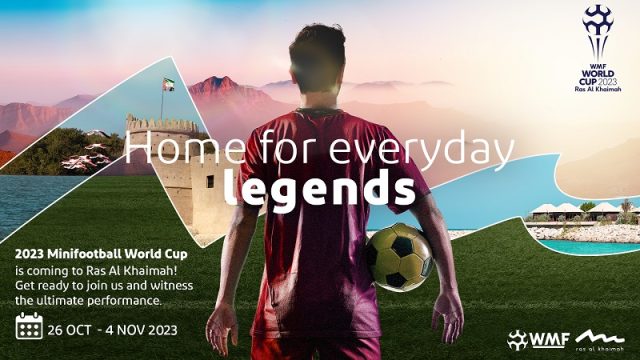 Tickets for the eagerly anticipated 2023 WMF Minifootball World Cup Ras Al Khaimah are now available for fans to book.
The ticket booking platform went live with the launch of the tournament's official campaign video which celebrates minifootball's unifying power and the tournament's debut in the Middle East. With Ras Al Khaimah's commitment to enhance livability and make the sport accessible to all, match tickets are available free of charge. Under the banner "Home for Everyday Legends", the 2023 World Cup highlights how relatable the game is to amateur players and enthusiasts, while magnifying the importance and capabilities of the talented players and giving them the legendary status they deserve. The goal is to inspire viewers to appreciate the sport beyond the professional level and recognize the skills and talent that exist within minifootball communities.
Taking place from October 26 to November 4, 2023, the tournament will see 32 national teams from across the globe compete for the prestigious title in Ras Al Khaimah. Eight groups, each comprising four teams, will compete to secure their spot in the knockout stages between October 26 and October 31, 2023, before the battle for the title takes place between November 1 and November 4, 2023.
The host nation, UAE, will face India following the official opening ceremony on October 26, 2023. Meanwhile, defending champions, Mexico will play Ireland in the first match of opening match day.
One of the strongest contenders, Brazil, leads the charge in Group E and will play their first match of the tournament on October 27, 2023, against Japan. Meanwhile, the USA, former host, and winner of the inaugural Minifootball World Cup tournament in 2015, are headlining Group D and will play their first match against Spain.
Match schedule and tickets are available on visitrasalkhaimah.com/minifootball