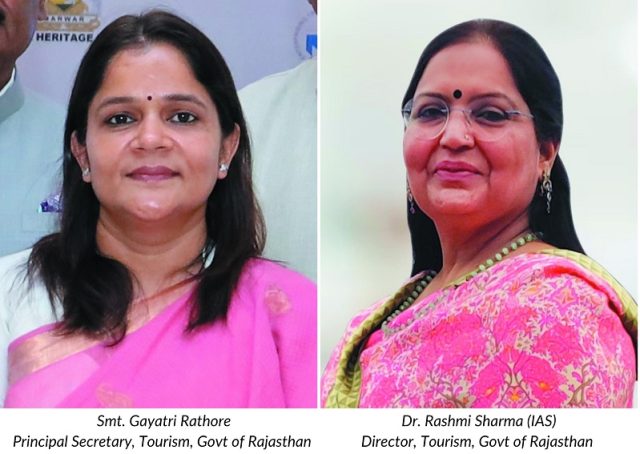 In an ambitious initiative aimed at transforming the state's tourism landscape, the Rajasthan Tourism Department is actively identifying and developing new tourist destinations across all districts in the state. This comprehensive endeavor encompasses development, restoration, and conservation efforts for two distinct tourist spots in each district. These projects are already underway, fueled by the Tourism Development Fund, with the overarching goal of expanding tourism's economic benefits to every corner of the state.
Smt. Gayatri Rathore, Principal Secretary of the Tourism Department while emphasising the alignment of this initiative with the 22-23 Budget Announcement said, "We are proud to announce that two unique tourist destinations have been earmarked for development in each district. "This visionary plan not only aims to enhance existing tourist spots but also envisions the creation of entirely new attractions for visitors."
Dr. Rashmi Sharma, Director of the Tourism Department said, "Our dedicated efforts are geared towards revitalising the state's tourism sector, benefiting all associated businesses and communities. With a total investment of 70.06 crore, development and renovation activities are currently underway in districts including Alwar, Ajmer, Bhilwara, Bundi, Bharatpur, Banswara, Dausa, Dungarpur, Jodhpur, Jhalawar, Jalore, Jhunjhunu, Karauli, Nagaur and Sirohi including Bikaner, Chittorgarh, Hanumangarh, Jaisalmer, Jaipur, Kota, Pratapgarh, etc. These initiatives are set to breathe new life into Rajasthan's tourism scene, offering a unique experience in every district."
Dr. Sharma further highlights the collaborative approach taken by the Tourism Department, working hand-in-hand with various government departments, including the Forest Department, Archaeology Department, and Public Works Department, as well as municipal bodies, to ensure the success of these projects. The rapid pace of work reflects the commitment to reinvigorate Rajasthan's tourism industry and offer diverse experiences to travelers from near and far.