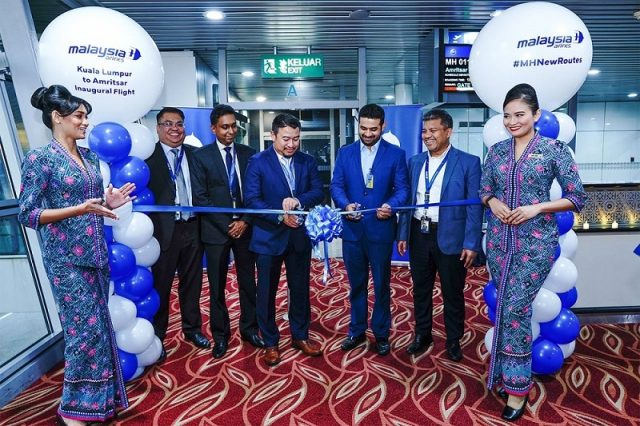 In a significant development for travellers hailing from Punjab, Malaysia Airlines commenced its operations between Amritsar (ATQ) and Kuala Lumpur (KUL) last evening. The inaugural flight MH0118 arrived from Kuala Lumpur and was warmly welcomed with a water salute upon arrival at Sri Guru Ram Das Ji International Airport, Amritsar at 10:10 p.m. local time on the Boeing 737-800 NG. On the same day, the inaugural flight departed for Kuala Lumpur at 11:25 p.m. local time via MH0119.
The commencement of the direct flight to Amritsar is part of the airline's strategy to strengthen its connectivity in India. The airline currently operates flights from New Delhi, Mumbai, Bengaluru, Chennai, Hyderabad and Kochi.
Commenting on the development, Dersenish Aresandiran, Chief Commercial Officer of Airlines from Malaysia Aviation Group (MAG), said, "India has shown an incredible resurgence in air travel demand and passenger traffic in recent times. With the introduction of direct flights to and from Amritsar & Malaysia, our goal is to enhance the travel options and flexibility for various categories of Indian travellers, including students, leisure seekers, and business travellers."
Malaysia Airlines is set to introduce two more routes from Kuala Lumpur to Thiruvananthapuram (TRV) on November 9 and Ahmedabad (AMD) on December 1, 2023. Notably, it will become the first full-service premium carrier to offer flights to South Asia and the Pacific from Amritsar and Trivandrum. With these additions, the airline will be operating a total of 65 weekly flights to India across nine (9) key hubs.
Flight Schedule:
| | | | |
| --- | --- | --- | --- |
| Flight No. | Route | Time | Frequency |
| MH0118 | Kuala Lumpur – Amritsar | 6:50 pm – 10:10 pm | Wednesday and Saturday |
| MH0119 | Amritsar – Kuala Lumpur | 11:25 pm – 7:30 am | Wednesday and Saturday |