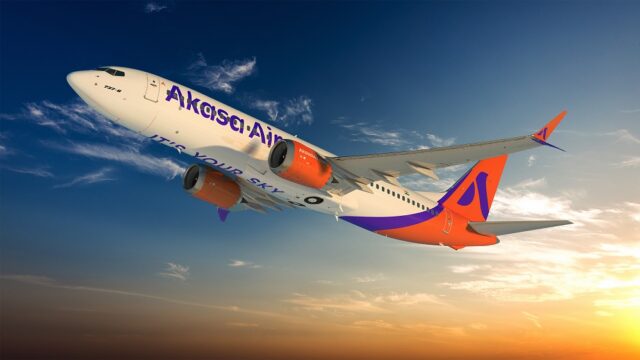 Akasa Air, which is in a "very exciting phase", has received approval from the government to operate flights to Riyadh, Jeddah, Doha and Kuwait, and expects to start international services "soon enough", according to its Chief Vinay Dube.
Currently, the airline which completed its first year of operations in August, has a fleet of 20 Boeing 737 MAX aircraft and 2 more planes are expected to be inducted into its fleet by the end of this year.
Asserting that Akasa Air is in a "growth mode" with strong financials, Dube said the airline will announce a triple-digit aircraft order in 75 days or by the end of this year.
"We have just been given traffic rights for Riyadh, Jeddah, Doha and Kuwait. The process will take time… we will let the process unfold.
"We continue to be in a very very exciting phase in our lives now. We are doing strong financially. We have a good cash position," he told Press Trust of India in an interview.
The carrier has received approval from the civil aviation ministry for rights to operate flights to Riyadh and Jeddah (Saudi Arabia), Doha (Qatar) and Kuwait.
Now, the airline will work with the foreign governments concerned for various other approvals to start international operations and that will take some time.
On when the first international flight is likely to commence, the Akasa Air Founder and CEO said it will be a little difficult at this point for the airline to nail down the timeline.
"The Indian government is extremely efficient but then we have to work with various foreign governments, (in) three different countries. Timelines for approvals from these countries will vary… It is soon enough," he said.
At present, Akasa Air operates around 700 weekly flights and flies to 16 cities.
In September, the airline carried 5.17 lakh passengers and had a domestic market share of 4.2 per cent, according to the latest official data.
To a query about rumours that the airline is facing funding issues, Dube said, "We are cash flow positive… we continue to add to our reserves."
"We don't need funding to place a triple-digit order in the next 75 days. We also hear rumours about the Jhunjhunwala family leaving which are absurd and the family says that they are invested with us for the long run," he added.
Recently, Akasa Air faced pilots' issues after some of them left without serving the required notice period which resulted in cancellation of various scheduled flights. The airline has moved the court against those pilots.
When asked about the issue, Dube said, "The matter is behind us and really now, we are squarely in growth mode."
India is one of the fastest growing civil aviation markets in the world and domestic airlines have placed significant plane orders as they look to expand their operations.
In June, the airline announced an order for four additional Boeing 737-8 jets. It was in addition to the order for 72 aircraft that was placed with Boeing.
Together, Akasa Air will have 76 aircraft, including 23 Boeing 737-8s and 53 Boeing 737-8-200s, mostly by mid-2027.
Source: PTI