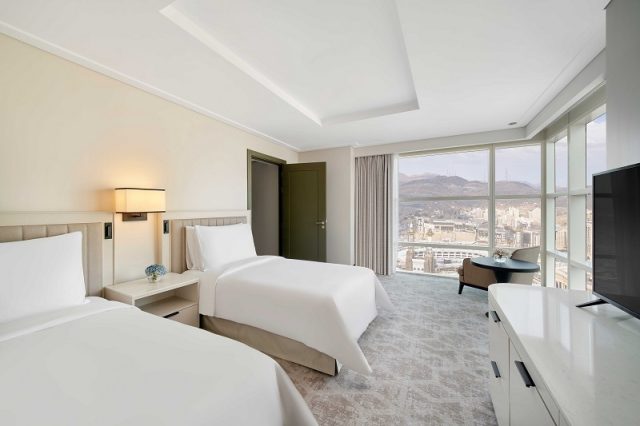 Address Hotels and Resorts has announced the opening of its latest architectural and hospitality masterpiece, Address Jabal Omar Makkah, in the holy city of Makkah, Saudi Arabia. Nestled in the iconic Jabal Omar development, this landmark property offers a truly unforgettable experience for pilgrims and travellers alike.
The largest hotel within the Address Hotels and Resorts portfolio, Address Jabal Omar Makkah boasts an impressive 1,484 rooms and suites. With its striking architectural design, a seamless fusion of ancient Arabian charm and contemporary opulence, the hotel is the tallest building in Jabal Omar and is a breathtaking sight.
One standout feature of Address Jabal Omar Makkah is its proximity to the sacred Holy Kaaba and Al Masjid Al Haram, along with the Makkah Museum, Masjid Al Jinn, Jannat al-Mu'alla Cemetery, and the iconic Abraj Al Bait Towers. Designed by the world-renowned architects Foster & Partners, the towers of Address Jabal Omar Makkah span over 5,000 sqm and the development includes a commercial area featuring a diverse range of shops, showcasing local, regional, and international brands.
Address Jabal Omar Makkah offers a range of exquisitely designed accommodations to suit every traveller's needs. From luxurious Deluxe Rooms, which provide splendid views of the Holy Kaaba or the Holy City, to indulgent Suites and the magnificent three-bedroom Presidential Suite and four-bedroom Penthouse, guests can immerse themselves in comfort and elegance.
With four restaurants, two lobby lounges, and two club lounges, guests can also savour a wide range of delectable cuisines. The hotel's signature dining venue offers traditional Hejazi cuisine and other Saudi Arabian specialties, where live cooking stations showcase international flavours alongside time-honoured delicacies.
The spa and wellness offerings, including the first-ever Foot Spa by Address Hotels and Resorts, at the hotel are designed to provide guests with a truly holistic experience. With a complimentary Fitness Centre, equipped with the latest Technogym equipment on hand as well, guests can maintain their well-being during their stay.
Address Jabal Omar Makkah is also a premier destination for conferences and events. Whatever the occasion, the hotel's unparalleled settings and services help create cherished moments. The property's multifunctional meeting spaces are designed to cater to events of any scale. The hotel's creative chefs curate menus tailored to individual preferences, ensuring a flawless and memorable event.
Mark Kirby, Head of Emaar Hospitality, said, "We are delighted to announce the opening of Address Jabal Omar Makkah. Its prime location makes it the preferred choice for those seeking to deepen their spiritual connection. With spacious rooms and suites, multiple dining options, and state-of-the-art prayer facilities, the hotel offers all the amenities necessary for a meaningful and unforgettable pilgrimage experience. Whether guests are here for Hajj, Umrah, or to enhance their spiritual connection, Address Jabal Omar Makkah Hotel is the optimal starting point for their journey."
The hotel is proud to be a part of Saudi Arabia's Vision 2030, which aims to transform the country's tourism landscape.