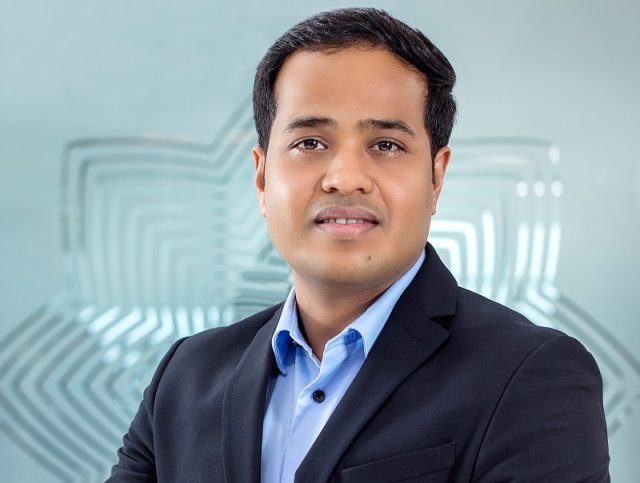 Vistara's constant endeavour is to provide a holistic air network to their customers, enabling them to travel seamlessly and with better connectivity. Deepak Rajawat, Chief Commercial Officer, Vistara has been part of the airline since its inception and is presently responsible for the overall development and implementation of Vistara's robust commercial/business strategy to grow its network, maximise revenues and enhance customer experience. In this interaction with him, we get to know a great deal about the current development at the 'Full-Service Carrier' offering a world-class flying experience to passengers.
– Prashant Nayak
Q. With the resumption of scheduled international flights, how has Vistara been capitalising on the opportunity?
Despite the challenges posed by the pandemic, we managed to introduce our services to seven new international destinations, under air bubble agreements, including London Heathrow, Dhaka, Doha, Frankfurt, Sharjah, Malé and Paris, besides resuming operations to Dubai, Singapore, Kathmandu and Colombo. These operations not only helped us introduce Vistara in markets that were already part of our expansion plans but also made inroads into new geographies, paving the way for a strong foothold for the brand in global aviation.
Since the resumption of scheduled international operations, we are operating flights to and from nine international destinations, including Paris, Frankfurt, London, Kathmandu, Singapore, Dubai, Dhaka, Colombo and Bangkok. While we temporarily discontinued connectivity to Colombo, we have started operations between Mumbai and Male from May 25, 2022.
In order to cater to the present growing demand, we have also increased frequencies to London and Singapore, where we now operate daily flights. These routes are being subscribed well by our customers and we are also evaluating several other international destinations.
We recently launched our 31st domestic destination, Coimbatore, connecting it with Delhi, Mumbai and Bengaluru starting May 20, May 27 and June 03, 2022, respectively. Additionally, we have also introduced several new routes, Mumbai-Srinagar and Bengaluru-Indore, Mumbai – Ahmedabad and new planned routes are Mumbai – Indore, Mumbai – Bhubaneswar.
Q. Is Vistara more focused on domestic or international growth?
Both, domestic and international networks are critical to our presence in the market and to our growth moving forward. In order for an airline business to be sustainable, it is important, especially for a full-service carrier, to operate at scale. Operating with a hub-and-spoke model, our domestic and international route networks also complement each other, coupled with our growing range of partnerships with other airlines through codeshare and interline agreements. India is a large market, and airlines simply cannot afford to focus on just solely building on domestic or international network. Our domestic operations helped us to navigate the toughest of times during the ongoing pandemic when international operations remained suspended for a prolonged period.
We strongly feel that there is great potential for long-haul direct flights from India, with travellers increasingly displaying a strong preference for non-stop travel, and Vistara is uniquely positioned to cater to this growing demand.
At the moment, our plan is to increase frequencies where we already fly and look at other commercially viable destinations around the world. However, the constraint is the delay in the deliveries of our Boeing 787-9 Dreamliner aircraft. We only have two of them, which limits our capacity to operate long-haul destinations. This limitation has been affecting our international expansion plans, especially our plans to operate to the USA. However, we are already evaluating feasible alternatives.
Q. What are your present load factors? What is your capacity forecast for the next few years?
We have been observing an increase in demand across our network, especially on long-haul international routes, and hope the trend continues. The surge is mainly driven by VFR (visiting friends and relatives) and leisure travellers currently with marginal improvement in corporate travel. Domestic travel has very recently crossed pre-Covid levels of passengers per day. The demand has come back strongly at 80 per cent to 90 per cent of pre-COVID levels on an average. For Vistara, it is more than 100 per cent, which means that we are doing better now on domestic routes than we were pre-pandemic. We have flown 35 million customers since inception, and recently we flew 1 million passengers twice in the last three months.
Vistara is also on course to ramp up its fleet in order to strengthen its network globally. Currently, we have a fleet of 52 aircraft, and we expect to take the number to 70 by 2023.
Q. What are the new service enhancements and offerings at Vistara?
As a customer-centric organisation, we have endeavored to consistently aim for customer delight. The pandemic, however, brought with it unforeseen circumstances that demanded for many of our services to be suspended or truncated temporarily. With the relaxation in guidelines and reduction in COVID cases, we have been progressively restoring pre-COVID standards of customer experience and even exceeding them in some aspects. Almost all of our onboard services have been restored which include non-vegetarian options on most flights (90mins and above), tea and coffee service (including Starbucks), menu cards in Business Class and Premium Economy, and much more.
We have also paced up our hiring to meet the changing manpower requirements and are constantly making improvements to our digital user interfaces while investing significantly in several tech-enabled processes to further smoothen the customer journey. Vistara is the first airline to have introduced touchless/paperless boarding at a few Indian airports two years ago. Other technologies like Kiosk check-in (Scan-N-Fly), E-bag tag, and automated baggage drop are some of the key initiatives we took to enable a safe travel experience for our customers while minimising interactions with people or contact with surfaces. Vistara Gate-to-Gate and the option to book an additional seat to maintain social distancing onboard, Purple Ticket gift cards, travel insurance, etc. are some examples of the ancillary services that we introduced keeping our customers' requirements and convenience in mind. We also offer a host of service offerings like in-flight WiFi on international flights operated by B787-9 Dreamliner and A321neo aircraft. We are also working towards introducing new enhancements at various customer touchpoints and are invariably committed to providing a world-class flying experience.
Q. With the pandemic ebbing, do you believe that customer behavior is getting back to the same as pre-pandemic or are they changed and more cautious now?
The pandemic has driven various changes in customer travel behaviour and expectations over the past two years. One major change has been a rapid shift towards adopting digital platforms for checking-in or booking flight tickets. More than 90 per cent of Vistara's customers now resort to web check-in, which was not the case pre-pandemic, at least in India. This is one change that is likely to be permanent.
With safety, hygiene and enhanced comfort taking the priority for travellers, there is also a growing preference for direct connectivity (non-stop flights), especially on long-haul routes. This stems from a variety of factors like avoiding the risk of contracting the virus in transit, constantly evolving complexities around travel restrictions, quarantine rules and shorter travel time, etc.
Q. According to you, what are the challenges for Vistara as a 'Full-Service Carrier' in India?
India is a large market, and we believe there is an opportunity for FSCs as well as LCCs to succeed and co-exist. FSCs continue to be relevant, even more in the current scenario due to less density of seats in the cabins. Vistara also fills somewhat of a void in the market as a modern, full-service carrier offering the best of Indian hospitality while maintaining world-class standards. In the context of long-haul international operations, especially, FSCs have been successful for decades and continue to be the preferred choice of customers across the globe.
Having said that, we are also cognizant that India is a highly price-sensitive market. While we are observing a growing preference for the premium cabins, especially on metro routes, deploying the same product on certain routes does not yield similar results, and we are addressing this in a few ways. This includes the deployment of all-economy aircraft, which are a fraction of our current fleet, but help us to perform well on certain domestic routes. The challenge of high costs is another thing – taxation is very high in our country, especially on fuel – and maintenance costs are high too. The rising fuel prices, high taxes, and the falling value of the rupee against the dollar increase the already high cost of operating FSC thereby putting pressure on the airlines' bottom-line. To tackle this, we control our non-customer facing expenses to the maximum and have done well in improving our cost structure to move towards a lean cost structure.
Q. What is the impact of rising fuel prices and other commodities on the airline, its operations, and profit?
Jet fuel makes up nearly 30-35 per cent of an airline's operating cost, which has been rising at an alarming rate due to the current geopolitical environment. While the rising demand for air travel has helped in coping with it to some extent, it is still a challenge to the recovery of the industry.
We are glad that several states have lowered taxes on ATF in the last couple of months. However, there is still a long way to go to make it more viable for airlines.
Q. With Tata Group's Acquisition of Air India, how is the development advantageous for Vistara?
It is great to see Air India find a home in the Tata Group, and we believe it is a positive development for the entire aviation industry in India. Vistara continues to operate as an independent airline and compete with Air India, and both our parent companies remain invested in our growth and expansion plans.
Q. Could you please share Vistara's vision and five-year plan?
Vistara is the cumulation of the two most trusted brands across the globe – Singapore Airlines and Tata Group. Since its inception, our vision is to redefine travel and become the world's finest airline, and we remain committed to the journey.
In the next five years, we plan to further grow our wings, in terms of our fleet and network, while also launching operations to new domestic and international destinations.