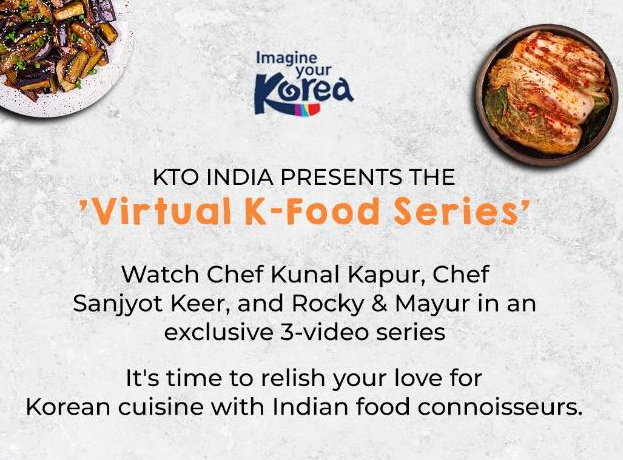 Korea Tourism Organization India (KTO India) announced the launch of its virtual K-Food Series today. The exclusive series will be live from 1st June – 4th June 2021. It will feature some of India's best chefs and food connoisseurs including Rocky and Mayur of Highway on My Plate fame, celebrity chef Kunal Kapoor, and internet sensation and founder of Your Food Lab Chef Sanjyot Keer, who will showcase a delightful Korean food experience straight from their kitchens.
The event will be hosted on the different social media channels of KTO India including Facebook, Instagram, and Twitter. The inaugural announcement was made today after which the videos starring Chef Kunal Kapoor, Rocky and Mayur, and Sanjyot Keer will be aired on 1st, 2nd, and 3rd June 2021 respectively. On 4th June there will be a quiz for all the viewers based on the videos featured in the series. Exciting prizes await the winners who will be selected through a lucky draw.
In this current pandemic situation, when going out is not an option, KTO India aims to provide a virtual taste of Korean cuisine to everyone from the safety of their homes. Learn how to make traditional Korean dishes and the hosts' experience with Korea and Korean cuisine during their culinary journeys in this unique and thoughtfully curated mini-series that will leave you salivating and ready to cook up a Korean feast in your own homes.