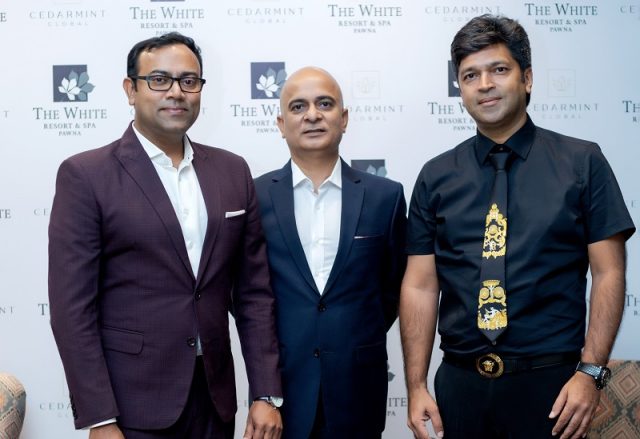 Embarking on an entrepreneurial journey, Vinay Singh, CEO, Cedarmint Global announced his new venture. Cedarmint Global is a Hospitality Management Company with a heightened focus on hotels. An industry leader and trendsetter, with about two decades of experience in the hospitality industry, Vinay Singh, has curated a concept to provide integrated solutions for setting up hotels and resorts alike.
In his previous stint, he was appointed as the General Manager for Le Meridien Jaipur Resort & Spa. His career span includes multiple brands of the Marriott International group including St. Regis, Renaissance Hotels, Westin Hotels, and Marriott Executive Apartments to name a few.
A trail blazer in the Hospitality industry, he has undoubtedly left a mark. With the announcement of his entrepreneurial venture, there are bound to be more exciting things lined up in the pipeline.
Along with the news of his company's formation, he announced the signing of their debut resort property, The White Resort & Spa Pawna. A 100-key resort, spread across 25 acres of land, and engulfed by mountains has a 9-hole putting golf course and comprises of a luxury Wellness Spa, three F&B outlets, and a Ball Room with 5500 sq. ft. space and two grand open-air lawns. The entire project is being developed, managed, and would be launched by Cedarmint Global along with Vikas Jain, owner of the resort. Vikas Jain adds, "If there was anyone who I could have entrusted with such a massive project, it had to be none other than the effervescent Vinay Singh. The resort is scheduled to open its doors by Mid-August 2022, and this marks the first of our long-lasting partnership." He is also the Owner and MD of White Maison de Couture & White Jewels, that is recognised for its uber-luxury jewellery and designs internationally.
"Cedarmint Global has been a budding thought in the making, for quite some time now. Life is about taking risks and bringing light to your dreams. Undoubtedly, it is a grave challenge that I have undertaken, however, I am confident there is a lot to explore with this new venture", said Vinay Singh, CEO, Cedarmint Global.
Vinay Singh is defined by more than just his passion and commitment to the field. He is truly a beacon of purpose, innovation, and energy, in all junctures of his life. This venture is the beginning of his marksmanship in the industry as well as his entrepreneurial journey.