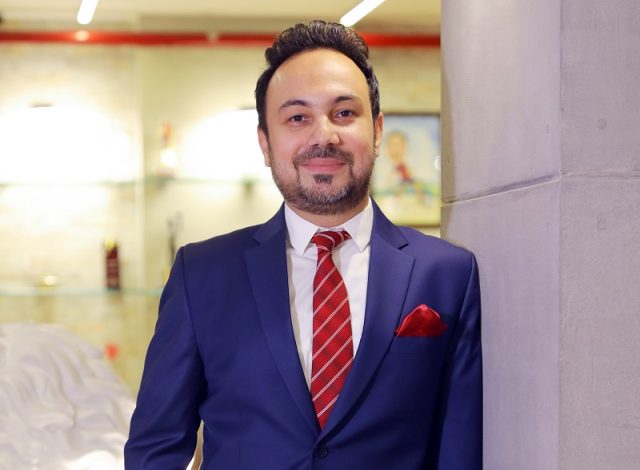 Battles are fought by soldiers, but the wisdom of battle-hardened generals set the dice rolling with their battle plans, strategy, and scenarios. The corporate world works on similar lines, and organisations and companies of today are run by CEOs, CCOs, COOs, CTOs, and CFOs. The travel industry is no different today. We have a battery of professional senior executives who bring in their vision, expertise, and knowledge combined with years of understanding of market dynamics to the table. TTJ had a tête-à-tête with Aarish Khan, Chief Commercial Officer – India Business, TBO.com, to know more about him and his journey in the industry over the last 18 years.
– Gurjit Singh Ahuja
Q. What motivated you to choose travel industry as a career? How do you view your professional growth over the years?
From an early age, I was fascinated to travel and see the whole world through my eyes, observing and experiencing varied cultures, landscapes, and people, and then, as destiny would have it after completing my BBA, I joined the travel industry. I adore my profession and have now been associated with the industry for over 18 years.
Over the years, I have personally observed that the industry has a huge potential and so much more can be tested and tried in this dynamic nature. This keeps me charged and always on my toes.
My effective 18 years have been very fascinating and challenging, having observed various changes, advancements, and new evolving ideas, which have now made customised travel products available instantaneously with a click of a button.
Professionally, my journey from a Reservations Manager to Chief Commercial Officer – India Business of TBO has been in and around brilliant minds who indeed boosted my career and groomed me personally on my soft skills and behavioural aspects. I believe various on-the-job exposures and learnings are the real opportunities that every individual should capitalise on and learn from.
My hunger for performing and delivering is hand in glove with various teams and people across the industry that I get connected with. The more you expand your horizon, the more is the learning.
Analysing competition, their approach to the market, viewpoints, and their best practices helps me learn and contribute more to my team and organisation.
Q. What are the three key challenges within your workspace?
Hiring the Right Talent
I believe hiring the right talent is the most critical task for any organization. I participate at all major industry events, to spot and identify talent and ensure that identifying the right talent is never missed. I focus on the will, skill and zeal of the individual. This at times is very challenging but it keeps your ear close to the ground and opportunity to bond with the team you hire.
Time Management
I make an effort to stay connected with all, even during my personal time, however, there are times when even I could be hard pressed for time. Nevertheless, I ensure that I address this challenge by connecting back at the very next available window or opportunity.
Ensuring a WOW Delivery every time
When excellence becomes a habit, is easier said than done, and delivering a WOW every time is challenging. Nevertheless, all efforts made in this direction are worth the time and energy spent. Excellence lies in details and has a direct impact, not just on the existing but future business. I maintain my connection with all my colleagues and stakeholders at all levels. This ensures me a detailed insight into the cause and effect of action and learnings for future realignment.
Q. What is the most valuable lesson that your career has taught you so far?
My mantra is: Value your team and rest all is taken care of.
Q. What leadership lessons have you learned from the pandemic? How do you keep your team motivated and inspired?
The lessons that I have learned are:
Always practice self-awareness
Be willing to talk about difficult subjects
Serve as a role model in all situations
Lead from within and go with your gut feeling
For the team we ensured:
We empower our managers to Lead Change
Maintain consistent communication with industry and partners
Being supportive to our employees and engaged on a daily basis
Focused on learning and development
Q. What do you enjoy most about your job?
The very fascinating aspect of my job is its ever-dynamic nature, as it keeps me and my team constantly on our feet. Exchanging brilliant ideas across teams and with industry colleagues is the major driving force behind the spinning wheel.
Q. What are your greatest accomplishments so far?
My vision has been very clear, and I work upon them diligently, without losing focus. I feel blessed that all planned activities have been accomplished well to date.
My desire to lead by example has yielded results, and efforts made were well recognised across the board by CEO Insights magazine which listed me among the top 20 CCOs of 2021.
Balancing the personal front is indeed critical, and I put sincere effort to ensure my family life and work life do not conflict.
Q. What do you hope to accomplish in the travel industry over the next five years?
There are a lot of things that need alignment or improvement within the supply chain. I do not intend to spin the wheel in a different direction but enhance upon capitalisation of existing resources through the use and incorporation of Artificial Intelligence and Machine Learning, which I foresee will shape the future.
Q. What is the best way to communicate with your team and business associates?
Listening to your team is very critical to any business. It provides you with insight and market feedback. Creating a receptive environment thus becomes very critical and articulating this feedback and insight into actions is what I believe in by displaying confidence and seriousness across the team. I brainstorm at every turn with my team to understand the opportunity and scenario and formulate ideas that can be used.
Q. How do you use your downtime between travel, at airports, layovers, or in the air?
I spend a lot of time reading during these hours and pondering over the various reports, business insights, industry views, and studying the competition. This not only supports me to utilise my time but keeps me updated too.
Q. How do you find a balance between work and personal life?
I acknowledge that there is no perfect work-life balance or an ideal scenario, but I ensure that my personal time is well shared with loved ones, my two lovely kids, and my wife. I ensure that catering to my family and friends is my natural healer and they rejuvenate me for the next challenge. I appreciate my wife's endeavors to be hand in glove with me on this journey all this while.
Q. As a travel industry professional, tell us about the 'Power of Travel.
Travel is no more a luxury. It is a necessity that is so dynamic that it demands grooming every single day. Thus, we observe various mediums and products that have emerged, catering to the minutest of details of an individual with various permutations and combinations. The industry is a multi-billion-dollar industry worldwide, and the same applies to its contribution to our domestic economy. It not only creates multiple jobs, empowers people, improves the standard of living, and enhances infrastructure, but also unites everyone.
In a nutshell, travel and tourism has become one of the most important sectors in the world economy, accounting for 10 per cent of global GDP. UNWTO has also recognized that this sector employs 1 in 10 people globally. Harnessing innovation and digitalization, embracing local values, and creating decent jobs for all, especially for youth and women, should be at the forefront of tourism recovery.
Q. A seismic shift in traveller needs and demands post-pandemic is now visible. What will be the key factors that will shape the future of travel in India?
Hygiene has been a part of our personal grooming but is now a critical part and aspect of travel need which has emerged post-COVID. The pandemic created a major shift towards domestic travel and to various tier 2 and tier 3 cities. Travellers have discovered newer destinations, and are now exploring relatively unknown small, remote locations, with family and friends expanding the travel horizon.
I have always believed in innovative ideas, tools and technology, thus I feel that artificial intelligence and machine learning will really be the key factors in shaping the way we see the future of travel.