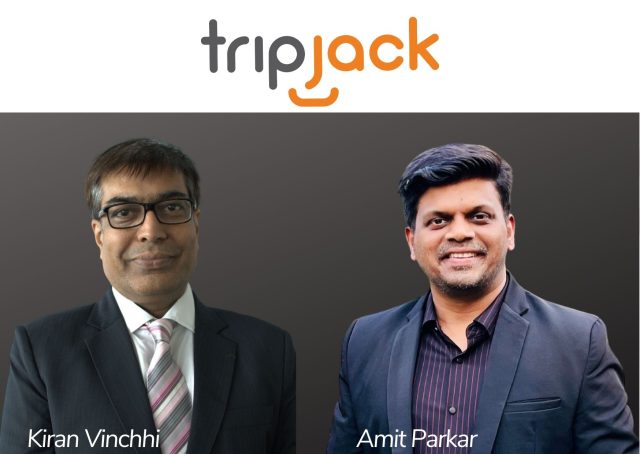 TripJack, the fastest-growing B2B Travel technology company in India, has ambitious plans to expand the business and achieve its goals by empowering its travel partners to grow their business and succeed with them. They have now ventured into the business travel space with TripJack MICE as they feel tourism is gaining momentum in India with global travel restrictions normalising and business travel continuing to get back on the calendar. TTJ learns more about the new enterprise from Kiran Vinchhi, COO, Corporate, Marine, and MICE, and Amit Parkar, Business Head, MICE at TripJack, as they share their perspective on the business expansion.
– Prashant Nayak
Q. Have you been witnessing recovery in MICE movements in India? What was the rationale for the introduction of the TripJack MICE vertical?
Kiran: The recovery of businesses has already started, and the MICE aspect of the business is recovering and doing well. I feel it is faster than leisure travel. Since there was a lull in the MICE movement for the last two years due to COVID-19, most of the corporates with their travel budgets yet to be utilised are looking forward to connecting with their people and their industry. Hence, the demand has shot up rapidly. At TripJack, we have a strong portfolio of travel products and offerings. Thus, MICE has become a natural extension of our service portfolio. There could be no better time or opportunity to set up our MICE vertical.
Q. What will be TripJack MICE's forte as a new brand and as a MICE operator? And from where does the brand derive its strength from?
Kiran: Precision, Consistency, and Excellence will be TripJack's MICE forte. The company derives its strength from the management who are driving this new vertical and are keen to go out for the venture to succeed. Our MICE team onboard is also a great mix of experienced and passionate young minds, which also happens to be our core strength.
Q. Will you be focusing on the domestic MICE market or the international MICE market?
Kiran: We will focus on both, as we feel there are opportunities for both the MICE segments. India also is doing well in the MICE movement with plenty of infrastructures and convention centres and now with the growth of domestic travel. Also, our team has proven expertise in international and domestic travel markets.
Q. How confident are you in capturing MICE business in India? What are your expectations?
Amit: We are optimistic about creating our own space in the MICE business in India by leveraging our existing network. Besides, we expect the MICE demand to grow rapidly from this quarter, which reflects on some of the potential projects our team is working on already. We are very bullish about the MICE business, especially in the next three quarters.
Q. What will be the specialisation of TripJack MICE, and what novelties will you introduce to entice MICE customers?
Amit: MICE is a very competitive segment. However, we are confident that right from scouting for unique destinations and to delivering unique experiences, if we keep our customers at the heart of everything we do, we will be able to deliver tailor-made 'wow' experiences for them which are specially curated by our passionate team. Since TripJack is a tech-driven organisation, we are also exploring how our expertise can help us deliver a seamless experience to our customers.
Q. According to you, what are corporate/MICE travellers looking for while selecting a MICE venue?
Amit: Corporates are always looking for unique experiences at unique destinations but within their budget limitations. The sky is the limit on what can be offered by TripjJack.
Q. How will you reach out to your customers? What strategies will you employ to stay ahead in the MICE competition?
Kiran: We have three defined avenues to reach out to our target customer base. Our team brings to the table some strong corporate relationships which we are leveraging to our advantage. Besides, our existing corporate database is also giving us some great leads to work on. Lastly, we also have a very large Travel Agent network in our B2B space which we are capitalising on. In addition to that, we will be reaching our clients on various social media platforms and will be doing Corporate FAM trips for all our potential customers.
Q. Do you think India makes up for a good playground for inbound MICE business?
Amit: I think we are getting there. With the strong infrastructure push-ups, we are now witnessing things like the upgrade of the railways, record-breaking speedy work to boost road connectivity, port developments under the Sagarmala project, etc. We should be able to dish out world-class experiences for our inbound MICE travellers in the times to come.
Q. According to you, what factors can help the faster recovery of MICE tourism in India?
Amit: The things that come to my mind are the good infrastructure, ease of visa norms, and promotions by the State Tourism Boards to showcase the real India and its heritage to the world. All these efforts will be big steps in the right direction to put India on the World MICE tourism map.