Taking a cue from last year's blockbuster #THROWBACKTHAILAND video contest for Indian influencers, Tourism Authority of Thailand (TAT) India offices have taken a step forward this year to launch #BLOGYOURTHAILAND: THE ULTIMATE CHALLENGE for Indian bloggers. This time the contest is going to be a power-packed contest!
Organised by TAT New Delhi office and TAT Mumbai office, this year's contest will see the extent of the power of blogging and to what level it can influence potential travellers within a given timeframe. Despite the challenges of the pandemic, the world is fighting with full spirit and keeping the morale high that this will pass soon. With Thailand's plans to open its borders for international tourists in phases, and the already launched #PHUKETSANDBOX pilot programme, it is now the good time to invite Indian bloggers too to see and share Amazing Thailand from their fresh perspectives before the gates open for Indian tourists.
Ever since the pandemic broke, Tourism Authority of Thailand (TAT) is continuing its sustained effort to connect with trade partners, consumers, and media. Bloggers and influencers have always been an integral part of Amazing Thailand's promotional journey. Travel bloggers who keep travelling all the time are now grounded for over a year; hence the contest is split into three sections to encourage all of them. The theme for the contest is: "Rediscover | Relax | Rejuvenate | Revive | Rejoice | Reboot". The blogger may select either one or more from these keywords while creating the blog post. It can be considered as a whole journey from the past to the future as a means to recover from the current stress and trouble we all are going through, and reset ourselves in Amazing Thailand.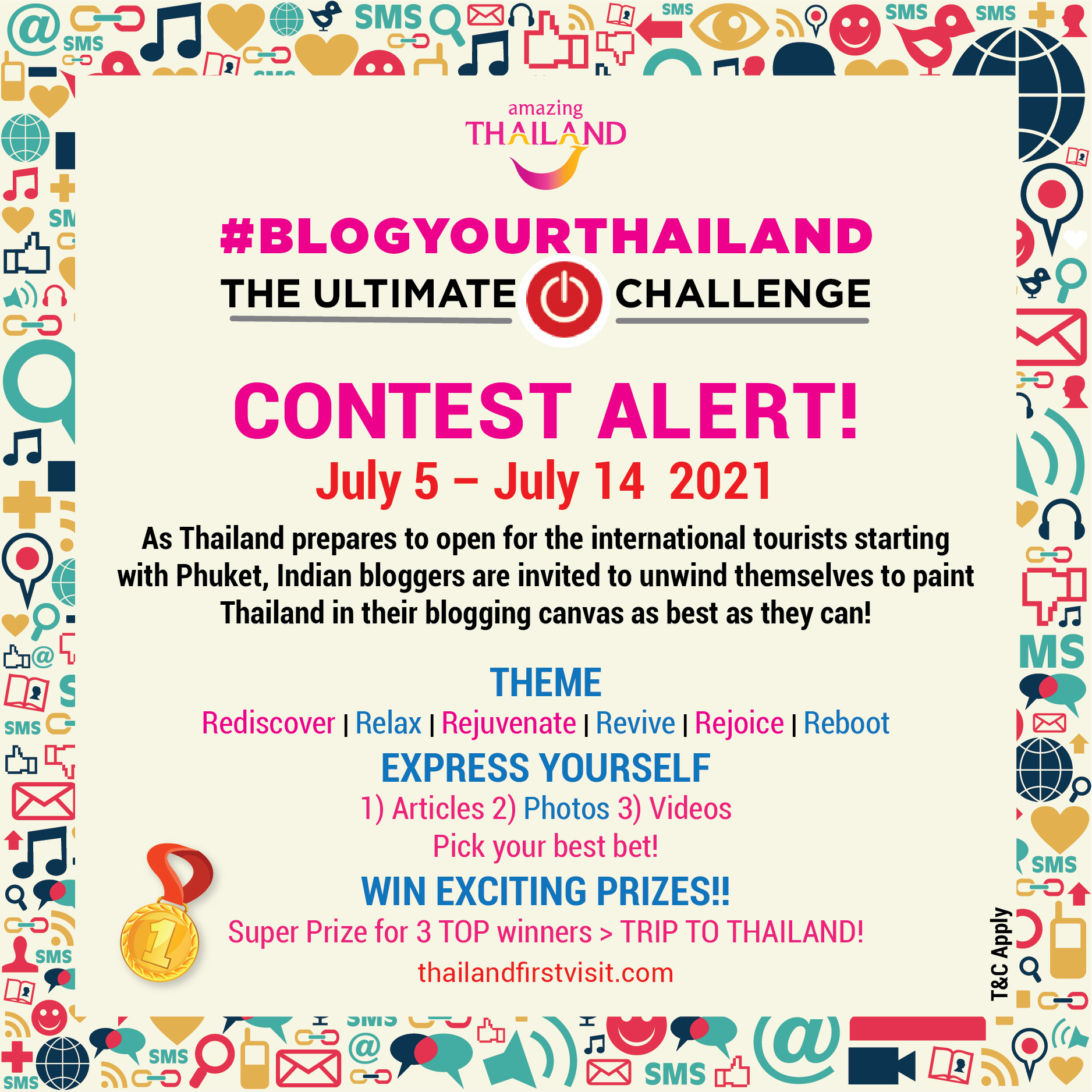 The contest will be live for 10 days from July 05, 2021 to July 14, 2021 and all resident Indian bloggers can submit their entries on the contest platform: thailandfirstvisit.com/contest.
"TAT would like to invite all bloggers in India to participate in this exciting activity. The entry must have a full-fledged running independent blog with social media links generated from the same. Based on the contest theme, a fresh blog entry must be published between the contest open dates. The blog could be in either of the categories – articles, photos or videos. Our mission will be to select the best entries from all three segments and generate as much content as possible for the promotion of Thailand and integrate all the bloggers with TAT India," said Vachirachai Sirisumpan, Director – TAT (New Delhi).
"The idea is to not only reconnect with the reputed and established bloggers who have been to Thailand many times, but also to encourage the upcoming new bloggers to write or produce content on Thailand based on research and market study. This exercise will also throw lights on the modern ways and techniques these content creators are depending on," commented Cholada Siddhivarn, Director – TAT (Mumbai).
Detailed guidelines are in place to help the bloggers for producing their best content and submitting the entries seamlessly. Not only will exciting hi-tech gadgets be awarded to three winners in each category, but each category topper will receive a Super Prize: A Trip to Thailand (conditions apply).