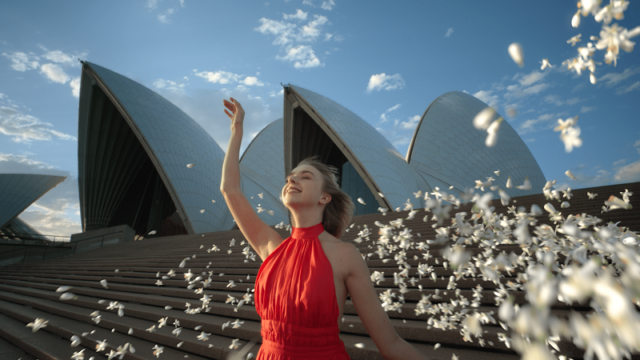 Tourism Australia has released a new immersive video, Tune into Aus, to emulate the unique feeling of holidaying in Australia, and remind potential travellers overseas of the incredible experiences on offer as the destination prepares to safely re-open to international travel.
The new 90-second video is a creative collaboration with one of Australia's most influential electronic duos, Flight Facilities, and uses captivating vision, music and 8D audio to create a truly sensory experience for international audiences.
Tourism Australia Managing Director Phillipa Harrison said with the pandemic putting holiday experiences on hold, Tune into Aus highlights the sense of rejuvenation that travellers from around the world are seeking right now and reminds viewers of all that awaits here in Australia.
"Through the power of 8D audio, our collaboration with Flight Facilities brings to life that unique feeling you get when your Australian holiday kicks in, and we hope the video gets people all over the world excited about the return of travel to Australia," Harrison said.
"Tune into Aus showcases unique moments only an Australian holiday can deliver and reminds international travellers of the diverse destinations awaiting them in Australia – the beautiful spacious landscapes, our unique native wildlife, iconic cities, and rich Indigenous culture."
"From the glistening white sails of the Sydney Opera House to gazing up at the darkest skies on the planet in South Australia's Flinders Ranges, there are so many exciting holiday experiences awaiting international travellers on Australian shores."
Tune into Ausis the next iteration of Tourism Australia's international content marketing program using 8D audio technology. Australia in 8D, which launched in 2020, was a series of videos themed by colour and gave travellers around the world a taste of what it was like to experience Australia firsthand, but from the comfort of their homes.
8D audio is a sound engineering treatment in which the music and effects sound like they're coming from different directions while wearing headphones. The audio effect creates an immersive experience for the listener and is a unique way to engage audiences using the emotive power of sound and music.
Tourism Australia Chief Marketing Officer Susan Coghill said the new 8D video collaboration is a natural evolution of the 8D concept, now building a sense of anticipation ahead of the reopening of Australia's borders to more international travellers.
"In 2020 we digitally immersed millions of people across the world into Australian landscapes through their screens and headphones. Our latest 8D video takes the audio effect to a whole new level, with iconic sights and sounds of Australia scored by Flight Facilities' spine-tingling track," Coghill said. 
"Our new immersive digital experience aims to inspire travellers overseas to put Australia back at the top of their travel lists, and start planning their remarkable holiday Down Under."
This creative collaboration combines striking footage of Australia's unique sights, sounds and textures in 8D audio, and is scored by Flight Facilities' live performance with the Melbourne Symphony Orchestra. The live track is called Got to Have, from the iconic album 'Live with the Melbourne Symphony Orchestra'.
Tune into Aus will launch globally on Tourism Australia's YouTube channel YouTube.com/Australia, Tourism Australia's social channels as well as Australia.com.
All states and territories are featured in the immersive video including a Bangarra dancer outside the Sydney Opera House, a woman diving into the crystal clear waters of South Coast New South Wales, a young boy stargazing with an Aboriginal Tour Guide at Wilpena Pound in the Flinders Ranges and a couple enjoying a picnic at the Barossa Valley's Two Hands Wines in South Australia.