Tourism Australia and Singapore Airlines (SIA) have signed a new three-year marketing agreement aimed at promoting business events travel to Australia. Under the Memorandum of Understanding (MOU), Tourism Australia and Singapore Airlines will jointly deliver a range of marketing and promotional trade activities within Asia and the United Kingdom to promote Australia as the ideal destination for business events. The activities will highlight Australia's strengths as a world-class business events destination including its iconic and diverse landscapes, award-winning venues, unique experiences and friendly people with fresh perspectives.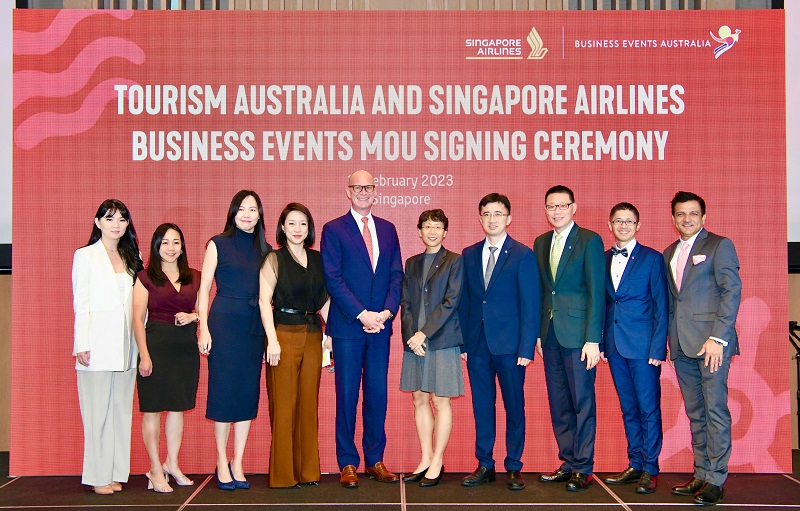 Tourism Australia's Executive General Manager of Eastern Markets and Aviation, Andrew Hogg said, "Singapore Airlines is one of our longest-standing airline partners and I am thrilled we are working together once again to promote why there's nothing like Australia for business events. Business events are incredibly valuable to Australia's visitor economy and strategic partnerships such as this, help to secure future business for Australia".
Prior to the pandemic business events was a strong performing sector for Australia with 1.04 million arrivals, spending A$4.5 billion for the year to December 31, 2019.
JoAnn Tan, Senior Vice President Marketing Planning, Singapore Airlines, said, "Australia has always been an attractive and popular destination for both leisure and corporate travellers, and Singapore Airlines remains firmly committed to keep Australia connected to the world. With our 111 weekly services between Singapore and seven points in Australia, coupled with our extensive passenger network, we are pleased to support efforts in promoting business events travel to Australia."
The announcement complements recent Tourism Australia initiatives in the business events sector, including the new business events brand campaign, There's Nothing Like Australia for Business Events, which was recently rolled out in Greater China. The campaign features a new creative strategy that shows how Australia has everything you would expect from a business event destination, plus so much more.
Tourism Australia is also ramping up its business events distribution activity, providing qualified planners, agents and media with the opportunity to experience Australia first hand. This includes the recently announced Business Events Australia Asia Mega Famil Showcase, which will be held in April with host city partner BESydney and Tourism Australia's incentive showcase Dreamtime, which will be held in November 2023 with host city partner Business Events Adelaide.