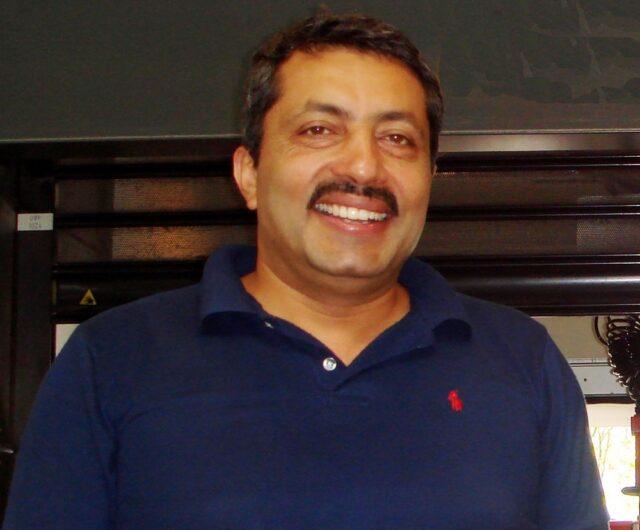 As individuals, organisations, and the tourism, travel and hospitality industry, we have had to be resilient and adapt quickly to survive over the past 22 months. The global travel scenario has changed forever, and if we can adapt quickly, we have the potential to emerge as a global leader in this field. Indian Tourism must resurrect itself post-COVID to project India as an emerging world power.
– Ajeet Bajaj
Travel and Tourism constitute nine per cent of the Indian GDP. Our national dream of being a five trillion-dollar economy by 2024 can be realised if, along with 'Make in India', we focus on and leverage our immense service sector potential, especially in the travel and tourism industry. I have tried to highlight a few points below that require all tourism stakeholders' focus. Before that, I would like to quote:
"It is not the most intellectual of the species that survives; not the strongest; but the one that is able to adapt to and to adjust best to the changing environment," Charles Darwin, Origin of Species (1859).
National Tourism Policy
India's ranking in the World Economic Forum's Travel & Tourism Competitiveness Index 2019 is 34 out of 140 countries listed. Indian Tourism must endeavour to be in the first ten by 2025. The National Tourism Policy must focus on the 14 pillars of the World Economic Forum's Travel & Tourism Competitiveness Index. These must be implemented across India with tremendous emphasis on health, safety, security, and sustainability in the policy. India has to be a 'hassle-free travel experience.' The online visa process needs an urgent review, entry, and exit from India, post COVID-19 protocols, safety, and security of our travellers, road, rail, and air travel infrastructure, health, and hygiene, have to add up to make "Incredible India" a seamless travel experience. Sustainable Tourism must be an integral part of the National Tourism Policy. Issues such as 'over tourism' and carrying capacity need to be addressed through this policy. The UNWTO Global sustainable tourism criteria must be adopted in letter and spirit as part of the policy.
State/Central Governments
It is time to make the Ministry of Tourism more robust with a larger budget, additional resources, and senior officers both at the central and state level. A state tourism and destination audit by a credible international organisation would go a long way in the sustainable development of the tourism sector. Central funding for the states should be based on a minimum rating in the audit process. The synergy between state government departments is of paramount importance, and state governments must be encouraged to set up inter-ministerial teams to harness their tourism potential. While many state governments are proactive, the lackadaisical approach of many states has led to unstructured and non-sustainable tourism development in many parts of the country.
Enhancing the Tourism Product/Visitor Experience
As per Indian travel industry estimates, we have approximately two hundred products which give us 80 per cent of our business. We need to focus on these products and make them safe, clean, hassle-free, and transformational experiences. India's 'visitor experience' has to be taken to the next level. The travel infrastructure, health and hygiene, road, rail, and air connectivity, have to be on par with international standards, showcasing India as a premium tourism destination. For example, the road to Kumarakom from Cochin in Kerala- one of the jewels in Indian Tourism – the backwaters- is terrible with more potholes and fewer roads! It is suggested that the government make cross-functional teams with high-level representation from the Ministry of Tourism, state government, ASI, civil aviation, railways, town planning for integrated and sustainable development of these products. Central and state government funds must be allocated for this purpose.
Popular tourism towns/cities must also be a part of this plan to enhance the visitor experience. After 'Swachh Bharat', 'Surakshit Bharat' is the need of the hour. India has to endeavour to become the safest country for travellers, especially women. Media campaigns, sensitising the local population and administration, having tourism in the school curriculum, and tourism police assisting tourists would go a long way in sending the right message to potential tourists worldwide. As a country, we must leverage our rich natural, cultural and historical heritage, identify 100 new products, and develop them to international standards in a sustainable manner while being mindful of the carrying capacity.
Ease of doing travel, tourism and hospitality business in India
While India's ranking in the World Bank's Ease of Doing Business Index has improved to 63 out of the 190 countries surveyed, it has to be a national priority to improve our rating in the ease of doing travel, tourism and hospitality business in India. Presently, it is tough to be part of the Indian travel and tourism industry. We have to simplify procedures, move away from the license raj, have national systems and procedures across all states, online time-bound permissions, incentivise entrepreneurs, and rationalise taxes.
Leveraging our immense Natural Heritage
In India, we have every conceivable geographical terrain, are a global biodiversity hotspot, have 73 per cent of a culturally diverse Himalayan range in India, rich fauna, flora, and avifauna. Indian natural heritage and adventure tourism hold immense potential for economic development and job creation in the remote, far-flung regions of the country. We must gauge carrying capacity, improve infrastructure and accessibility, including road and rail connectivity, and invite entrepreneurs to invest with incentives. Opening and promoting areas like Kargil, Nubra, Pithoragarh, Spiti, Pasighat, and areas like the inner sanctuary of the Nanda Devi sanctuary, which was closed in 1983, in a limited, responsible manner, will put India in the global spotlight and help boost tourism to remote regions of the country.
Adventure Tourism
Adventure Travel is a US 683-billion-dollar industry globally, showing a 21 per cent Compound Annual Growth rate since 2012. Given our huge potential vis-a-vis adventure and sustainable tourism, we can easily double our inbound figures, presently at 10 million tourists (UNWTO) post-pandemic through Adventure Tourism alone. According to a Neilson report for the Ministry of Tourism and industry estimates, Adventure tourism in India was a 2000 crore industry in 2016 and is ranked 96 out of 163 countries in the 2019 Adventure Travel Development Index of the Adventure Travel Trade Association, USA and George Washington University. The 10 Pillars of Adventure Tourism Market Competitiveness include Government Policies, Supporting Sustainable Development, Safety, Natural Resources, Health, Adventure Resources, Entrepreneurship, Humanitarian, Infrastructure, Cultural Resources, Adventure Image/Brand.
India needs a National Adventure Tourism policy with clear guidelines, online processes, and an enabling environment for investors. This policy must be adopted and implemented by all state governments. The National Adventure Tourism Task Force must be revived to work on the ten pillars of the Adventure Tourism Development Index, involving all stakeholders and state governments. Safety Guidelines of the Adventure Tour Operators Association of India must be urgently implemented by all stakeholders and adopted by all state governments.
It must be mandatory for all adventure tour companies in India to be registered by the state or central government. Presently, only 1200 adventure tour operators out of approximately 15,000 are registered in the country. Soft loans and GST waivers for registered adventure tour operators for five years would go a long way in bringing all operators into the mainstream and streamlining adventure tourism.
The 3 Gs for risk management of adventure tourism are critical to realising this dream, i.e., Guidelines, Guides, and Gear.
GUIDELINES: Indian Adventure Tourism Guidelines of the Adventure Tour Operators Association must be adopted and strictly implemented across the country, in letter and spirit.
GUIDES: Skill development with courses in adventure tourism and courses for adventure and nature guides by Govt-run IITTMs and private institutions will help with the sector's overall development. Training modules to train and upskill all adventure guides in the country in adventure tourism and related skills such as First Aid and CPR, communication skills, F&B, guest handling, soft skills, Search and Rescue will go a long way in improving our image as a prime adventure tourism destination.
GEAR: Until India can produce its gear at par with international standards, tax incentives and duty-free equipment import will help operators ensure that the best equipment is used for adventure.
A senior government officer of the rank of JS should be in charge of adventure and nature tourism at the Centre. State governments must be encouraged to have senior officers support the development of adventure and nature tourism in the states systematically and sustainably. At the state level, the synergy between Tourism and Forest Department is necessary for growth in the adventure tourism sector. Search and rescue and insurance for adventure travel need to be addressed urgently.
GST Holiday
Post pandemic, one of the ways to grow this sector in rural/remote parts of India and channel local employment is to incentivise investor interest by providing a GST tax holiday to Adventure Tour Operators. Extending tax advantages will also align with the development objective of most of these regions, which are either in hill states, border areas, coastal regions, or other areas which need economic development and alignment with the rest of India.
Air Connectivity, Accessibility, and Infrastructure Development to Adventure Hubs in India
Opening airstrips in the Himalayan region will make India a year-round destination. Improving/ launching air connectivity to the Nubra valley, Kargil, Pithoragarh, Chilyanisaur, Gauchar (in Uttarakhand), Spiti, and Arunachal Pradesh and developing highways and introducing fast trains to reduce travel time to popular adventure hubs of the country will give a much-needed boost to adventure tourism in the country. The government must consider viability gap funding in the first phase of launching these flights.
National Trekking and Cycling Trails
It is suggested that at least three national trekking and cycling trails be built to give a major boost to adventure tourism in the country. These National Trails should be walking and cycling trails (paved and unpaved) that are signposted, with lodges, tented camps, and homestays at a distance of 10/ 12 km. The involvement of local communities, good communication networks, and medical and rescue infrastructure could make this an international attraction.
Indian Trans Himalayan Trails: A Western Indian Himalayan Trail from Kashmir across Ladakh, Himachal Pradesh to Uttarakhand, and an Eastern Indian Himalayan Trail from Darjeeling to Sikkim and Arunachal Pradesh.
The Ganga Trail: from Gaumukh to Ganga Sagar (2525 km)
Coastal Trails: Western and Eastern Coastal Trails. 
Ski Destinations
Presently, only Gulmarg in J&K is considered a world-class ski destination in India. Given that India has 73 per cent of the Himalayan range in the country, it is suggested that at least three different international level ski resorts be planned in the next five years. Global tenders can be floated to identify and build this infrastructure.
Island Tourism
Andaman and Lakshadweep Islands must be developed as world-class sustainable tourism destinations. Lakshadweep will never be a Maldives (many more islands in Maldives, 4-decade head start on high-end tourism), and Andaman will never be a Phuket (location adjacent to mainland South East Asia allows far more ancillary development). If we try to copy these destinations, we will be poor imitations and will not attract discerning visitors who would always choose to go for the real thing. Both Andaman and Lakshadweep should follow genuinely sustainable, nature, and adventure-oriented tourism models for their development. Lakshadweep should be a rustic, real experience and a more sustainable alternative to the Maldives. Andaman should position itself as one of the last bastions of pristine island rainforest, mangrove, and uncluttered beaches in Asia, a sustainable alternative to South East Asia's overdeveloped beaches and islands. Andaman's USP, with 86 per cent of the landmass protected under Reserve Forest, Sanctuary, or National Park, is its protected areas that should remain intact.
Relax regulations to allow water and other adventure sports on the islands. Non-motorised water sports activities (kayaking, windsurfing, etc.) should operate freely following basic and easy registration with the local Tourism Department.
Allow day visit permits to National Park, Sanctuary, and Reserve Forest Areas on these islands through an easy permit regime. Adventure Sports such as diving, snorkelling, kayaking, and even short treks will capitalise on these relaxations and give character to island tourism and drive inbound footfalls.
Easy change of Land Use and enable locals to enter in JVs with 3rd parties: Currently, it isn't easy to commercialise land in Andaman or Lakshadweep for tourism purposes. Allowing change of land use in the Andaman Islands, within masterplan norms, will allow participation in tourism opportunities with a local flavour and character, enabling the use of privately held lands in Lakshadweep to be developed personally or through JVs.
Solve external connectivity issues: International air connectivity to South East Asia (for Andaman) and better connectivity to Kochi/Thiruvananthapuram (Lakshadweep) will boost tourism and development opportunities.
Solve internal connectivity issues: Encourage Sea Plane connectivity for inter-island movement and facilitate private investment in marine transport by relaxing vessel registration norms as already mentioned in both Andaman and Lakshadweep
Relax regulations to allow smaller boats to ply for adventure tourism (can be achieved by allowing vessels registered as Sport Fishing Vessels with Dept of Fisheries to also ply for Scuba Diving, Snorkelling, inter-island cruises, and transfers)
National Adventure Training Institutions
Presently, there are only a handful of credible government-run adventure institutes in the country such as Nehru Institute of Mountaineering Uttarkashi, Himalayan Mountaineering Institute Darjeeling, Atal Bihari Vajpayee Institute of Mountaineering and Allied Sports Manali, National Institute of Mountaineering and Allied Sports, Dirang and Indian Institute of Skiing and Mountaineering, Gulmarg. It is recommended that each state and UT, depending on its geographical location, have at least one national-level adventure training institute focusing on different adventure sports such as scuba diving, aero sports such as paragliding, Alpine and cross-country skiing, mountaineering and rock climbing, river rafting, white water, and sea kayaking.
Atithi Devo Bhava
In October 2019, the entire country was shocked to hear that an Indian tourist had been detained in Bhutan for desecrating a 'Chorten', a holy Buddhist religious structure. Photos of the Indian motorcyclist standing atop the Chorten near Dorchu La in Bhutan went viral, causing immense national heartburn and shame.
For years 'Atithi Devo Bhava,' 'Guest is God' ethos has been ingrained into the psyche of the Indian community through media campaigns by the Ministry of Tourism, Government of India. Sadly, while the typical Indian tourist is good-hearted and well-meaning, it is imperative to educate them to conduct themselves with dignity, grace and be the epitome of responsible tourism. It would be prudent to halt any overseas promotional spend on 'Incredible India' till a few months after the pandemic and instead launch a social media campaign sensitising Indian tourists through storytelling and positive examples focusing on three vital aspects: a) Cleanliness and hygiene b) Cultural sensitivity c) Personal conduct and manners. The idea should be to sensitise Indian tourists, while in India or traveling overseas, to be worthy of the respect and exalted status is given to a guest in Indian culture.
In India, "Atithi Devo Bhava" is ingrained in our very ethos. Sadly, the figures have a different story to tell. If China can get its act together and attract 63 million tourists per year (UNWTO 2019), India, given our potential, with only 10 million, can do much better! As the tourism and travel industry, we must have big, audacious dreams and plan accordingly. Our vision must target 60 million inbound travellers annually to India by 2030.
We need to have the national and political will to drive this. Post pandemic, the Indian Tourism and Travel industry must change with fresh, out-of-the-box thinking and propel Indian Tourism to the next orbit.
About the author: Ajeet Bajaj is the Founder and Managing Director of Snow Leopard Adventures, three times National Tourism Award winning organisation. Ajeet was conferred the Padma Shri by the President of India in 2012. He has been felicitated with the 'Hall of Fame' award both by the Adventure Tour Operators Association of India and the 'Indian Association of Tour Operators'.