When we think of countries to experience adventure sports, New Zealand is sure to top the list. And with New Zealand re-opening its borders to fully vaccinated Indians this August, don't hold back and start planning your trip right away. Get ready to experience an adrenaline rush in your body like never before.
In early May 2022, the New Zealand government announced further relaxations in border restrictions, allowing all fully vaccinated international travellers, including India, to travel to Aotearoa (the current Māori language name for New Zealand) from August 1, 2022. Thus, fully vaccinated Indian visitors will be able to travel to New Zealand without self-isolation on the provision of a negative pre-departure test. Negative Rapid Antigen Tests [RAT] will be required on arrival and on day 5/6.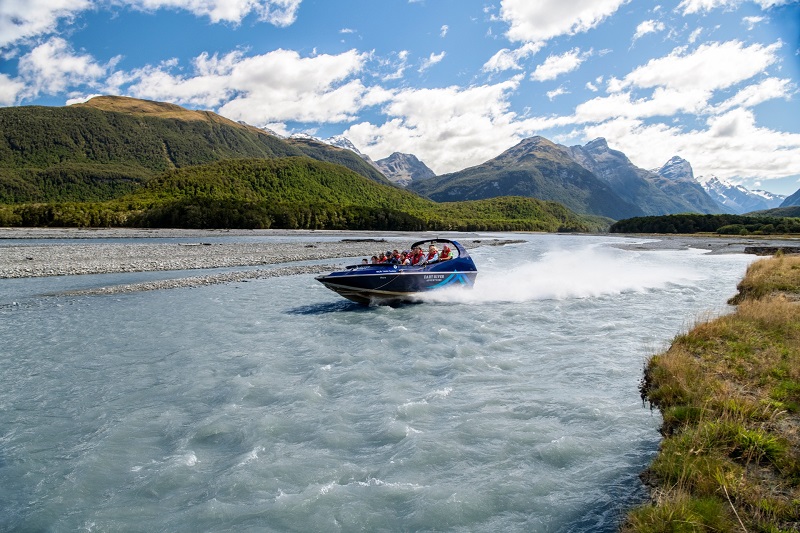 So, if you have been dreaming of challenging yourself to try something different, why not try an adventure sport? From jet boating to ziplining, you name it, New Zealand has it. Thinking about whether you should try bungy jumping from Auckland Harbour Bridge or skydiving in Queenstown or enjoy a canopy ride in the geothermal city of Rotorua? Not sure which places to add to your itinerary? Fret not, sit back and explore this list to add to your own trip that promises thrills and excitement and will give you memories of a lifetime.
Choose from classic adventure spots below (or do them all!)
Skydive Franz Josef Glacier
New Zealand's highest skydive at 20,000ft. Skydive Franz is New Zealand's premier tandem skydiving experience amidst mountains, glaciers, lakes, rivers, and ocean views. One can find multiple height options from 9,000ft to 20,000ft. Featured on Red Bull's Most Insane Skydives. Skydive Franz has New Zealand's highest mountain Aoraki/Mount Cook and the biggest glaciers Fox and Franz Josef Glaciers immediately on the right and the wide blue ocean on the left. They are one of only a few government safety approved skydive operators and are dedicated to the highest level of health and safety practices.
Wildwire Wanaka – Twin Falls Canyon                                  
Get wet, get vertical, and get up close and personal in Twin Falls Canyon. Canyon and abseil down Twin Falls, two parallel waterfalls synonymous with the stunning Wildwire environment. It is an offering for the adrenaline seekers, those who feel a thrill from multiple abseils, including dropping over steep cliffs and one down a 60m waterfall. It pushes people outside of their comfort zone in a safe environment without the need to be an experienced rock climber or mountaineer. Fly to the top in a Helicopter then get up close and personal with the waterfall by abseiling/rappelling either the upper section or the entire cascade top to bottom of Twin Falls canyon. Learn abseil skills before abseiling up to 20 waterfalls, ranging from 5 to 60m! No previous abseiling or climbing experience is required, but good fitness is. Bring your sense of adventure and get ready for some fun!
Matangi Station MTB Park
On the outskirts of Alexandra, Matangi Station MTB Park is New Zealand's newest mountain bike park. With a network of trails developed in partnership with the local mountain bike community, this will open up some of the best raw, rocky and challenging trails to be found in NZ. The locals always knew that they had something special in their backyard – now the rest of the world will be able to enjoy it too. Recognizing the epic landscape and trail options, the Crankworx Summer Series event kicks off in November with the super DH at Matangi. This will put some of the best MTB riders in the world against some of the best local riders!
Kaitiaki Adventures – Rafting                                                 
Raft the world's highest commercially raftable waterfall with Kaitiaki, New Zealand's first Qualmark Gold-rated rafting company. An NZ Must-do. Embark on the ultimate Rotorua Adventure. Navigate a wildly beautiful landscape while learning more about Maori Culture. Hit the white water, admire the lush green forests and enjoy the banter and commentary from highly experienced kiwi guides. Raft the Kaituna River, home to the world's highest commercially raftable waterfall – an awesome 7m high! The Kaituna also has 14 awesome rapids and native bush-clad canyons. Rafting the Kaituna is 3 hours of adrenaline-pumping goodness you'll never forget.
Choose from these new experiences
Ziptrek Ecotours – Kereru Interactive Tour                                       
Experience a world-first with the newest tour, Kererū Interactive – integration of digital storytelling in the real world. This new tour features an exciting 21m drop after the two ziplines, however, there is the option to return via a small exit zipline, for those that are apprehensive flyers. The educational component is told by your animated tour guide "Kerry the Kererū" voiced by local author and singer Craig Smith which provides a unique insight into the conservation story of Zealandia.
Highlands Motorsport and Tourism Park – Taycan Takeoff
The Highlands Taycan Takeoff is definitely not for the faint-hearted, you will be left buzzing! Experience electrified speed with the Taycan Takeoff, the first all-electric Porsche. The fastest car you can experience. No other car in the Highlands fleet will take you from 0 to 100 in 2.4 seconds. Dual electric producing 1050Nm of Torque and 750 HP. Experience individually or as a group of up to three.