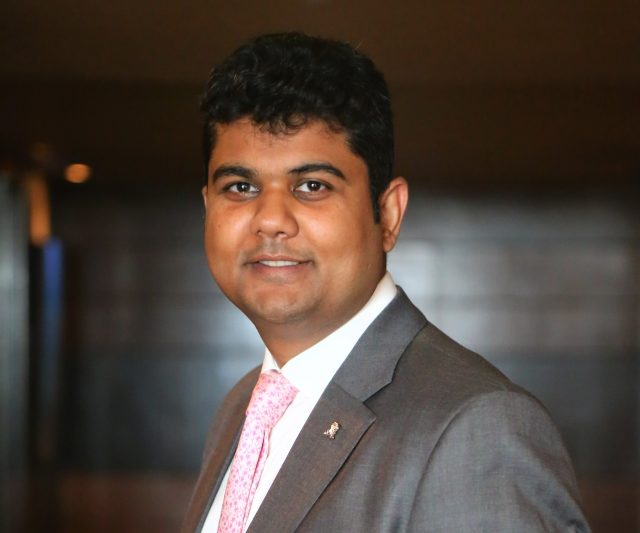 Vikalp Raj has been appointed as the Director of Sales and Marketing at The St Regis Mumbai.
Vikalp brings with him a wealth of experience of over 16 years in the hospitality industry. His early foray in the industry equipped him to specialise his skills in successfully driving revenue through targeted strategic plans suited to the market conditions of the hotels under his purview. His numerous accomplishments helped him to swiftly rise up the ranks in a very short span of time.
Having secured his degree in Business Management from Alliance Business School, post a hospitality degree from the prominent Institute of Hotel Management, Bangalore, Vikalp joined Marriott International immediately after a short stint in two leading hospitality organisations. Having proved his mettle with some of the leading brands of Marriott International like JW Marriott and Sheraton, he has led sales, revenue and marketing teams in both pre-opening hotels and well-established hotels. His successes in his most recently held role as Director of Sales and Marketing with Sheraton Grand Bangalore at Brigade Gateway include an award winning increase in market share and a significant growth year-on-year in revenue, for rooms & and catering sales.
Adept at managing large teams and client relationships, Vikalp has earned recognition and prestigious awards like 'DOSM of the Year, South Zone' at IHE Hospitality Awards 2019 & 'DOSM of the Year, South Zone' by BW Hotelier.
Vikalp continues his journey with Marriott International and will lead the dynamic sales and revenue teams at The St. Regis Mumbai to achieve revenue targets, forge relationships with internal and external stakeholders while balancing property STR, achieving Revpar and assessing competition and hotel intelligence.