The Kempinski Hotel The Dome Belek, an architecturally remarkable boutique hotel, is situated directly on the Mediterranean beach in Antalya, Turkey. The property is a luxurious golf and wellness resort with a private beach that offers elegant and tastefully furnished rooms equipped with all modern conveniences. Aysen Ince, Director of Sales and Marketing, Kempinski Hotel The Dome Belek, gives us an update on the hotel's recent developments and tells us what makes it special for MICE business.
– Prashant Nayak
Kempinski, Europe's oldest luxury hotel group, marked its 125th anniversary on April 5, 2022, and the celebrations continue in many of its hotels across the globe. The history and the rich tradition of Kempinski date back to 1897 with the founding of the Hotelbetriebs-Aktiengesellschaft in Berlin by Berthold Kempinski.
To commemorate the occasion, the company launched a dedicated website, 'kempinski-125.com' that will introduce the 125 Anniversary Special: a collection of generous offers that include discounts of up to 25 per cent on hotel stays until September 30, 2022, with a flexible cancellation policy.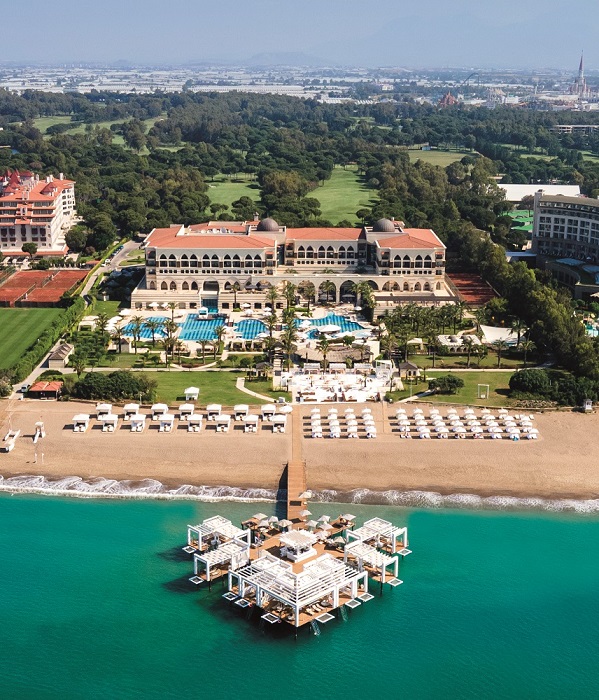 The Kempinski Hotel The Dome Belek opened in 2005. The hotel is situated on 70.000 metre square land next to two golf courses. It is an all-inclusive luxury hotel with 157 rooms and 19 villas, with an additional six villas set to open on June 15, 2022.
"Every year around the anniversary, we plan a special event where all employees come together at our hotel and celebrate our growing business," Aysen explains when asked how the hotel was commemorating its 125th anniversary this year. We have a reputation for excellence, and this reputation shines through in all our people, who come from more than 130 nationalities and tirelessly deliver the highest service quality. As a Kempinski brand, we aim for excellence and guest satisfaction."
The hotel has been exceeding its budgeted target, with numerous bookings from different online sources, agencies, and individuals. Even though the pandemic has affected tourism, the revenue of the hotel has been growing significantly. Aysen also points out that, since being loyal to their guests is of high importance to them, it is one of the main reasons that they have a significant number of repeat guests.
Speaking about MICE business, Aysen shares, "Lately, we have been witnessing an increase in MICE requests and our hotel is very well equipped and ready for the demand. We have six meeting rooms, each with different offerings and specialties. Since we are an all-inclusive luxury hotel, our MICE concepts are also based on the all-inclusive factor, where guests can have memorable meetings and experiences. Therefore, we make sure that our guests have exclusive experiences."
Antalya is one of the most popular tourist cities in Turkey. Antalya is an attractive holiday getaway with palm-lined streets, beautiful parks, a picturesque marina, and an abundance of accommodation, restaurants, bars, and nightclubs. Because of the archaeological and natural riches of the area, Antalya is also known as the Turkish Riviera.
For years, Antalya has been a popular tourist destination, particularly for leisure travel; but, in recent years, Antalya has also become a MICE destination for corporations and agencies looking to provide meetings with more entertaining attractions, unique points of interest, and wow moments. Antalya has gradually established itself as one of the major MICE destinations, combining a relaxed vacation with business meetings. It's also gaining traction in the Indian MICE industry.
"Before the pandemic, our focus was on incentives. Right now, because of increasing demand and the people's desire to travel again, we also have been receiving meeting requirements from companies that work in other cities. Our MICE business expectation is to capitalise on incentives and meetings that we cater to effectively. We also have Karatay Ballroom for wedding celebrations and one can conduct wedding ceremonies outside on our lush green lawns. We have hosted Indian wedding events in the past and still receive queries," informs Aysen.
Because of the pandemic, many corporates now want to conduct meetings in unique spaces where their employees can have their meetings and also enjoy a different experience without bothering much about COVID protocols. Since Kempinski Hotel The Dome Belek is situated on an enormous expanse of land parcels and with wide-open areas besides nature, it has the advantage over other hotel properties in the region. And also, as they host boutique groups, the COVID protocols are diligently taken care of without any issues.