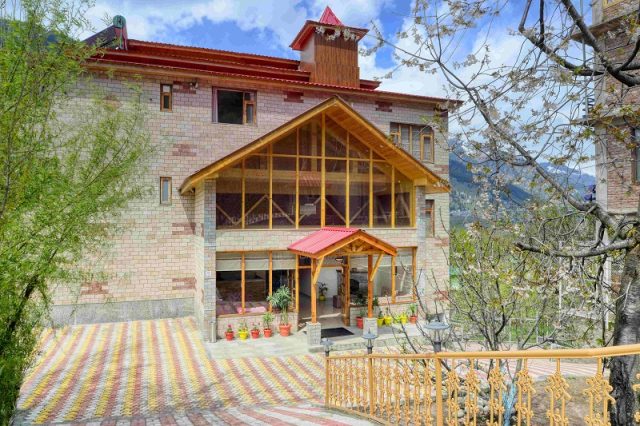 The Clarks Hotels and Resorts opens new property Clarks Inn Suites in Manali, Himachal Pradesh. With this opening of the new property, the brand strengthens its footprints in the mountains and aims for the upscale leisure market. They are getting a phenomenal response from the domestic and inbound markets.
India's rising middle class and increasing disposable income have supported the growth of domestic and outbound tourism. As per one report by 2028, Indian tourism and hospitality are expected to earn US$ 50.9 billion as visitor exports compared with US$ 28.9 billion in 2018. The travel market in India is projected to reach US$ 125 billion by FY27 from an estimated US$ 75 billion in FY20. Manali has always witnessed a massive inflow of both domestic and international tourists. The state is heavily dependent on tourism with 80 per cent of its population directly or indirectly involved in it.
Clarks Inn Suites, Manali, has cottages divided into three categories equipped with all the modern amenities. The uniqueness of the property is that all the rooms boast a valley or Mountain View. The premium rooms have a balcony along with two side views, whereas the family suites have a kitchenette, one living room along with a single bedroom. They also have apple, plum, and Cherry orchards in the compound. Though the hotel is isolated yet it is well connected to all the major tourist spots such as mall road, Solang Valley, Vashisht Kund, Hadiamba Temple, Naggar Castle, etc. Long walks, trekking, plucking fruits, and getting close to nature, are a few of the things that can be enjoyed while staying at the property.
The Bridge, an on-site multi-cuisine restaurant, combines flavors and sensations from across the globe. The restaurant is overlooking the mountains, it is focused on all those travelers, who prefer having breakfast in the arms of nature.
Rahul Deb Banerjee, Vice President, The Clarks Hotels and Resorts shares, "As a part of corporate strategy we are expanding both nationally and internationally. We are present in almost all the states of India and have recently opened a mountain property in Manali. The property is well received by the guests and all our trade partners. Through this mountain property, we are targeting nature lovers, adventure sports travelers, and corporates, and we are going to offer a plethora of personalized experiences to the guests. We are price-conscious and believe in providing value for money to our travelers. We are also trying to push staycations, and long stays, keeping the price factor in mind. We are sure we are going to receive a phenomenal response from this city."
The brand strictly adheres to responsible tourism and is all set to develop the local area along with assisting in the growth of the local economy. 80% of the team members are hired and trained locally. They encourage a zero plastic policy and use locally sourced construction materials as far as possible. Travelers are encouraged to minimize their carbon footprint.