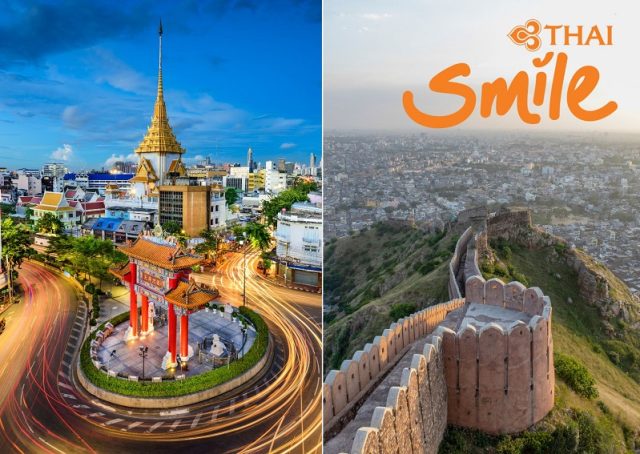 THAI Smile Airways continues expanding international routes by launching Jaipur – Bangkok flights to underscore its aviation standards and excellent service. The new flight, which commenced on January 5, 2023, aims at accommodating those targeted groups who are looking for convenient travelling from a full-service airline while opening a new window of adventure for Thai passengers to explore the Pink City of India. It also offers an exclusive travelling experience for Indian passengers with the best services. The A320-200 Airbus will fly directly from Jaipur to Bangkok where passengers can continue travel connections to other cities in Thailand and other countries conveniently. The service flight operates 4 flights a week.
Thamanoon Kuprasert, Acting Chief Executive Officer of THAI Smile Airways, a subsidiary airline of THAI Airways International Public Company Limited (THAI), stated, "Today we are proud and ready to reintroduce another route to India, that is between Jaipur – Bangkok. This is to underscore our proactive strategy in expanding international routes while encouraging passengers from both countries to explore the new travelling experience. Apart from being the capital and largest city of the Indian state of Rajasthan, with more than 3 million of populations, Jaipur is globally recognised as the Pink City of India. There are plenty of interesting tourist attractions, especially for the art and cultural activities and resources. Opening this new route is to answer to the demands of the Indian tourists who love the charm of Thailand. The excellent services are provided by our flight attendants who are committed to serving the passengers with humility and smile, which is unique of Thainess that is recognized worldwide."
Vachirachai Sirisumpan, Director of Tourism Authority of Thailand (TAT) New Delhi Office stated that the launch of the flight by Thai Smile Airways will connect Thailand closer and become more convenient to travelers from Jaipur and Rajasthan. Last year of 2022 Thailand welcomed 11.8 million international tourists and more than 960,000 Indian visitors. This is due to continued support and cooperation between all travel and tourism industries of both countries. For 2023, TAT expects to welcome more than 1 million Indians to Thailand. connectivity such as direct flights between Jaipur and Bangkok play an important part to achieve the target. TAT will continue "Visit Thailand Year: Amazing
New Chapters" marketing campaign to ensure all guests have a memorable experience every time they visit Thailand. In addition, Mr. Vachirachai emphasized that Thailand now continues to welcome all international tourists under the fully-reopen-to-tourism policy that was introduced on October 1, 2022.
Vijay Bhatia, President, Bird Group, Bird Travels also expressed, "We are very proud to be associated with Thai Smile Airways in India from 2016."
Flight Schedules from Jaipur to Bangkok and vice versa
| | | | | |
| --- | --- | --- | --- | --- |
| Jaipur | Flight | Date | Depart time | Arrival time |
| Jaipur – Bangkok | WE344 | Tue, Thu, Sat, Sun | 02.15 | 08.15 |
| Bangkok – Jaipur | WE343 | Mon, Wed, Fri, Sat | 22.05 | 01.15 |
To reintroduce the Jaipur – Bangkok route, THAI Smile is offering a starting price for round-trip tickets of INR 25,800 /Person (all inclusive). THAI Smile operates 4 flights a week from Jaipur to Bangkok, on Tuesday, Thursday,  Saturday and  Sunday. The service flight started on January 5, 2023 for two classes; Smile Plus (Premium Economy) and Smile Class (Economy).
Tickets are available to book at General Sales Agents or GSA, Bird Travels. Standard terms and conditions apply. Royal Orchid Plus point can be collected. Passengers of Royal Orchid and Premium Economy Class can enjoy a privilege lounge at Suvarnabhumi where passengers can treat themselves to a multitude of free snacks and various choices of hot or cold drinks with free Wi-Fi Internet access.
The new flight will operate with A320-200 aircraft which will offer Premium Economy Class (12 seats) and Economy Class (150 seats) and host of features for passengers, such as the in-flight entertainment experience and special Indian cuisine & beverages to passengers. And for those who love shopping in Bangkok, the city of lights, they can shop as much as they want because THAI Smile also offers a free of charge baggage allowance of 40 kilograms for Premium Economy or Smile PLUS and 30 kilograms for Economy or Smile Class.