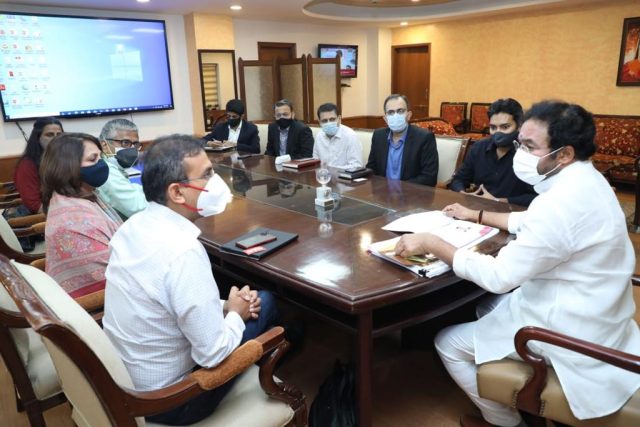 A delegation of the founding members of the Confederation of Hospitality, Technology and Tourism Industry (CHATT) recently met with Shri G Kishan Reddy, Minister for Tourism and Culture and offered their strong support to the Ministry's work to revive tourism as the country opens up and travel and tourism picks up. The delegation apprised the Tourism Minister about how CHATT can play an important role in making the tourism ecosystem more robust and resilient through digital interventions. The Minister evinced a strong interest in the use of technology and innovation to revive domestic tourism and sought CHATT's support in this effort.
CHATT delegation in its representation offered to work with the Tourism ministry under its NIDHI and SAATHI projects to ensure that small entrepreneurs in the tourism industry who have SAATHI & NIDHI registration are also recognised for receiving financial assistance under different schemes of MSME and have access to funds which they would otherwise not get. Currently, if anyone from the tourism sector needs financial assistance, they need to register as an SME or register under various other schemes.
Given that the restart of tourism is essential for India's economic growth and recovery, a five-year roadmap for sustainable and responsible tourism with technology as one of the key drivers for enhancing tourism in India was also proposed at the meeting. It was suggested by the delegation that technology platforms should be included in the various policy roadmaps that the Ministry has created and that CHATT will work with the Ministry to enhance those aspects in the policy document. The body has also offered to work closely with the Ministry to promote offbeat tourist locations which have immense tourism potential.
One of the major tasks of the delegation was to recognise tourism as an industry and for a need for ease of rules and a more conducive regulatory environment, especially at the State level where industry faces several niggling issues. CHATT has offered to work with the Ministry to reach out to States to start adopting the Incredible India guidelines on homestays and B&B in a time-bound manner.
The Minister was also requested to consider bringing out uniform guidelines for all States to follow for the ease of movement of tourists across states and to declare travel, tourism and hospitality staff as "Frontline Workers" and vaccinated on a priority basis.
The delegation also sought the Minister's support for refunds of air tickets from Air India running into crores of rupees for flights that were booked for travel, including for the period of lockdown in 2020 and 2021. CHATT has said that in the interest of collaborative efforts aimed at bringing the travel industry and its constituents back on their feet, redressal of this issue was urgent to instil a sense of confidence both in the travellers and in the industry. The Minister assured the delegation to look into the issue and do everything possible to bring relief to the industry.